Life is all about balance. In much the same way I often chase a green smoothie with a handful of potato chips, I felt I had to balance out these ridiculously trashy brownies with something, well, a little more healthy.
Hence the soup. And not just any soup, either. A ultra-healthy soup made with edamame and spinach.
See? Balance.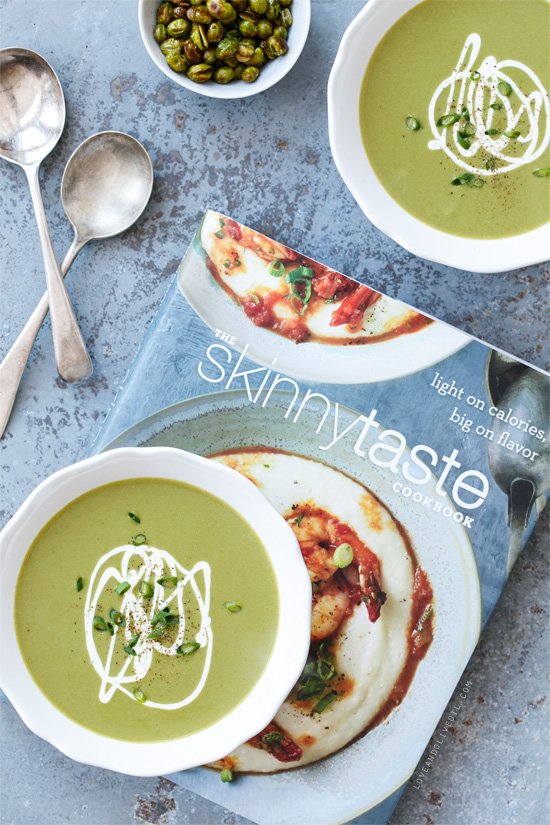 Luckily the new Skinnytaste cookbook makes the healthy part of the equation that much easier, without sacrificing flavor.
We picked out this silky edamame soup recipe because it was different, and most definitely not your average soup recipe. Gorgeously green and undeniably creamy, paired with crispy roasted edamame for a bit of crunch. Never mind that it's vegan, gluten free, and quick and easy to prepare… all that mattered to me was that it was full of flavor.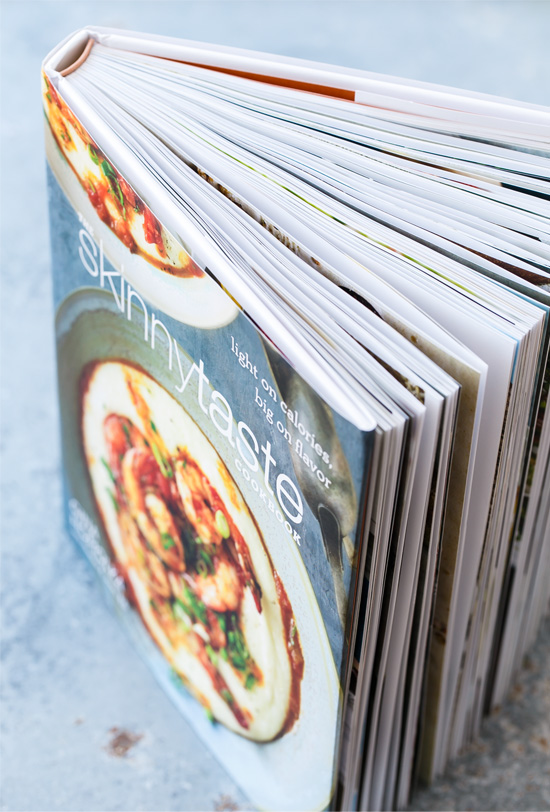 Let me say, Gina produced one hell of a book. It's gorgeous, first of all, and full of so many enticing recipes I almost didn't know where to start. I'm not usually one to seek out light recipes, but I know and trust her recipes will not disappoint when it comes to flavor. I know I've turned to her blog repeatedly over the years when I'm planning our weekly dinner menu, but now I have an equally trustworthy source in the form of her book, too.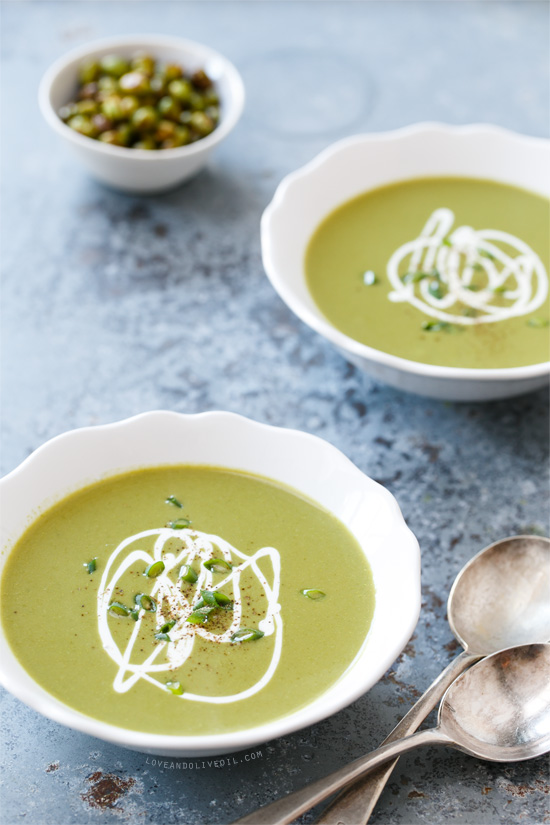 The creamy (yet, shockingly, cream-less) soup is topped with a dollop (or drizzle) of créme fraîche (you could also use light sour cream), freshly cracked black pepper, and sliced green onions, making it practically look like a work of art. We served it with Gina's crispy roasted edamame (because if a little edamame is good, more is better, right?) but it'd be amazing served alongside an Asian-seasoned chicken breast or fish filet if you need something a little more substantial.
And seriously, if you like this recipe, just imagine what delicious things you'll find in the rest of the book.
Silky Edamame Soup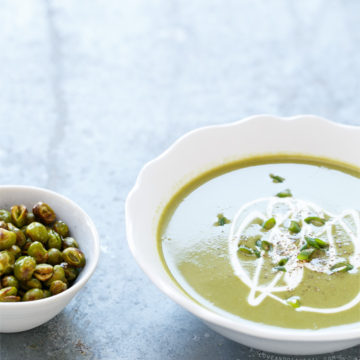 Ingredients:
1 teaspoon sesame oil
1/4 cup chopped shallots
2 garlic cloves, chopped
4 cups low-sodium chicken broth or vegetable broth
1 tablespoon reduced-sodium soy sauce
12 ounces fresh or frozen shelled edamame
3 cups baby spinach
1 tablespoon sliced green onions, for topping
1/4 cup créme fraîche or light sour cream, for topping
freshly cracked black pepper
Directions:
In a medium saucepan, heat sesame oil over medium heat. Add shallots and garlic and cook, stirring until lightly golden and fragrant, 1 to 2 minutes. Add broth, soy sauce, and edamame and bring to a boil. Cover, reduce heat to medium-low, and simmer until the edamame are tender, 15 to 20 minutes. Add spinach and cook for 1 minute more.
Working in batches, puree the soup in a blender (use caution blending hot liquids). Return to saucepan to keep warm.
Ladle the soup into 4 serving bowls. Top with black pepper, scallions, and a small dollop of créme fraîche.
Did you make this recipe?
Let us know what you think!
Leave a Comment below or share a photo and tag me on Instagram with the hashtag #loveandoliveoil.