These oh-so-gooey and gloriously boozy sticky buns include all the delightful flavors of hot buttered rum baked up in a yeasty spiral of holiday cheer.
Swirls of buttery soft dough, spiced sugar filling, and a gooey spiced and rum-spiked caramel glaze makes these hot buttered rum-inspired sticky buns perfect for your holiday brunch!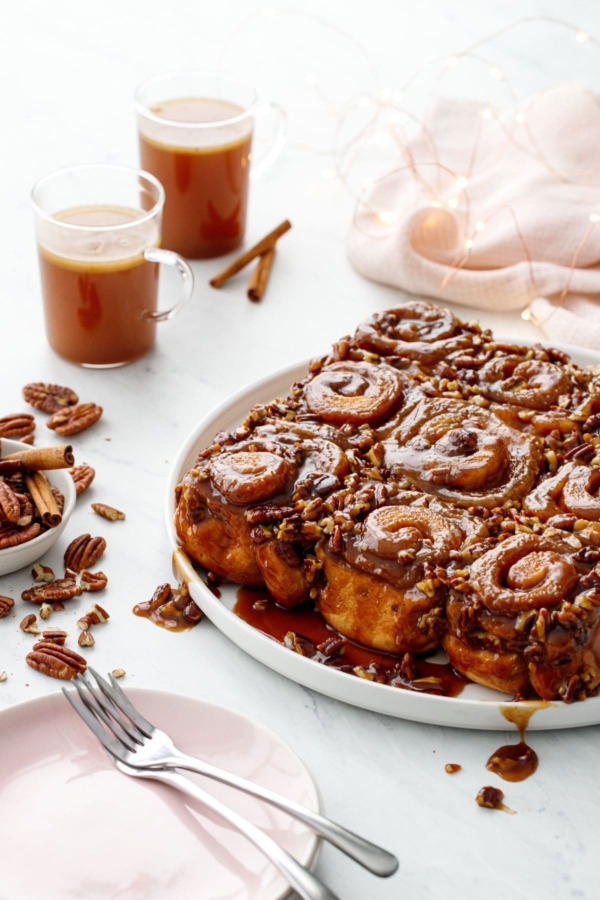 This post is sponsored by The Spice Hunter, our favorite source for non-GMO herbs and spices sourced from ideal growing regions around the world.
With a filling of brown sugar and festive spices, and a sweet and sticky caramel topping spiked with dark rum, not to mention ample chopped pecans for crunch and contrast, these hot buttered rum-inspired sticky buns are a feast for the senses.
You all know how I feel about boozy baking, and these gloriously gooey, sensually spiced, and ravishingly rum-soaked sticky buns are proof that adding booze to baked goods is always a good idea. It's the kind of recipe you'll find yourself coming back to again and again.
Hello new Christmas-morning tradition!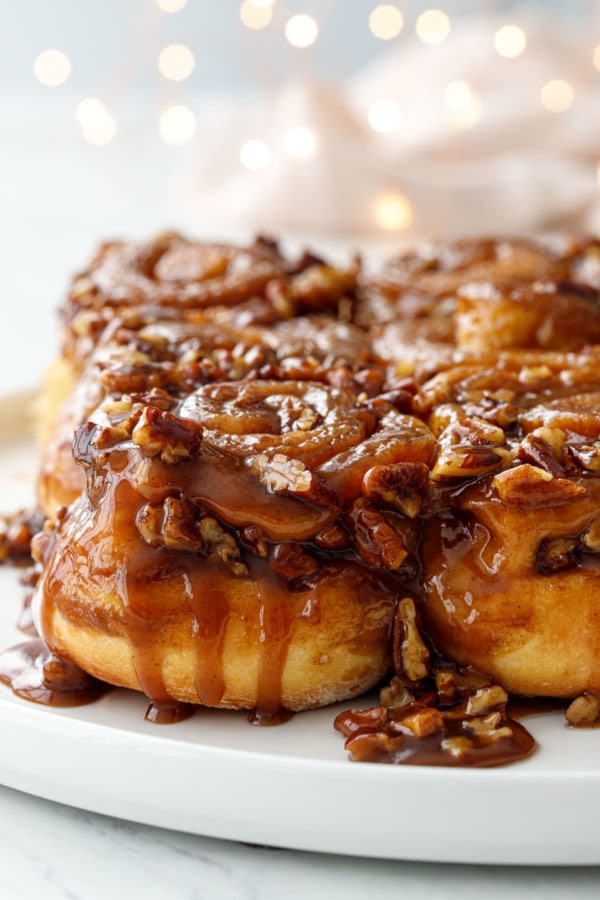 The flavor inspiration for these sticky buns comes from hot buttered rum, a popular fall and winter drink dating back to colonial times, when rum was believed to be a miraculous cure-all and 'strengthener of the body'. In fact, a hot rum-based drink like this was probably enjoyed medicinally more often than recreationally.
A hot buttered rum is traditionally made by mixing hot water with rum, sugar, spices, and a pat of butter for added richness and a luxurious mouth feel.
It's similar to a hot toddy, both sweetened and sometimes spiced drinks served hot, but a hot buttered rum contains the notable addition of butter and, obviously, uses rum instead of whiskey.
Hot buttered rum recipes vary greatly in the mix and proportion of spices, but most include a mix of cinnamon, nutmeg, allspice, cardamom and cloves.
For this recipe, rather than raid the spice rack for a pinch of this and a pinch of that, we used a packet of Hot Buttered Rum drink mix from The Spice Hunter. One packet is split between the spiced sugar filling, while the rest is added to the gooey caramel topping along with a generous glug or two of dark rum.
The spice mix is already perfectly balanced, and also makes the filling part super easy (just mix with a bit of brown sugar and sprinkle away). No pinches (or measuring spoons) required!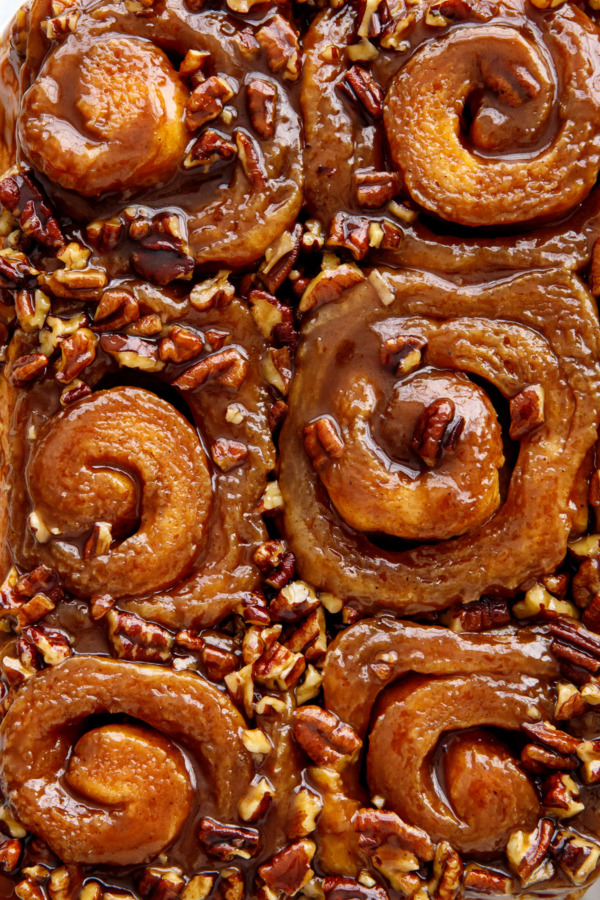 We baked a batch of these sticky buns last weekend, assuming that a somewhat complicated recipe like this would necessitate at least a second go-round to get it right (although surprisingly, other than a mishap involving a plate that was slightly too small and hot caramel everywhere, that first batch was pretty darn perfect which almost never happens). Knowing we were going to be making another batch the following weekend anyway, we made quick work of packing the still-warm buns in recycled takeout containers and delivering them to our neighbors, saving just two for ourselves.
The following day Taylor warmed one up for an afternoon snack, quickly realizing that a reheated sticky bun is indeed a fabulous afternoon stack, and immediately started lamenting the fact that we had given the rest away.
Needless to say when we made the final batch to photograph, we kept most of them for ourselves.


What's the difference between a sticky bun and a cinnamon roll anyway?
Well, they both start out with a soft and yeasty dough, rolled into a tight spiral with a cinnamon-sugar filling.
The main difference is sticky buns are baked on a bed of hot, gooey caramel and chopped pecans, and then inverted immediately after baking, not unlike an upside down cake. The bottom becomes the top, the gooey caramel oozing down the sides of the buns and your fingers.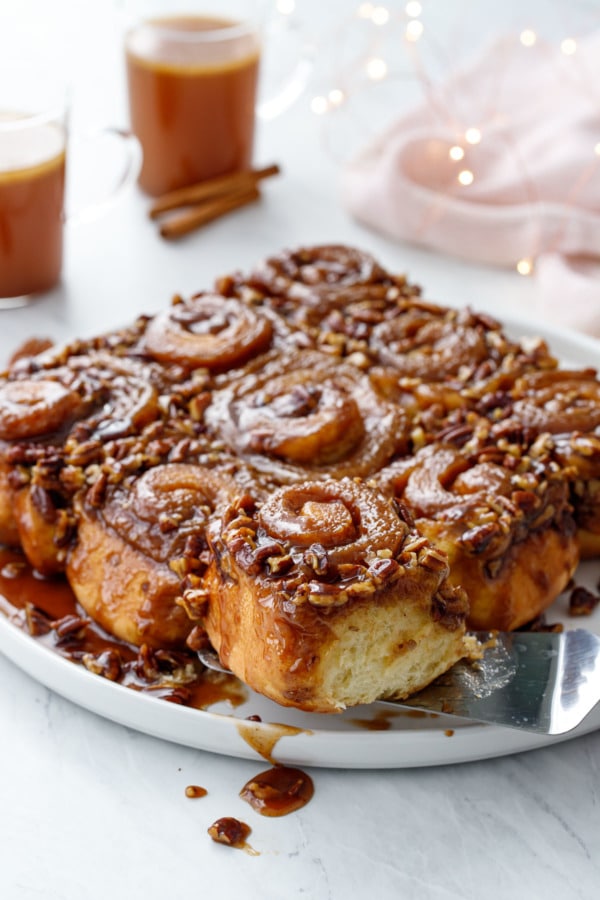 These sticky buns are made using a dough very similar to my favorite cinnamon roll dough recipe, which I used previously for these Matcha Black Sesame Cinnamon Rolls.
The dough begins with what's called a tangzhong, an asian technique for soft and tender yeast breads. Pre-cooking a little bit of flour and liquid like this allows the dough to better absorb more liquid, resulting in a softer, more tender final product.
The dough is easily made in about 45 minutes, including a 20 minute rest and 10 minutes of kneading in a mixer to form a soft and silky smooth dough. While you can let the dough rise and then roll it out, I prefer to refrigerate the dough overnight and assemble the following day. Refrigerating the dough makes it a bit stiffer and easier to work with.




When cutting your rolls, use a piece of unflavored dental floss or sturdy thread to slice the dough as if it were clay. This results in far cleaner cuts than even the sharpest serrated knife, and no squishing either.


Once rolled and cut, the buns are arranged in the baking pan on a bed of gooey, rum-spiked caramel and chopped pecans. Much like an upside down cake, this gooey bottom layer will ultimately become the tops of the buns.
While I prefer to let the dough rise overnight and assemble the morning of, if you started your dough earlier the previous day, you can also roll and assemble the buns in the pan the night before. Cover tightly and refrigerate overnight. In the morning they should be noticeably puffy as pictured above. Let them sit at room temperature as you preheat the oven and then bake. If you're aiming for a breakfast of sticky buns as opposed to a brunch, this might be a more feasible schedule.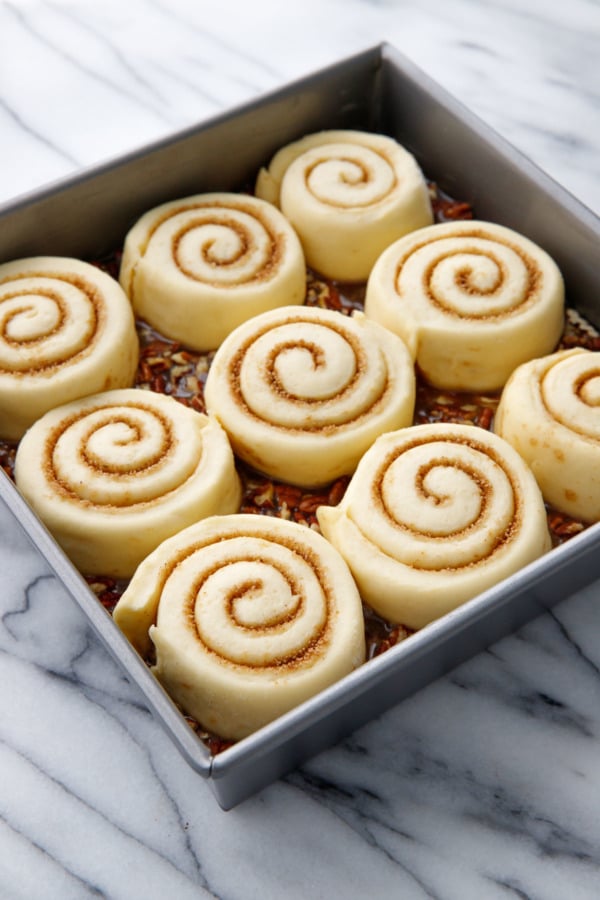 After baking, the buns are immediately inverted onto a platter, the caramel base becoming the gooey top of the bun.
You want to do this while the buns are still hot, which means that the caramel is still dangerously hot, so please be careful when inverting your buns. I like to use a set of silicone-gripped grill gloves, which allow me to grip onto the pan much easier than a normal oven mit.
You can use a large rimmed plate, baking sheet, or a cutting board with a groove in it (the groove will catch any overflow). Invert the platter on top of the baking pan, put a hand firmly on top of the platter and on the bottom of the pan, and quickly flip the whole arrangement upside down. Then gently lift up the pan, the buns should release easily (if the caramel cools too much it could get sticky).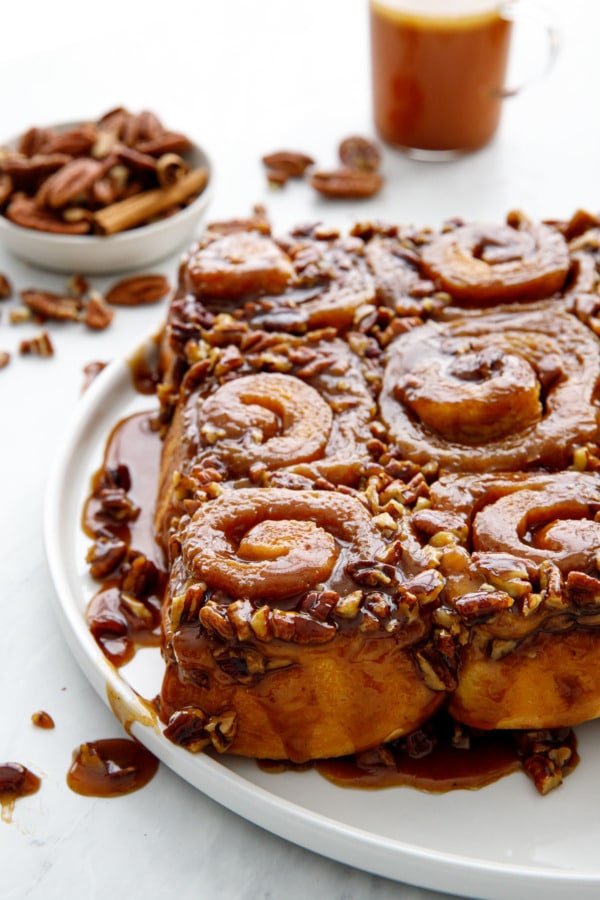 This recipe is for a small batch, yielding 9 buns that'll perfectly fit in a 9-inch square baking pan. You can use a 9 or 10-inch round baking pan, although you may only have space for 8 buns in that case (you could always bake the straggler in its own ramekin with a spoonful or two of caramel sauce in the bottom if you like!)
This recipe can also be doubled and baked in a 13-by-9-inch baking pan as well.
Any leftover buns should be covered and refrigerated. Reheat for a few seconds in the microwave or pop it in a warm oven for a few minutes until warmed through, and enjoy!
Hot Buttered Rum Sticky Buns
Your favorite warm holiday cocktail is transformed into deliciously gooey sticky buns spiked with rum and fragrant holiday spices.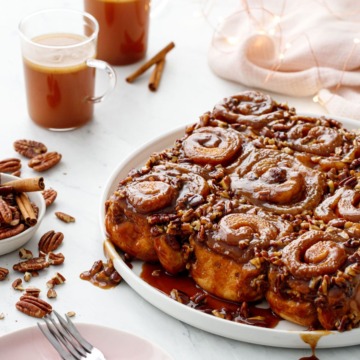 Ingredients:
Thangzhong:
3 tablespoons (42mL) filtered water
3 tablespoons (42mL) whole milk
2 tablespoons (16g) all-purpose flour
Dough:
¼ cup (½ stick, 56g) unsalted butter, cut into cubes
½ cup (120mL) whole milk
2 large egg yolks, at room temperature
2 ¼ cups (281g) all-purpose flour
1 tablespoon (8g) dry whole milk powder
1 ½ teaspoons (6g) instant yeast
1 tablespoon (25g) granulated sugar
1 ½ teaspoons kosher salt
Topping:
5 tablespoons (70g) unsalted butter
2/3 cup (147g) packed light brown sugar
1/2 packet (31g) The Spice Hunter Hot Buttered Rum drink mix
1/4 teaspoon kosher salt
2 tablespoons (40g) golden syrup, light corn syrup, or honey
3 tablespoons (42mL) heavy cream
3 tablespoons dark rum or 1 teaspoon rum extract
3/4 cup (85g) chopped pecans
Filling:
Directions:
For dough:
Start by preparing  your flour paste or tangzhong: combine water, milk and flour in a small saucepan set over medium heat. Whisk gently until no clumps remain. Continue to whisk until the mixture thickens to the consistency of thick paste, about 2 to 3 minutes. Remove from heat.
Add cubes of butter to still-warm saucepan with flour paste and gently whisk until melted and smooth, then whisk in milk. Add in the egg yolks and whisk until fully incorporated. At this point the mixture should feel lukewarm to the touch.
In the bowl of a stand mixer fitted with the dough hook, whisk together the flour, powdered milk, and yeast to combine. Pour in the lukewarm flour paste, and mix on low speed until mixture forms a shaggy dough, about 1 to 2 minutes. Cover bowl with plastic wrap and let rest for 20 minutes (this rest gives the flour a chance to absorb the liquid, making it easier to knead later).
Remove plastic wrap and add the sugar and salt. Mix on medium-low speed until dough is smooth and elastic, but still somewhat sticky, about 10 minutes. Add more flour only if absolutely necessary (a softer initial dough will result in a softer final product).
Shape the dough into a ball (lightly oil your hands if necessary) and place in a lightly greased bowl. Cover with plastic wrap or a kitchen towel and allow to rise in a warm place until doubled in volume, about 1 to 1 1/2 hours. Alternatively, if you want to bake your rolls the next day, tightly cover the bowl with plastic wrap and pop it in the refrigerator to rise slowly overnight (my preference, as cold dough is so much easier to work roll out and shape).
For Topping:
Melt butter in a small saucepan over medium heat. Add brown sugar, salt, and spice mix and stir until smooth and paste-like (it may appear slightly separated, that's ok).
Remove from heat. Whisk in syrup and heavy cream until smooth, followed by rum. Set aside and let cool to lukewarm (topping can also be made the day ahead of time, cover and refrigerate until ready to use, and return to room temperature before using).
To Assemble:
Lightly butter a 9-inch square cake pan.
In a small bowl, whisk together brown sugar and remaining half packet of spice drink mix and set aside.
Turn dough out onto a lightly floured work surface. Pat into a rectangle, then roll out evenly into a rectangle approximately 10 inches tall by 13 ½ inches wide. You want this piece to have an even overall thickness, with as square edges as possible.
Soften butter until it is nearly melted; it should be the consistency of warm peanut butter. Using a pastry brush, spread a thick layer of butter evenly over the entire piece of dough.
Sprinkle an even layer of filling over butter, leaving a 1-inch space empty along the top long edge. Pat down filling to adhere it. You can also gently run a rolling pin over the surface to compress the filling into the dough, making it easier to roll up.
Working with the long edge nearest you, start to roll up the dough fairly tightly, taking care not to stretch out the ends too much. Pinch along the edge of the dough to seal the seam, then roll the seam so it is face down.
Using a ruler, measure out where you will cut your rolls, using a small knife to mark the cuts. I cut my log into 9 rolls each 1 ½ inches wide.
To cut the rolls, you can use a sharp serrated knife (try to cut cleanly through in one movement front to back, rather than sawing it back and forth). You can also wrap a piece of unflavored dental floss or sturdy thread around the dough, which will create perfect, clean cuts.
Pour cooled topping mixture into prepared cake pan. Sprinkle evenly with chopped pecans.
Place rolls into pan, leaving an even amount of space between rolls and between the edges of the pan. Lightly cover and set pan in a warm spot (I like to use my oven with the light on) until rolls are noticeably puffed and just touching one another, about 30 to 60 minutes.
While rolls are rising, preheat oven to 350 degrees F.
Once rolls are nearly doubled in size, bake for 30 to 35 minutes, or until tops are lightly golden brown and filling is bubbly (to be precise, the center of the center roll should read about 190 degrees F on an instant-read thermometer). If your rolls are browning too quickly, you can tent them with foil and return to the oven to continue baking.
Remove rolls from oven, and immediately (and carefully!) invert onto a rimmed platter or baking sheet, or a cutting board with a groove to catch the excess caramel. Be very careful doing this as the caramel is extremely hot; I find using some silicone-grip oven mits to be very helpful.
Let rolls cool slightly before serving. Rolls also reheat beautifully; keep covered in the refrigerator then rewarm for a few minutes in the oven or a few seconds in the microwave before serving.
Did you make this recipe?
Let us know what you think!
Leave a Comment below or share a photo and tag me on Instagram with the hashtag #loveandoliveoil.
Disclosure: This post was created in partnership with The Spice Hunter®. As always, all opinions written are purely our own. We're incredibly grateful for opportunities like these that allow us to continue sharing delicious recipes with you, so thank you for supporting us and the brands we love.