Now more than ever, books provide a much needed escape from the drama and stress of the world.
Needless to say, with everything going on, I've found myself reading quite a bit more than normal (and my normal is actually quite a lot of reading, so that's saying something). The fact that we're home, not traveling or going out for the foreseeable future, leaves much more free time that I shall gladly fill with literary gluttony. You know what? I'm not mad about it.
So it shouldn't surprise you that I've read 83 books so far this year. Yes, 83. It may even get up to 84 or 85 between now and when this post is published. For perspective, I read 63 last year, and had set a 65-book goal for 2020 which I thought was entirely sensible but that I completely obliterated before the year was even half over. Needless to say this list of book recommendations is… quite a bit longer than normal because I've read too many good ones lately and simply couldn't narrow it down!
(Also, have you heard that reading books for 30 minutes a day can add 2 years to your life? Yale researchers say its true… and if it is, well, guess I'm just going to live forever at this point.)
I can feel my book-tastes changing. Whether it's age or circumstances or just the circle of life, I've been reading less serious literary fiction and more lighthearted romance these days. I think the underlying knowledge that there will be a happy ending is just what my heart needs in these stressful times. There's enough depressing news in the real world, I don't need more stress and sadness in my bookish pursuits.
Not all stories speak to all listeners, but all listeners can find a story that does, somewhere, sometime. In one form or another. – The Starless Sea
I've also been much more conscious of the diversity of my book choices lately, and have been making a more conscious effort to include stories about and by people of color (and not only that, but actually purchasing these books rather than just checking them out from the library, to further support these authors). I strongly believe that reading stories about those who are not like ourselves, even if it may be hard to relate to such characters, is incredibly important to better understand our shared humanity. I hope my book lists reflect these beliefs and encourage you to do the same.
(As always, there are some affiliate links in this post, but all opinions are entirely my own).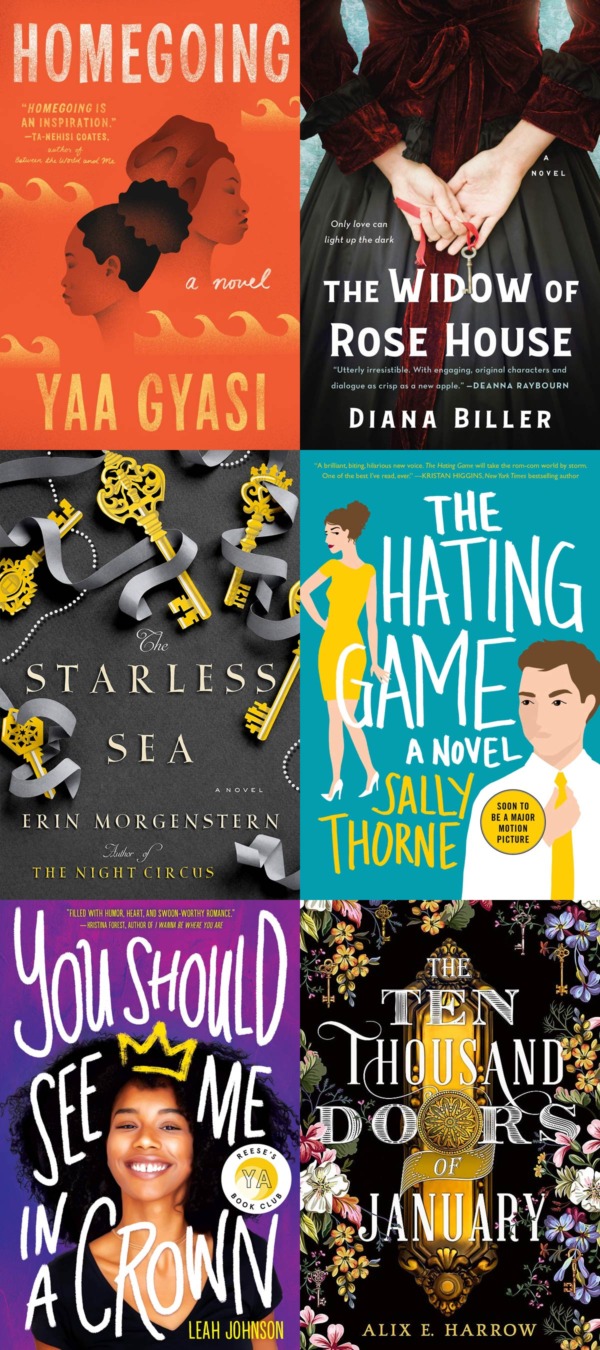 We believe the one who has the power. He is the one who gets to write the story. So when you study history, you must always ask yourself, Whose story am I missing? Whose voice was suppressed so that this voice could come forth? Once you have figured that out, you must find that story too. From there, you begin to get a clearer, yet still imperfect, picture. – Homegoing
Homegoing
If you only get to one book in this lengthy post of mine, let it be this one. Homegoing is the multi-generational story starting with two half sisters born in a small village in Ghana, and following their descendants through the years and across continents. Each chapter introduces a brand new character, almost like a collection of short stories, and I felt like each story was so powerful that it could have filled an entire book and I'd have enjoyed reading each and every one of them on their own. But together… well, let's just say it is truly a masterpiece, and something everyone should read, now more than ever. The author, Yaa Gyasi, also has a new book coming out next week called Transcendent Kingdom that I'm really looking forward to.
The Widow of Rose House
A newly widowed young woman takes on a renovation of a dilapidated mansion, and doesn't quite realize what she's getting herself into, especially when smart, charming, and bashfully handsome Sam comes around to help her with her ghost problem. There may be some real live (ok, real dead) ghosts involved, but even more witty banter and heartwarming romance. I'd categorize The Widow of Rose House as historical romance with a little paranormal ghosty goodness thrown in (but it's not super scary, I promise!)
The Hating Game
Co-workers and mortal enemies Lucy and Josh are constantly playing games, trying to out-hate and endlessly frustrate each other from their desks at opposite sides of the room. And when they're both up for the same promotion, well, let the battle commence. This charming enemies-to-lovers romance was a joy to read. If you're looking for something happy, heartwarming, and laugh-out-loud funny, The Hating Game definitely fits the bill.
And I know then what I've always known: Campbell is never going to make a space for me to fit. I'm going to have to demand it. – You Should See Me in a Crown
You Should See Me in a Crown
What happens when a queer black band geek runs for prom queen in a conservative (aka very white) suburban town? You Should See Me in a Crown is equal parts heartwarming and heartbreaking, a young adult novel that both young adults and adults alike can enjoy and appreciate. It manages to tackle deep issues like racism, homophobia, bullying and chronic illness without overwhelming (not that it takes these issues lightly, it just intermixes them with enough wit and charm and humor that it adds to, rather than overtakes the value of the story). I absolutely adored this book from start to finish; you can't help but root for Liz (and Mack) every step of the way.
A Court of Thorns and Roses
In a magical world full of faeries and other fantastical and terrifying creatures, a human girl finds herself unwillingly living amongst the beautiful and powerful fae that once ruled their world. I tore through A Court of Thorns and Roses and the entire series that follows (honestly, book #2 is the best but you really have to start with this one first), and can't wait for the next book in the series. I will say that these books are often misclassified as young adult (probably because the heroine is 19 years old at the beginning on the series) but they are most definitely not young adult, and have some very mature themes and graphic scenes throughout.
Everyone wants the stars. Everyone wishes to grasp that which exists out of reach. To hold the extraordinary in their hands and keep the remarkable in their pockets. – The Starless Sea
The Starless Sea
The Starless Sea is a story about stories (any book lover will agree that these are quite possibly the best kinds of stories, am I right?) about a mystical underground land filled with stories and adventure and a mysterious society trying to bring it all down. This enchanting book is masterfully written, each sentence crafted like an impressionist painting with words as the brushstrokes. While it took me a little while to get into the story (it starts out very heady and etherial… I couldn't figure out what it was about at first), but somehow I found myself entranced, racing through the remaining pages while at the same time hoping it would never end. This is not your typical book, and I'll admit it won't be everyone's cup of tea, so definitely go into it with an open mind.
The Chai Factor
If you're looking for a witty rom-com with a bit more diversity (you can only read so many white-woman-in-nantucket novels before they all start to run together), The Chai Factor is just the ticket. Amira, a thirty-something Indian-American grad student who has sworn off dating while she finishes her thesis, comes home one day to discover her apartment has been overtaken by a rowdy barbershop quartet, and the bearded flannel-clad baritone is getting on her last nerve. What follows will undoubtedly make you smile. It's a smart and witty romance that also manages to tackle tough issues like xenophobia, racism and homophobia in a very insightful way. I always enjoy the enemies-to-lovers trope in romance novels, but this one does it exceptionally well.
The Ten Thousand Doors of January
Another story about stories (and doors) and I couldn't get enough. In The Ten Thousand Doors of January, magical doors exist throughout the world, connecting to fantastical alternate worlds. You can find these doors if you know to follow the stories. But evil lurks, a mysterious organization is trying to destroy and permanently close these doors, and young girl is caught in the middle of it all as she seeks to bring her family back together.
The will to be polite, to maintain civility and normalcy, is fearfully strong. I wonder sometimes how much evil is permitted to run unchecked simply because it would be rude to interrupt it. – The Ten Thousand Doors of January
Even More…
While maybe not at the tippy top of my list, these wildly varied reads are surely worth mentioning too. Everything from serious literary fiction to historical romance to urban fantasy… whatever your cup of tea, one or more of these books is sure to suit.
Get a Life, Chloe Brown – A cute and refreshing romantic comedy about real people with real problems. If this doesn't get made into a movie I'd be extremely surprised. It's a perfect feel-good read, delightful and witty and yes, quite steamy too.
She hadn't realized how long it takes to become somebody else, or how lonely it can be living in a world not meant for you. – The Vanishing Half
The Vanishing Half – Twin sisters born in a small town outside of New Orleans, where the Black residents prize lightness above all else. When one sister realizes she can pass for white, she makes the decision to leave her old life, and her sister, behind. This whole novel was beautifully written and quite eye-opening, a poignant portrayal of racism and life for not only a Black woman, but also a trans man, in the mid 20th century.
The Tea Rose – Historical fiction with a bit of romance and drama, this sprawling novel isn't a quick read, but it's a good one. It follows the story of Fiona, who is content with her life as a factory worker in London and plans to marry her high school sweetheart, Joe. A terrible turn of events forces her to flee to America and essentially start over. Her tale is a bit tall at times, but you can't help but adore her and her fierce independence and fiery spirit. Also, if you're a tea lover this book offers some really interesting insights into the tea trade and manufacturing in the late 1800s.
The Binding – In a mystical world where people's memories are bound up in one of a kind books, this is the story of Emmet, a binder's apprentice who slowly starts to unravel the mysteries he had forgotten about his own past. It's almost two books in one, with the magical element of the binding and all that goes into learning this mysterious trade, but it's also a love story that proves love knows no bounds, or binds, in this case.
Sometimes reality comes crashing down on you. Other times reality simply waits, patiently, for you to run out of the energy it takes to deny it. – The Seven Husbands of Evelyn Hugo
The Seven Husbands of Evelyn Hugo – A dying actress recounts the deepest secrets of her private life, from sex and scandal to forbidden love, to a carefully chosen young writer, who might have more of a connection to the reclusive star than she realizes.
One Day in December – Laurie falls in love at first sight with a stranger from the window of a bus, convinced he is The One, only to discover he is dating her best friend. In this quirky tale of true love, fate, and friendship, she learns that it's not just about the who in happily ever after, but also the when.
The Duchess War – Historical romance at its best, who can't resist a smart and sassy heroine with feminist ideals years beyond her time, and a handsome Duke who sees her strength and independence as part of her beauty. I think Minnie and I could be great friends.
A Princess in Theory – A modern day Princess Diaries set in New York City (and in fictional Thesolo rather than Genovia), it follows a definitely-been-done-before storyline: girl meets boy, boy is hiding the fact that he is really a prince, girl eventually finds out and gets mad, but they still live happily ever after (remember, this is a romance, and all good romances have a HEA). And yet, this book is anything but tropish… in fact it's downright charming. I've since read the other 2 books in the trilogy with equal enthusiasm.
This city's noise is all caps, all the time. Written with a big, chisel-tip, permanent black marker. Impossible to ignore. – Love Lettering
Love Lettering – I fell hard for this witty romance mainly because of the main character's obsession with lettering; the font nerd in me was totally geeking out. But the story was pretty darn cute too.
Teach Me – Nice to read a romance that isn't about two perfectly gorgeous late-20-somethings… this one felt much more real. Set in a rural high school, about two history teachers who start out as less than friendly rivals but can't help what they feel for each other.
The Archived – In this fantasy world, the dead are archived like books in a sprawling secret library, accessible only by those with a key. But occasionally one of these Histories gets loose, and its up to the Keepers to get them back. This story is full of action and adventure with a little bit of romance thrown in for good measure.
Food & Cooking
The only non-fiction reading I really do is food-related, mainly cookbooks though in the past few months I have enjoyed a few food-related memoirs (I don't usually like memoirs, but these were exceptions). I've also acquired a number of new cookbooks lately (see: not spending money on restaurants or travel so I've been treating myself to some new cookbooks to make up for it). Figured this post would be appropriate to share these reads as well!
The Cooking Gene – Part history, part memoir, documenting the food culture of the American South and its tumultuous history. As a non-native in the South I've been learning a lot about the origins of Southern food lately, something I previously knew very little about.
Our Lady of Perpetual Hunger – Nashville-based pastry chef Lisa Donovan's poignant memoir highlights the struggle women face in the food industry, reclaiming her story and that of the women that came before her.
New World Sourdough – It seems like everyone is obsessed with sourdough these days, and this is one of the more unique sourdough-based cookbooks on the market, featuring some non-Euro-centric sourdough recipes that I can't wait to try!
Tasting Rome – a mouthwatering culinary journey through Rome. There has been some controversy surrounding this book lately and the fact that one of the two authors, who happens to be Black, has received some less than ideal treatment by the editorial team, which is a shame, but shouldn't detract from the fact this book is downright gorgeous.
Pasta Grannies – If you don't have your own Italian grandmother, this book is for you. Filled with recipes from real Italian grannies, I can attest first hand that the recipes in this book are the real deal.
Well Plated – My friend Erin's brand new book just released this week and it's a beaut! You can tell she's put so much thought and effort into these recipes, which are approachable and delicious and mostly on the healthier side too.
You should probably also pre-order copies of Mike Johnson's Even Better Brownies and Erin McDowell's The Book of Pie, both out this fall (pre-orders are very important for authors and can really influence the direction of a book's PR efforts; so if you see a book you're interested in, don't hesitate to preorder a copy!!)