This recipe was created in partnership with Filippo Berio®, celebrating 150 years of passion and excellence. Thanks for supporting us and the brands we love!
I've declared my undying love for tomatoes here before. From the time they appear at the farmer's market in June to their slow fading and final disappearance in September, tomatoes, for me at least, define the boundaries of summer. I'll pick up a few each weekend and use them in recipes throughout the week (one reason why our lunchtime turkey sandwiches are always better in the summer). I've made tomato sandwiches and creamy tomato soup and even lemonade… plus countless more tomato recipes, ripe for the picking.
But despite the endless culinary possibilities, sometimes simple is best. When you start with a really good tomato, it needs little more than a sprinkle of salt and a drizzle of olive oil to be spectacular.
This simple summer flatbread celebrates the tomato in all its glory, with little fuss or fanfare (unless you consider the fried basil fanfare, in which case count me in). It's a recipe that truly lets the tomato speak for itself.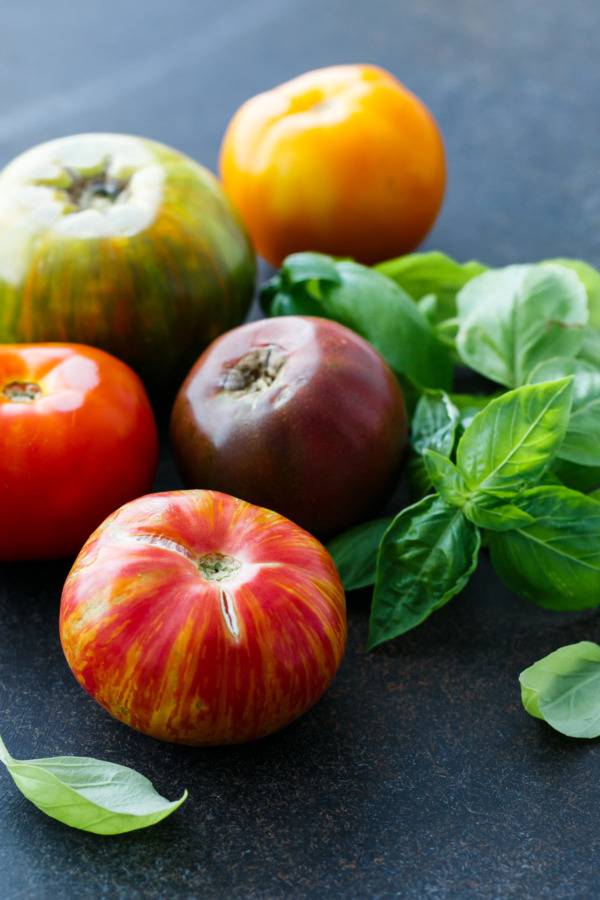 This isn't your typical caprese combination. Creamy burrata trumps mozzarella any day, and the fried basil? It takes this flatbread to an entirely different level. Add to that a sprinkle of flake sea salt and a drizzle of robust olive oil, and you have yourself one spectacular summer recipe.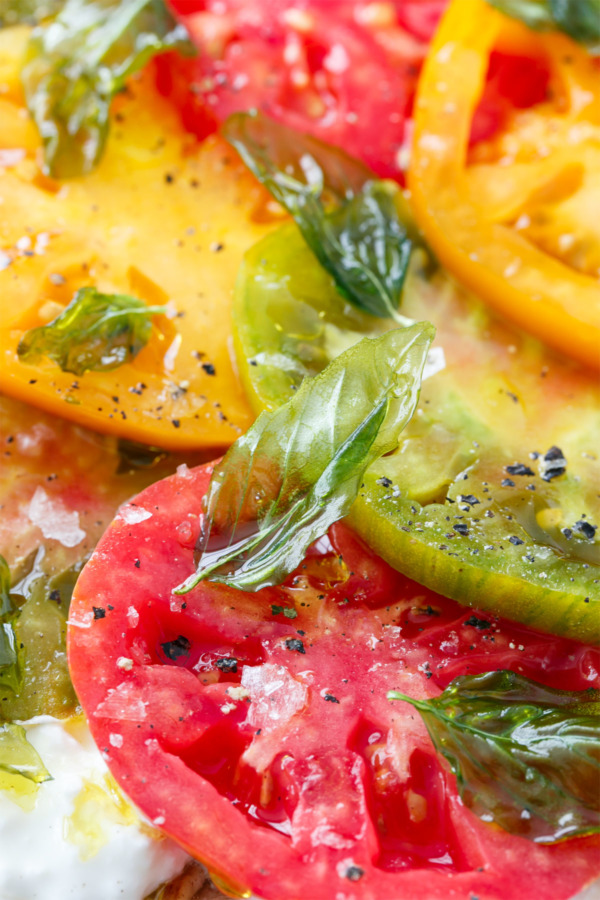 I'm seriously considering putting fried basil on anything and everything after this. I mean, just look at it. It looks like stained glass. The leaves fry up beautifully transparent and delicately crispy, with a milder flavor that practically melts in your mouth.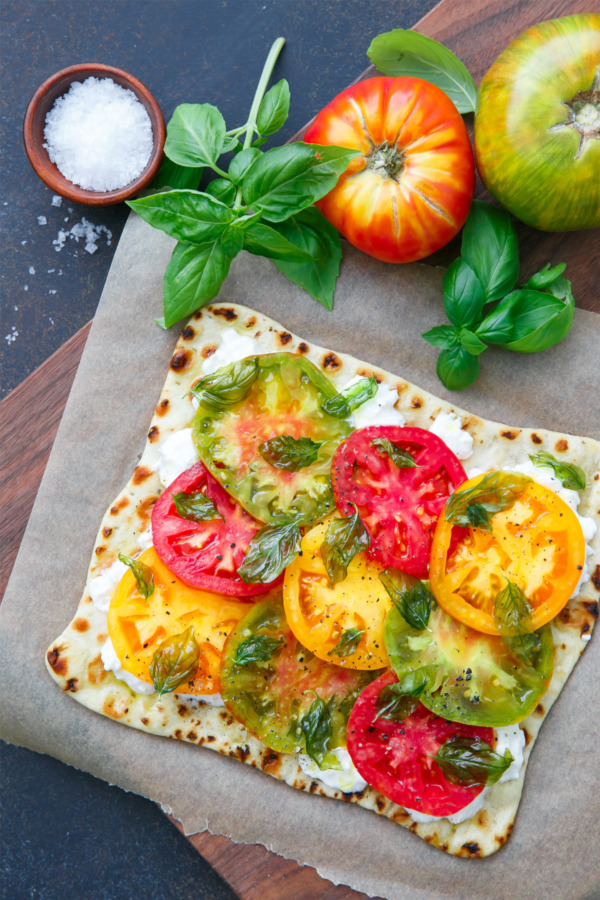 I played with using crumbled goat cheese here instead (because goat cheese and tomatoes are summer's ultimate combination), but in this case I felt the burrata was a better fit. The mild burrata doesn't overpower the delicate flavors of the tomato, olive oil, and basil, whereas the goat cheese screams HEY LOOK AT ME. I wanted the tomatoes to be the star here, not the cheese. So burrata it is.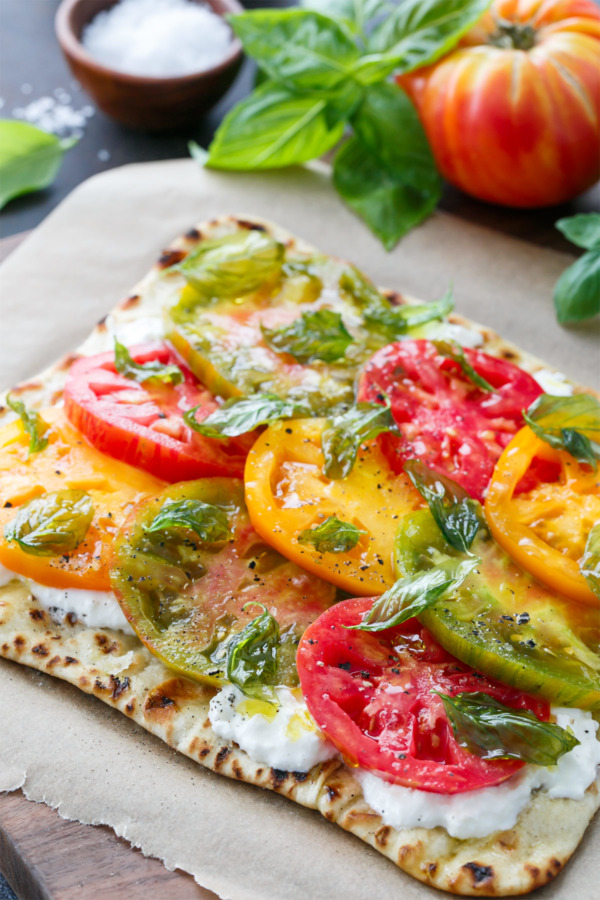 This recipe showcases olive oil in 3 different ways: brushed on the flatbread prior to grilling, drizzled on top of the tomatoes, and for frying the basil.
I used two different varieties of olive oil in this recipe. Filippo Berio's Organic Extra Virgin Olive Oil has a robust, fruity flavor that is perfect for the finishing touch for dishes like this.
For frying, however, the flavor compounds and nutrients in olive oil tend to break down over high heat, so I don't recommend using your good olive oil for frying (rather, save it for dipping and drizzling). The Extra Light Olive Oil, on the other hand, is perfect for frying. I always keep a bottle on hand for situations just like this. I also like using light olive oil in place of vegetable oil in baked goods.
A word of warning: frying basil is not for the faint of heart. The second that basil leaf touches the hot oil it will spit and sputter and pop, you might think it's about to explode. So stand well back from the pan and use a splatter guard if you have one. After 10 to 15 seconds the sputtering will die down, and that tells you the basil is done, at which point it will have transformed into a beautifully transparent bright green (like stained glass).
This recipe is all about the finishing touches, and the delicately crispy fried basil is one of them (along with flake sea salt and a drizzle of fruity extra virgin olive oil, of course).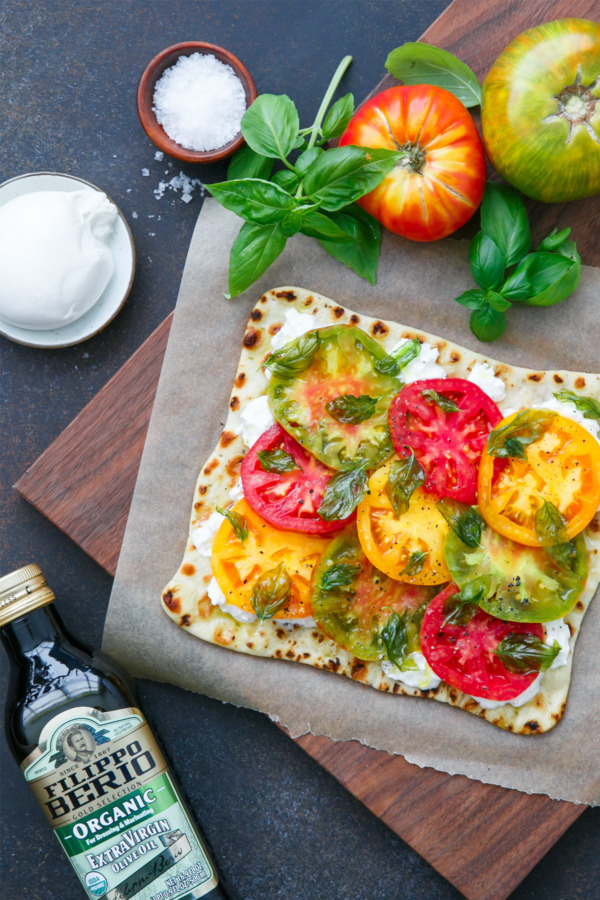 This year, Filippo Berio is celebrating their 150th anniversary, and they want to celebrate in an intimate and personable way. Filippo Berio's gourmet food truck will be traveling through five major cities across the country and attending various local food events, farmer's markets, and retail locations, offering a modern sampling experience. Filippo Berio sommeliers will be offering olive oil education as consumers sample Filippo Berio varieties, accompanied with warm bread. Can I say that olive oil sommelier sounds like the coolest job ever?
We'll be visiting the truck ourselves this weekend at East Nashville's Tomato Art Fest… will I see you there?
Check out the tour schedule for a full list of dates and locations.
If you can't make it out to a sampling event near you, why not get the full olive oil experience, in ITALY! Indeed, you can enter to win an all-expenses paid trip for two to the Toscana Saporita Cooking School in Tuscany, just miles from Lucca, Italy – the birthplace of Filippo Berio Olive Oil in 1867. You'll leave with a new-found deep understanding of the rich history and passion behind Italian cooking.
Heirloom tomatoes. Olive oil. And the Italian countryside… sounds like a dream to me!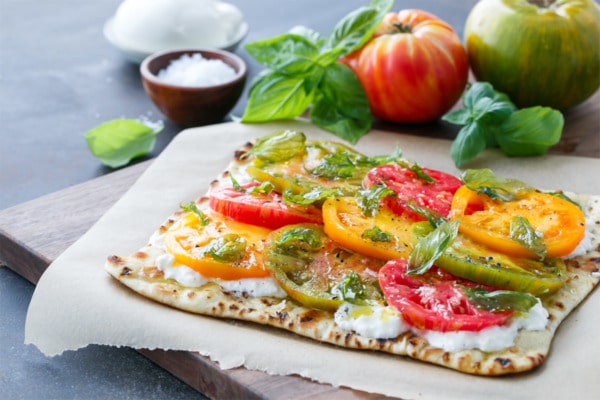 Heirloom Tomato Flatbread with Fried Basil
Ripe summer tomatoes shine in this simple and satisfying flatbread; with creamy burrata cheese and topped with crispy flash-fried basil leaves.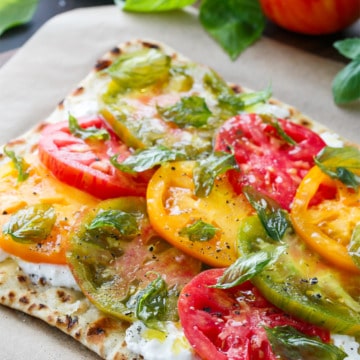 Ingredients:
Filippo Berio Extra Light Olive Oil, for frying
handful small(ish) fresh basil leaves, washed and completely dried
2 flatbreads (such as naan or lavash)
Filippo Berio Organic Extra Virgin Olive Oil, for brushing and drizzling
16 ounces (2 balls) burrata cheese, cut into pieces
3 small or 2 large heirloom tomatoes, thinly sliced
freshly ground black pepper
flake sea salt, such as Maldon, for finishing
Directions:
Fill a small, high sided saucepan with 1/2-inch of Extra Light Olive Oil. Heat over medium until olive oil is hot but not smoking.
Carefully drop 2-3 basil leaves into hot oil: be very careful and stand back as the leaves will spit like crazy as soon as they hit the oil.
Fry for 10 to 15 seconds or until the sputtering dies down; remove from oil with tons and transfer to a paper-towel lined plate. Repeat with remaining basil leaves.
Preheat grill or broiler. Brush flatbread with a light layer of Extra Virgin Olive Oil and grill or broil for 2-3 minutes or until heated through. Transfer to serving plates.
Spread burrata cheese over top of flatbread. Arrange tomato slices on top, slightly overlapping each other for the prettiest presentation. Drizzle with more olive oil, then sprinkle with pepper and sea salt. Top with crispy basil leaves and serve immediately.
Did you make this recipe?
Let us know what you think!
Leave a Comment below or share a photo and tag me on Instagram with the hashtag #loveandoliveoil.
Disclosure: This post was created in partnership with Filippo Berio®. As always, all opinions written are purely our own. We're incredibly grateful for opportunities like these that allow us to continue sharing delicious recipes with you, so thank you for supporting us and the brands we love.