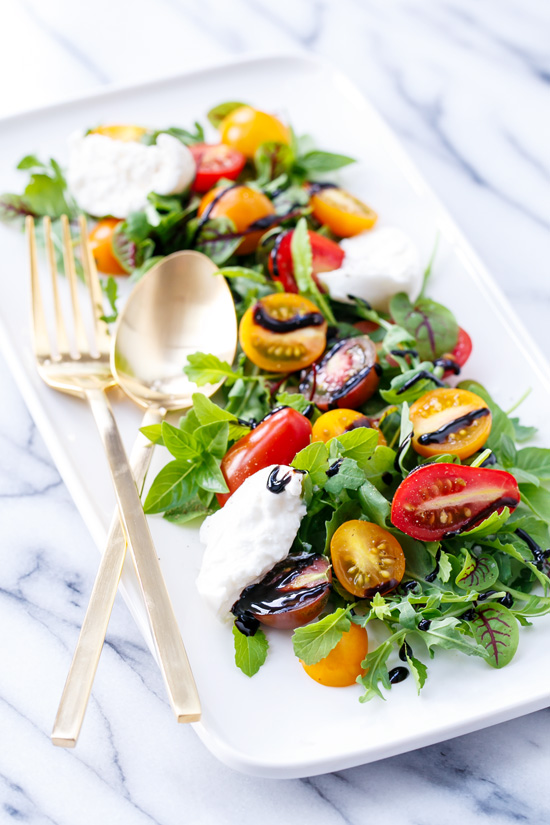 These next few weeks are pretty much going to be one long, drawn out farewell to summer. My feeble attempt to get these last seasonal recipes posted while the stuff in them is still in season.
More than one recipe has come out of my late-summer gluttony, gorging myself on ripe plums and juicy melons and savory okra in a last ditch effort to thwart fall. I'll be darned if I let summer pass be by without it being fully (and deliciously) appreciated. And not least of all that means gorging myself on tomatoes. Because we all know as soon as that first frost hits (which, admittedly, seems like a world away with this unusual September heat and humidity) all that will be left are crisp green tomatoes that someone had the foresight to pluck off the vines before the frost hit. Sure, green tomatoes have their uses, but nothing can compare to a ripe summer tomato.
And so it is with a fond farewell that we bid summer adieu… and I couldn't think of a better way to do that than with this super simple—and super delicious—salad.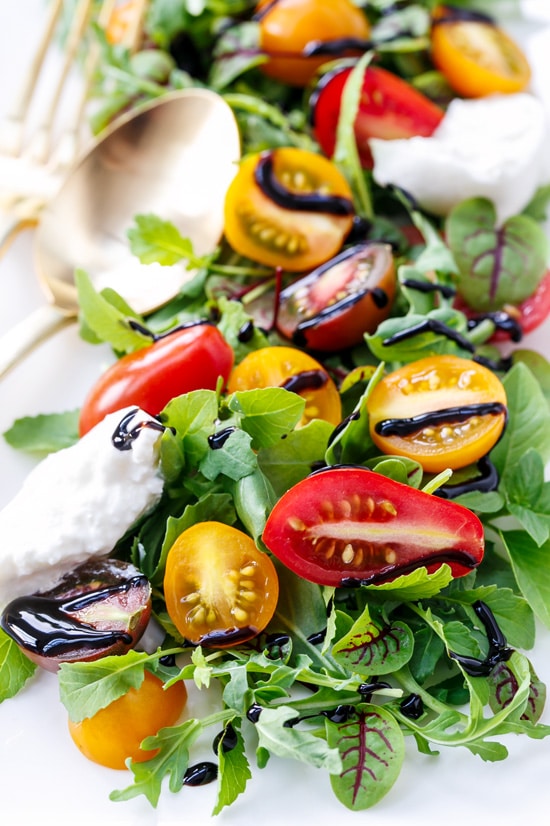 The heirloom tomatoes might be seasonal, but burrata is forever. And I'm not complaining.
I mean, mozzarella is good and all, but burrata is so much more.
If you've never had it before, burrata is a ball of freshly made mozzarella with a mixture of mozzarella curd and fresh cream hidden inside. It's like the Kinder egg of the cheese world, a seemingly plain ball of mozzarella with an unexpected surprise inside. Creamy, milky, and almost buttery in flavor, it's this divine combination of flavor and texture that will have your eyes rolling back in your head.
Seriously, you need try it. I've been buying balls on a weekly basis and adding it to everything from salads to pasta, bruschetta to fancy flatbread. It's usually best when it's fresh, as I feel it tends to lose its unique character and texture when exposed to high heat (so stick to mozzarella for your main pizza cheese… although I wouldn't object to some fresh burrata scattered on top when it's done baking.)
We could all use a little more burrata in our lives.
We used a mix of spicy greens for the base of this salad, including arugula, baby radish greens, micro basil and micro sorrel for a bit of color. The spiciness of the greens was a perfect counterpart to the creamy burrata and sweet ripe tomatoes, but you could certainly whatever greens you had available to you.
What else is there to say about this simple salad… drizzled with a thick and sticky balsamic glaze (we like DeLallo's, but you can also make your own by reducing balsamic vinegar with a bit of brown sugar), and topped off with flake sea salt and freshly ground black pepper. It's a miracle I was even able to photograph this salad before diving head first into those wedges of burrata and stuffing my face with as many ripe cherry tomatoes as I possibly could (because that, well, that would not have made for a pretty picture).
Heirloom Tomato and Burrata with Spicy Greens
Ingredients:
5 ounces spicy mixed greens (such as arugula, radish greens, or watercress)
freshly torn basil or micro basil
1 pint heirloom cherry tomatoes, halved
1 ball burrata cheese, cut into wedges
extra virgin olive oil
balsamic glaze
sea salt and freshly ground black pepper, to taste
Directions:
Toss greens and basil with a splash of olive oil. Arrange on serving plates. Top with halved tomatoes and burrata wedges. Drizzle with more olive oil and balsamic glaze as desired; season to taste with salt and pepper.
Did you make this recipe?
Let us know what you think!
Leave a Comment below or share a photo and tag me on Instagram with the hashtag #loveandoliveoil.