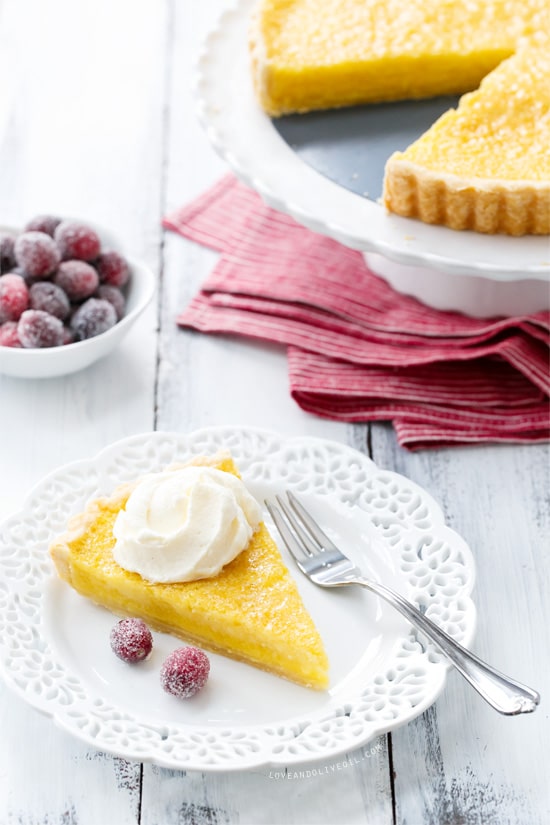 Chess pie is a Southern staple. If you're from the South, you've probably eaten chess pies on every major holiday since you were old enough to hold a fork. If you're not from the South, chances are you're thinking, "What the heck is chess pie?!?" And indeed, I'd never heard of it either until moving to Nashville.
Essentially a chess pie contains 4 things: sugar, eggs, milk, and butter. This version swaps buttermilk for milk, giving the pie a unique flavor and acidity, as well as a splash of lemon (but not so much so that you'd call it a lemon chess pie). That said, the structure and consistency is somewhat similar to a lemon bar, if that helps you Yankees out there to visualize.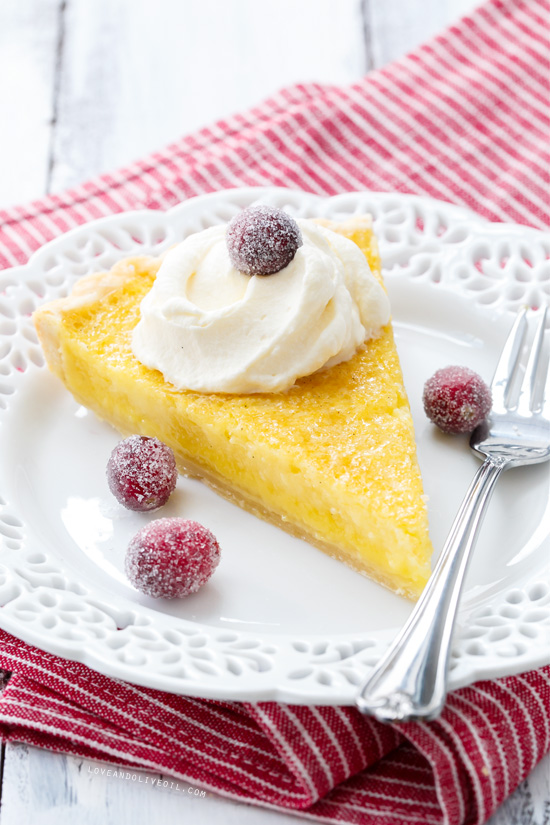 There's a reason chess pie is also called sugar pie, since it's pretty much 50% sugar. It's sweet, almost too sweet, and that's saying something for someone with a mouth full of sweet teeth like me.
That's why the sugared cranberries were so perfect; their tartness was the perfect counterpart to the pie's sticky sweetness. That and they made the pie a bit more festive, seeing as it was our non-pumpkin solution for Thanksgiving dessert (we couldn't quite bring ourselves to go totally against pie, but it was definitely a welcome change from all the pumpkin we've been consuming.)
This recipe comes from pastry chef Lisa Donovan, of Nashville's Husk Restaurant. Although she is no longer there, a fact we will all lament in the loss of her desserts, I'm sure she is off to bigger and better things. In the meantime, she's shared her recipe, just in case we go into chess pie-withdrawals or something. I mean, god forbid something get in the way of me and stuffing my face with pie.
Note that this recipe is intended for a deep 10-inch pie pan. I had no idea that such a thing even exists (must be a pro-restaurant thing), but all I had were regular old 9-inch pie pans and tart pans. Normally I'd calculate the volumes and scale the recipe accordingly, except I had no idea what kind of volume a 10-inch pie pan, let alone a deep one, could hold. So I just made the whole batch, knowing that having a bit extra would be much preferable to coming up short.
I probably could have made two pies for the price of one, that's how much batter this made. And unfortunately most went to waste since I only had enough crust for one pie.
If you don't need two pies, and are up for a bit of pi/pie mathematics, I'd recommend reducing the recipe by 1/3. You could probably even halve it for a tart pan. Or, you know, just double your crust recipe and acknowledge that two pies are always better than one.
The only other change I'd make to this pie would be to par-bake the crust beforehand. I felt the bottom of the crust tasted just a bit raw, and 5 or 10 minutes in the oven first would certainly alleviate that.
Buttermilk Chess Pie
Ingredients:
1 10-inch pie crust*
3 cups granulated sugar
1/2 cup all-purpose flour
1 teaspoon kosher salt
6 large eggs, room temperature
1 1/2 cups full-fat buttermilk
1/2 teaspoon finely grated lemon zest
1 tablespoon lemon juice
1/2 cup unsalted butter, melted
seeds from 1/2 vanilla bean
freshly whipped cream, for topping
sugared cranberries, for garnish (optional)
Directions:
Preheat oven to 350 degrees F. Prepare your favorite pie crust (I like this recipe from serious eats) and press into a deep 10-inch pie pan or standard 9-inch pie or tart pan. If you'd like you can par-bake the pie crust for 10-15 minutes; this will produce a flakier bottom crust. Let cool completely before filling.
In a bowl, whisk together sugar, flour, and salt.
In another large bowl, whisk together eggs. Add dry ingredients, along with buttermilk, lemon zest, and lemon juice and whisk until combined. Finally, whisk in butter.
Pour into pie crust and gently transfer to oven. Bake 30 minutes (20 minutes if using a standard 9-inch pan), then reduce oven temperature to 325 and bake for another 15 to 25 minutes (on the lower end for a sandard pie). Center should be set but still slightly jiggly. Place on a wire rack and let cool completely to room temperature, at least 2 hours. Serve immediately or refrigerate until ready to serve, topped with freshly whipped cream and sugared cranberries.
*a note on yield: This recipe was originally written for a deep 10-inch pie pan. If you use a standard 9-inch or a 9-inch tart pan (like I did) you're probably ok making about 2/3 or even half of the original recipe. Otherwise, have some extra pie crust on hand and maybe a few mini or half-size pie pans, as you'll probably have filling leftover (and will not want it to go to waste!)
Did you make this recipe?
Let us know what you think!
Leave a Comment below or share a photo and tag me on Instagram with the hashtag #loveandoliveoil.