Bolos de arroz are a traditional Portuguese muffin made with part rice flour, which gives the muffins a tender crumb not unlike a sweet cornbread. With a buttery flavor and a hint of lemon, these sweet breakfast treats are sure to please!
These mountainous, golden yellow muffins bake up super tall with a crunchy, crispy sugar crust that will drive your tastebuds wild (because we all know taste is as much about flavor as it is about texture).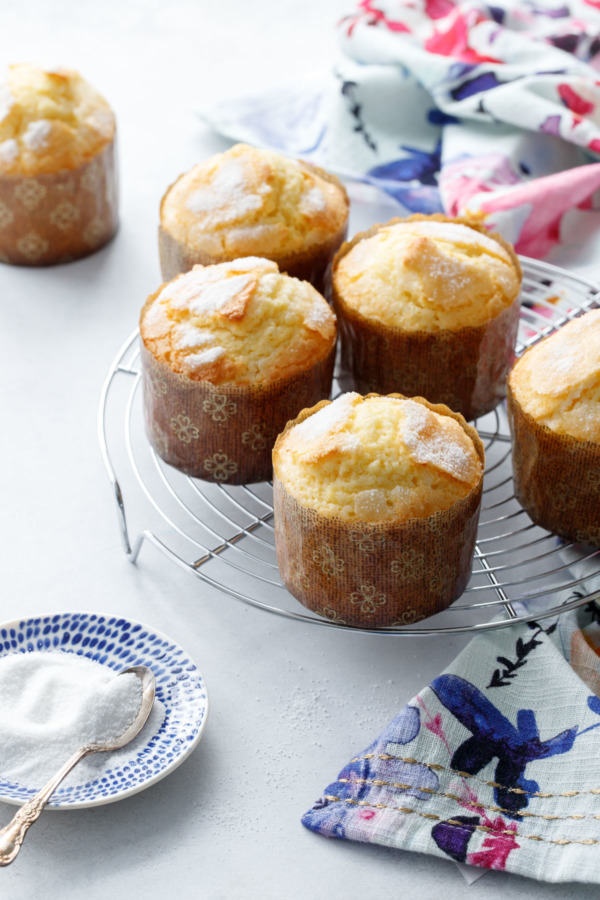 Having spent the last few weeks editing *literally* thousands of photos from our trip to Portugal, let's just say I'm in a Portuguese state of mind (TAKE ME BACK!) Which got me reminiscing about these surprising rice muffins we enjoyed for breakfast on more than one occasion.
(I mean, I can count on one hand the number of times a muffin was one of the most memorable bites of a trip. Actually, I can count on no hands, because it's never happened. Until now.)
Unlike pasteis de nata which are virtually impossible to replicate in a home oven, bolos de arroz (literal translation: cakes of rice) are downright easy.
They're oh so buttery and perfectly sweet, with a tender yet hearty crumb and just a hint of lemon that makes the flavors sing. But the cherry on top? Well, it's not a cherry, but the crackly sugar crust on top sure is wonderful.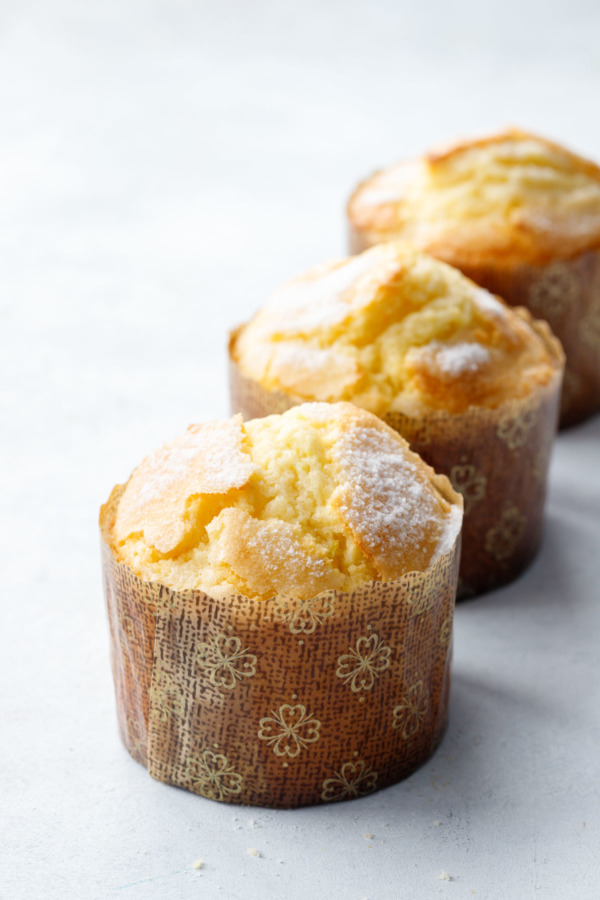 It took me a few tries to get the recipe right, working from some ambiguous translations of various Portuguese recipes (chemical yeast? what is that?) but I finally nailed the signature domed top and sugary crust.
The muffins are actually a mix of all purpose and rice flours, not all rice flour like you might think from the name (so unfortunately they are not gluten free).
The rice flour gives the muffins an almost cornbread-like texture. The flavor is strongly sugar and butter, with just a hint of lemon that gives the muffins a note of sophistication without tasting obviously lemony (that said, if you love lemon I think these would be wonderful with double or triple the zest).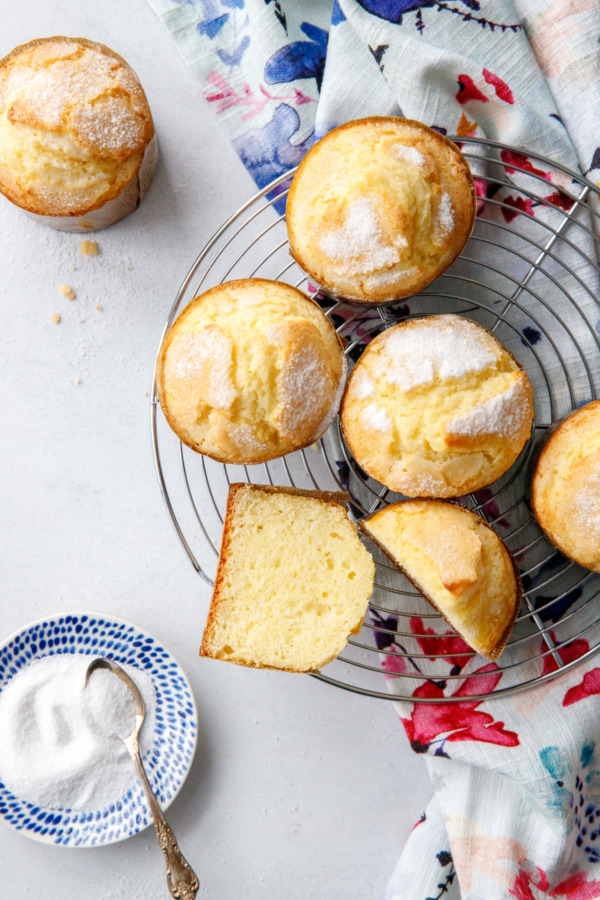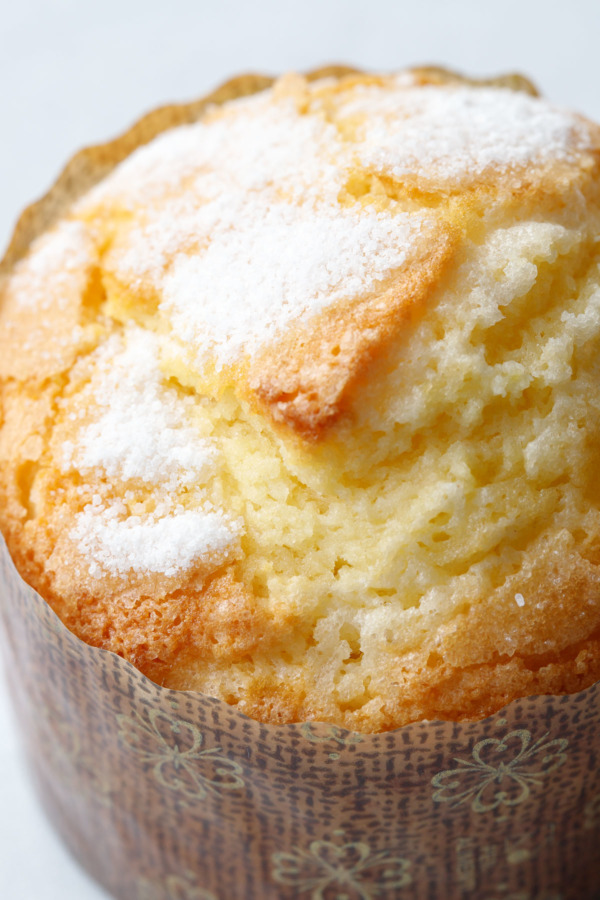 The bolos in Portugal are always wrapped in a vertical cylinder of baking paper, often with the bakery's branding or just a generic graphic declaring that this is indeed a bolo de arroz that you are stuffing in your face. I've seen people make their own molds out of parchment, but I found some paper muffin molds on Amazon that had a similar shape. Thicker than parchment, so it doesn't peel off quite as effortlessly, but they can be baked freestanding on a cookie sheet instead of in a muffin tin which is definitely convenient.
You could also bake these in a jumbo muffin pan (paper lined or lightly greased) or you could use a regular muffin pan, which would give you a full dozen (1 scoop of batter per cup instead of two).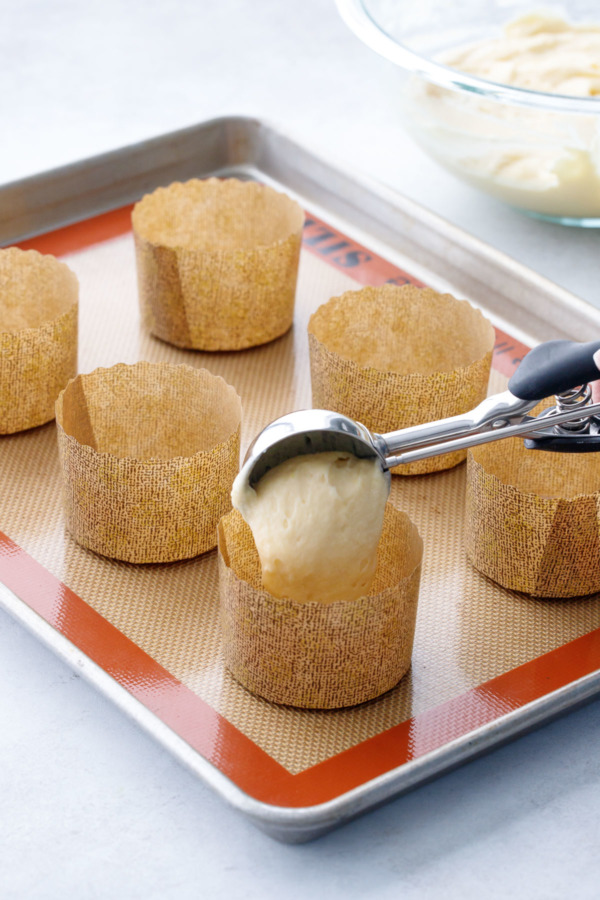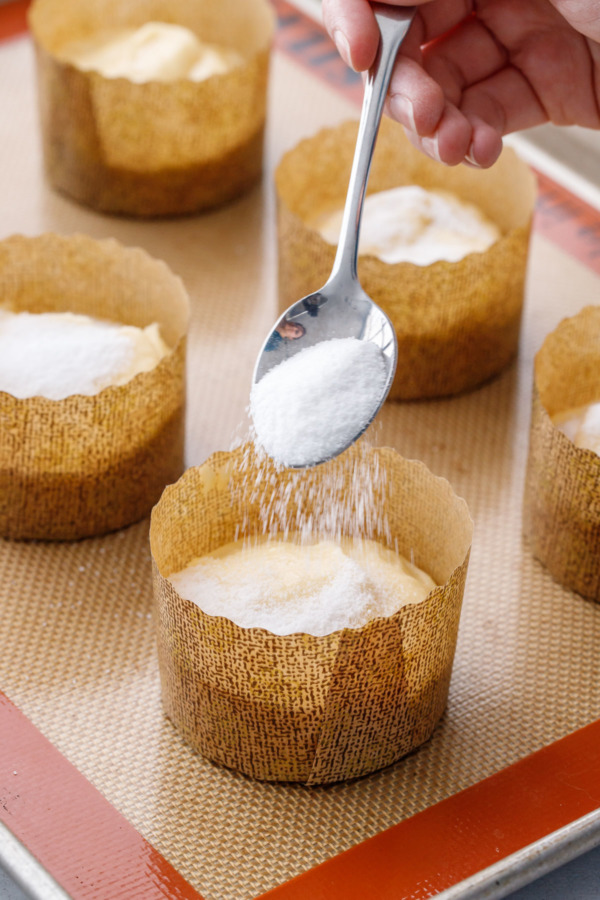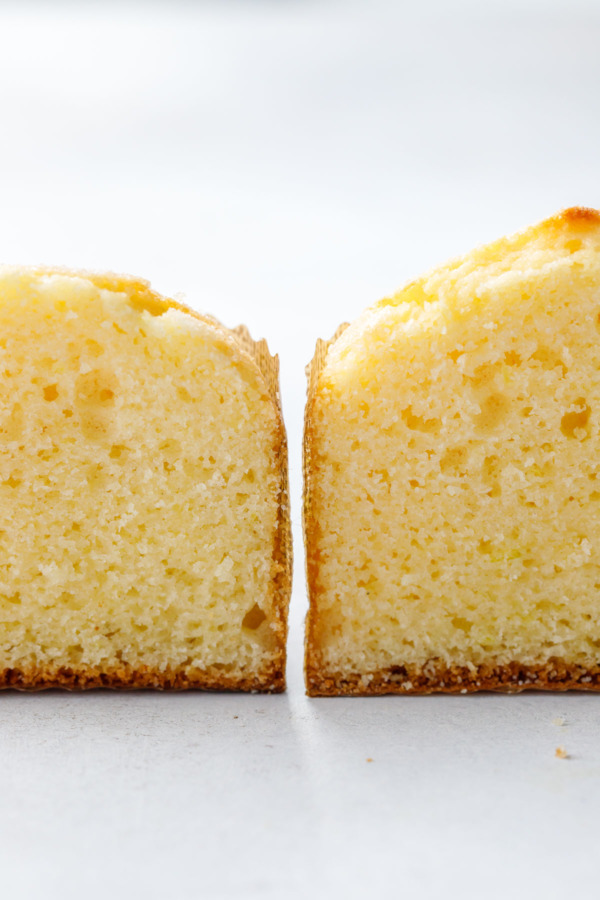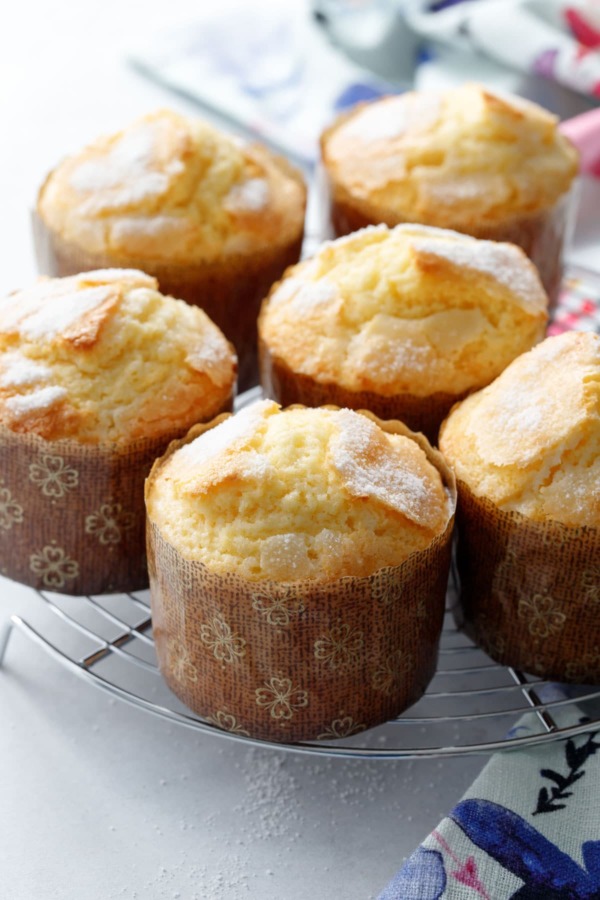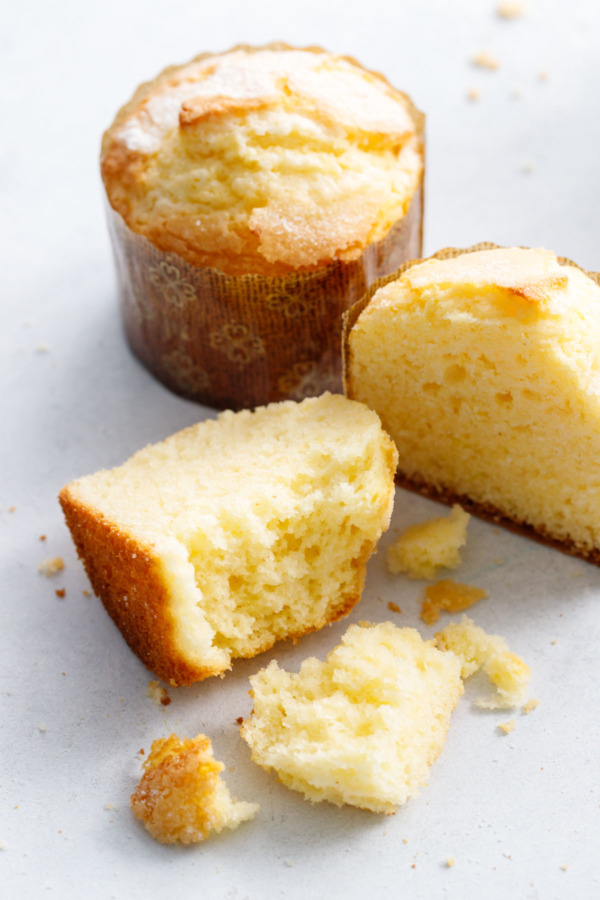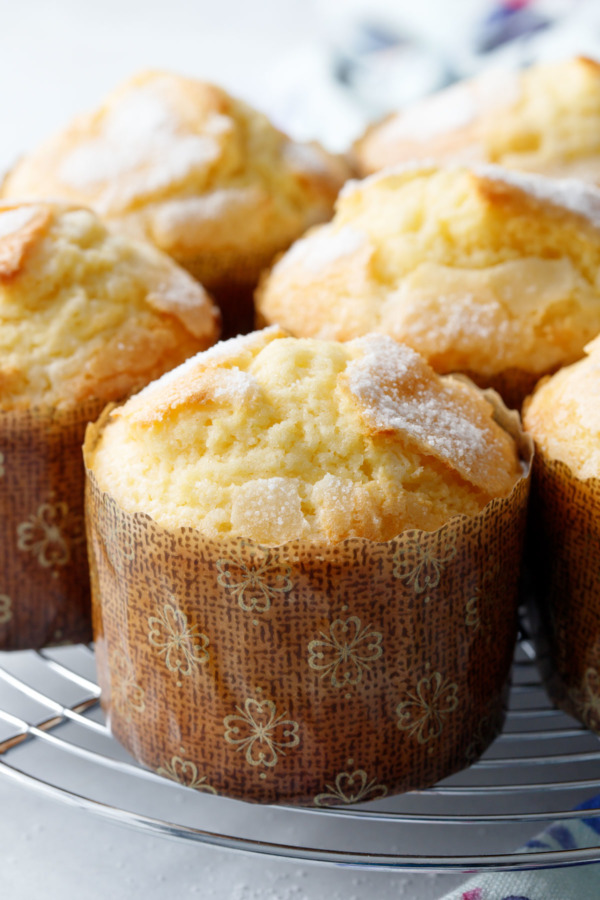 This recipe only makes 6, and that's by design: these muffins don't keep particularly well. They're best freshly baked, still slightly warm from the oven. Overnight they need to be stored in an airtight container otherwise they'll be drier than the Sahara desert; unfortunately storing them in an airtight container will soften the signature sugary crust. Needless to say, just bake as many as you plan to eat that day and you'll be golden.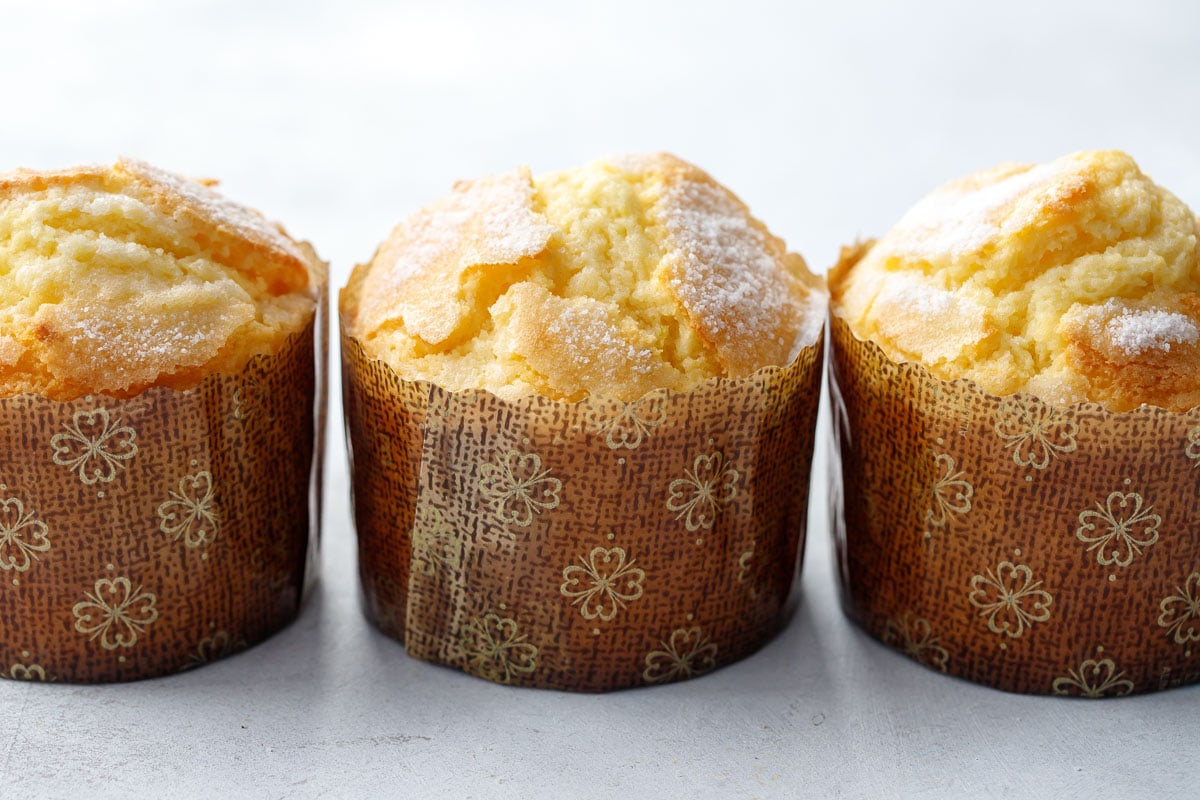 Bolos de Arroz (Portuguese Rice Muffins)
A traditional Portuguese muffin made with part rice flour, which gives the muffins a tender crumb with a buttery flavor and a hint of lemon, and a delightful crunchy sugar crust on top.
Ingredients
¾

cup

/

150

g

granulated sugar

,

plus more for topping

⅓

cup

/

75

g

unsalted butter

,

at room temperature

2 ½

teaspoons

/

11

g

baking powder

1

teaspoon

lemon zest

Pinch

kosher salt

3

large eggs

,

at room temperature

scant ½

cup

/

100

ml

whole milk

,

more or less as needed

1

cup

/

125

g

all-purpose flour

⅔

cup

/

100

g

rice flour
Instructions
Preheat oven to 400 degrees F. Arrange 6 paper baking molds on a silicone-lined baking sheet (it will help keep the molds from sliding around). You can also use a jumbo or regular muffin tin, either lined with baking papers or lightly buttered.

In a mixing bowl or the bowl of a stand mixer fitted with the paddle attachment, cream together sugar, butter, baking powder, lemon zest and salt until very light and fluffy, 5 to 6 minutes.

Crack eggs in to a liquid measuring cup. Add enough milk to equal 250mL of liquid (this should be about 100ml, but depending on the size of your eggs may be more or less). Whisk until mostly blended.

In a bowl, whisk together flour and rice flour until evenly incorporated.

With the mixer on low, add about 1/3 of egg mixture. Increase the speed and beat until completely emulsified into the batter before addding another 1/3 of the liquid. Scrape down the bowl as needed. Repeat, mixing until completely incorporated before adding remaining liquid.

Add flour and mix on low speed for a few seconds just to moisten it, then increase to high for just a few seconds until light and creamy. You obviously don't want to beat it too much, but unlike standard cake the rice flour will prevent excess gluten from forming. This final high speed mix will help bring the batter together and produce a finely textured muffin.

Divide batter among baking molds; you'll want 100 grams of batter, about 2 large cookie scoops worth, per muffin. For standard size muffins use a single scoop or 50 grams worth. Generously sprinkle tops with granulated sugar.

Bake for about 18 minutes or until top is crackly and barely starting to brown; a toothpick inserted near the center will come out mostly clean.

Remove from oven and let cool slightly; serve warm or at room temperature. Muffins are best enjoyed the day they are made, but can be stored in an airtight container for 1-2 days (though you will lose the crunch on top).
All images and text ©
for Love & Olive Oil.
Did you make this recipe?
Let us know what you think! Leave a Review below or share a photo and tag me on Instagram with the hashtag #loveandoliveoil.