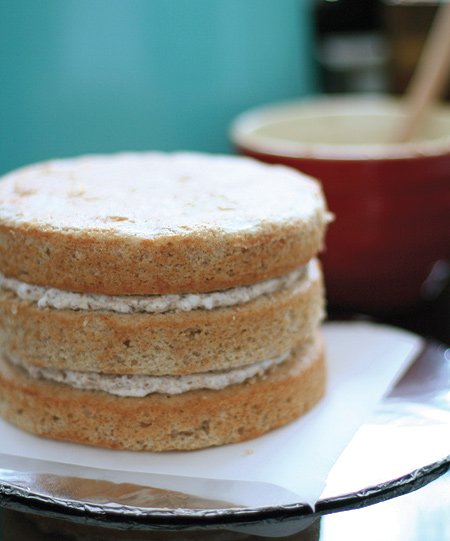 This is officially my new favorite cookbook. Like, seriously. Every cake in there sounds like one I want to make. You know how typically cookbooks will have a handful of recipes that appeal to you, while the others are just, meh? Not this one. Every. Single. Cake. The pistachio petit-four cake? This book. Vanilla cake with tiramisu buttercream (well, the cake part of it at least)? Also from this book. I told you it was good.
And holy crap! I just read the bio for the book's author, Alisa Huntsman… turns out she is a pastry chef at a local landmark here in Nashville (the Loveless Cafe – apparently the best biscuits around – though I'm embarrassed to admit we have yet to try it). I sense a field trip in our very near future.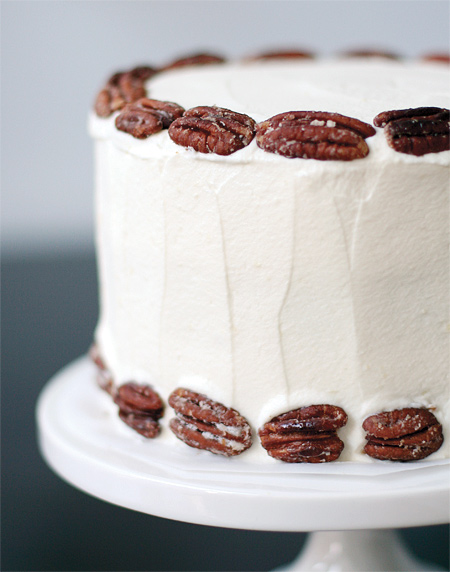 I took this opportunity to try out my adorable little 6″ cake pans. Taylor got them for me after he realized that he would get more cake if the cakes were more reasonable for a two-person household. I'm not going to bake an 8 or 9-inch cake unless there is a reason (a party, for example). But a 6-inch? I'll bake cake every weekend, celebration or not. Smart boy, that one.
This particular cake is a nice change from the chocolate cakes I typically gravitate towards (not that you need a change from chocolate, but you know what I mean). The banana flavor is subtle but robust, and the frosting is light and airy (don't let the phrase ganache fool you – this frosting is more like a whipped cream than anything). And topped off with sugared pecans? Need I say more?
Banana Cake with Praline Filling and White Chocolate Ganache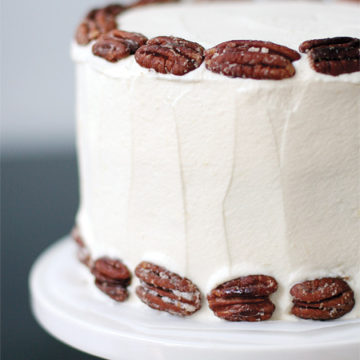 Ingredients:
Cake:
3 cups of cake flour
3 1/2 teaspoons of baking powder
1 1/2 teaspoons of cinnamon
1/2 teaspoon of salt
3/4 cup of milk
1/2 cup of ripe mashed bananas
8 ounces of softened unsalted butter
2 cups of sugar
7 egg whites
Praline Filling:
1 cup sugared pecans, cooled
1 1/2 cups white chocolate ganache
Sugared Pecans:
1 1/2 cups pecan halves
3 cups vegetable oil
1 cup confectioners sugar
White Chocolate Ganache:
8 ounces of white chocolate chopped
2 1/2 cups of heavy cream
1 1/2 teaspoons vanilla extract
Directions:
For the Cake:
Preheat the oven to 350F degrees. Butter three 9-inch round cake pans. Line the bottom of each pan with parchment paper or wax paper.
Sift together the flour, baking powder, cinnamon, and salt. Set aside dry ingredients. In a food processor or blender, process the milk and banana into a smooth light puree. Set aside.
In a large bowl cream together the butter and sugar until light and fluffy. On medium high speed, beat in egg whites 2-3 at a time until smooth. Scraping down the sides of the bowl between egg additions.
With the mixer on low speed add the dry ingredients and banana puree alternately in 2-3 additions, beating until just blended. Scrape down the sides of the bowl and beat on medium-high speed for 1-minute. Divide the batter among the cake pans.
Bake for 20-25 minutes or until a cake tester comes out clean when inserted into the center of each cake. Let the cake layers cool in the pan for 10 minutes. Then turn out onto a wired rack and remove the paper liners. Then cool completely one hour.
To assemble the cake, put one layer, flat side up, on a cake stand or serving plate. Cover the top evenly with half of the praline filling, leaving a 1/4″-inch margin around the edges. place the second layer on top, again flat side up, cover it with remaining filling. Finally add the third layer and frost the sides and top with the white chocolate ganache. Garnish with sugared pecans.
For the Praline Filling:
With a large chef's knife chop the pecans. Or pulse in a food processor being careful not to turn into paste. Add the sugared pecans to the white chocolate ganache and stir to mix well.
For the Sugared Pecans:
Place the pecans in a medium sauce pan, add water to cover, and heat to a boiling. Boil the pecans slowly until they are swollen and soft 5-8 minutes. Drain the nuts well in a sieve for about 5 minutes. (Do not pat dry; the nuts must remain damp.)
While the nuts are draining, heat the oil in a large heavy saucepan or deep fat fryer t0 350F degrees.
Set half of the nuts aside. Dust the remaining nuts in the sieve with 1/2 cup of powdered sugar. Shake the sieve to coat the nuts evenly, letting any excess sugar fall away. Immediately add the coated nuts to the hot oil. Fry until golden brown about 2-3 minutes. Using a slotted spoon scoop the nuts out and drain them on several thickness of paper towels. Repeat the process with the remaining nuts. (Alternatively, you can toss the nuts with a splash of oil and powdered sugar, arrange in a single layer on a baking sheet, and bake at 350 degrees for 10-15 minutes, until beginning to brown. Careful not to burn them!)
For the White Chocolate Ganache:
Put the white chocolate in a medium heat proof bowl. In a small sauce bring 1/2 cup of the cream to a boil. Pour the hot cream over the chocolate. Let stand for 1-minute, then whisk until smooth. Let the white chocolate cream stand until cooled to room temperature.
In a chilled bowl with chilled beaters beat the remaining 2 cups of heavy cream and vanilla until softly whipped. Stir in the white chocolate cream and beat until fairly stiff. taking care not over beat, which would cause the ganache to separate.
Did you make this recipe?
Let us know what you think!
Leave a Comment below or share a photo and tag me on Instagram with the hashtag #loveandoliveoil.