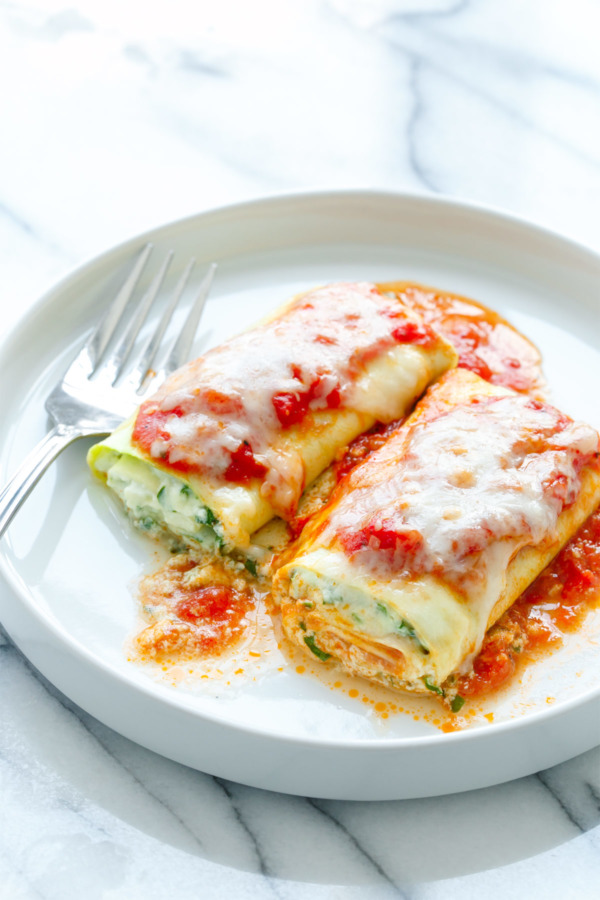 Ok, so this recipe is nothing new or groundbreaking. You've probably seen plenty of zucchini roll-up recipes before (I can't decide if they would be called zucchini rollatini or lasagna rolls or zucchini roll-ups… all are equally appropriate).
Let's be honest, most of these zucchini roll-up recipes involve trying to make vertical slices of zucchini which, if you've tried it, you'll know is no easy task. My knife skills are not nearly that good. You end up with thick, chunky, uneven slices of zucchini and lots of wasted scraps. It's not ideal.
That's why this new attachment from KitchenAid is blowing my mind right now. It creates beautifully thin sheets of fruits or vegetables in a matter of seconds. I was seriously impressed with just how well this attachment worked, creating perfect, even sheets of zucchini almost like magic. Another brilliantly designed product from KitchenAid to add to your kitchen arsenal.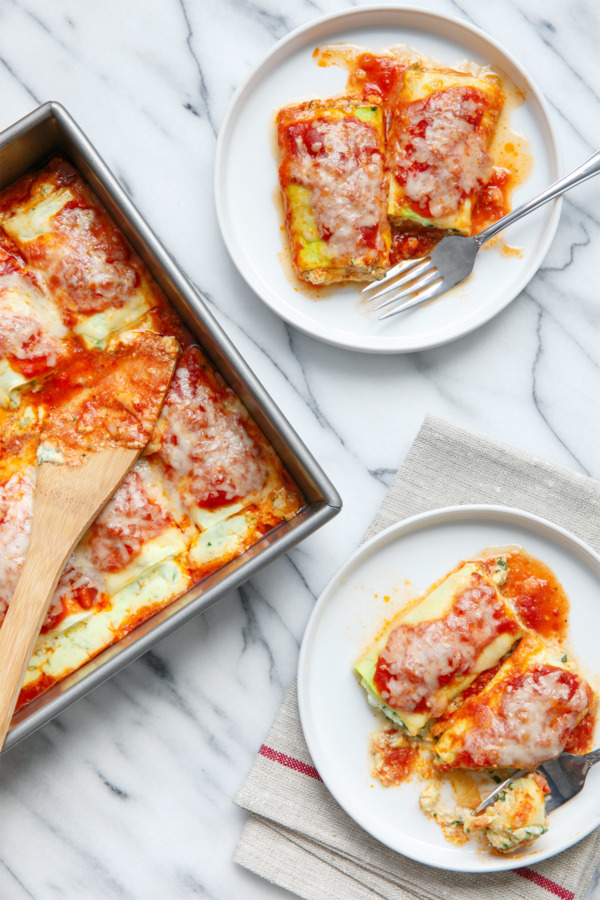 For this recipe, we swapped out the typical lasagna noodle in place of zucchini sheets, and rolled it instead of layered it in a baking dish for easy assembly and serving. The filling is made with three kinds of cheese: whole milk ricotta cheese, mascarpone cheese (for maximum creaminess) and parmesan cheese for flavor. (There's also mozzarella cheese sprinkled on top, because you really can't have too much cheese.) Also, some chopped spinach for some added sustenance, as well as garlic for flavor and egg for structure. Go easy on the salt in the filling, since the zucchini sheets will retain much of the salt even after they've been patted dry.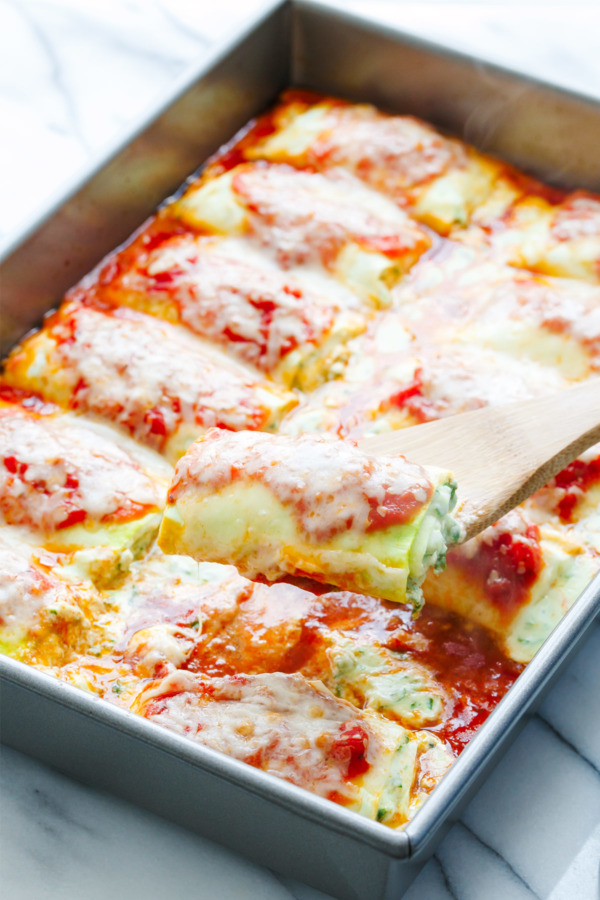 Aside from getting nice thin slices, the biggest issue with with a recipe like this (where zucchini replaces traditional wheat pasta) is the excess water. Whereas wheat pasta absorbs water, zucchini releases it, and it can result in a watery mess if you don't take care of some of it first.
The best way to fix that problem is to salt your zucchini first, drawing out much of the water content. While salting alone won't remove all the water (it's going to be thinner overall than a traditional rolled lasagna, that's unavoidable) but it helps immensely and results in a final product that isn't nearly as watery as if you skipped this step. Trust me.
Just remember that your zucchini, even after you pat it try to remove the water, will be thoroughly salted, so go easy on the salt in the filling to compensate.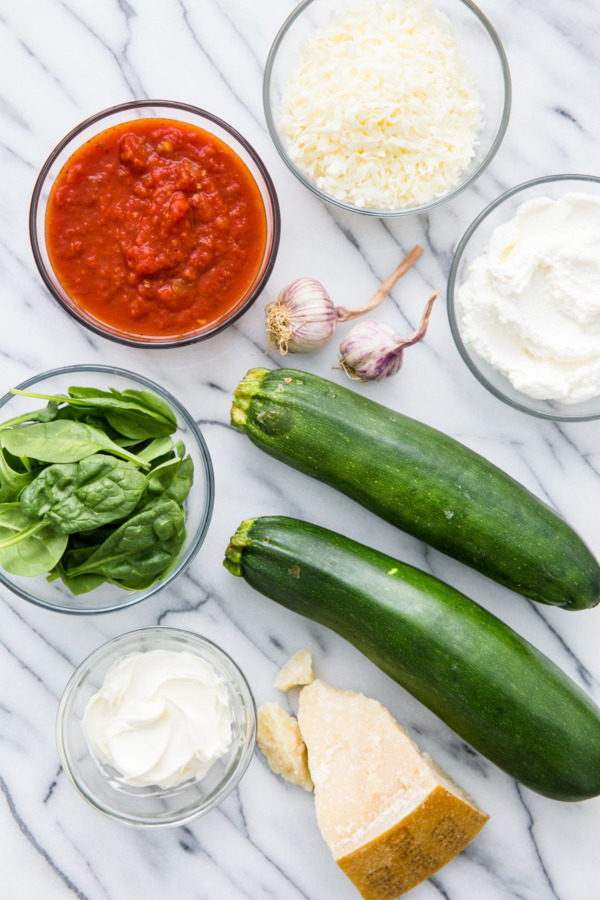 While normally I seek out the smaller, more tender zucchini for cooking, this is one situation where bigger is better. Look for the biggest, straightest zucchini you can find. Zucchini that is too skinny or curved won't work as well with this attachment.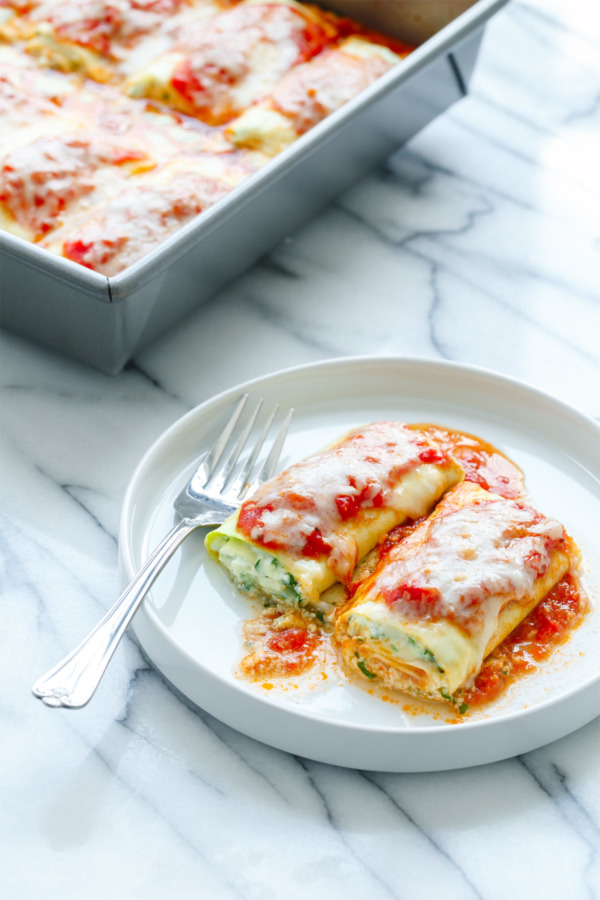 Beyond healthy, low-carb noodle replacements, this brilliant attachment opens up worlds of culinary possibilities. I mean, apples? Potatoes? Cucumber? I can think of a dozen ways to use it right off the bat!
This recipe was originally created in partnership with KitchenAid®. All opinions are my own.
Zucchini Lasagna Rolls with Spinach & Ricotta Filling
Zucchini lasagna rolls with a creamy spinach and ricotta filling will be your new favorite low-carb, gluten-free weeknight meal: you won't even miss the noodles!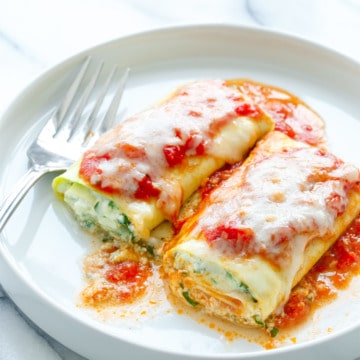 Ingredients:
2 pounds zucchini (2 large zucchini)
kosher salt, for sprinkling
16 ounces whole milk ricotta cheese, grated (2 cups grated)
4 ounces (1/2 cup) mascarpone cheese
1 ounce parmesan cheese (about 1/2 cup grated)
1 large egg
2 cups packed fresh baby spinach, finely chopped
4 garlic gloves, minced
1/4 teaspoon kosher salt
1/4 teaspoon freshly ground black pepper
2 cups marinara sauce
2 ounces mozzarella cheese (about 2/3 cup grated)
Directions:
Preheat oven to 375 degrees F.
Connect your KitchenAid® Vegetable Sheet Attachment to your stand mixer. Cut off ends of zucchini and cut into two even sections approximately 3-to-4″ in length. Position thin cutting blade in place. Turn mixer to speed 2, and slowly release the blade using the release lever to cut into one long thin sheet. Discard ends, then cut into 8-to-9-inch-long pieces. Repeat with remaining zucchini; you should end up with 12 pieces.
Line two baking sheets with paper towels. Lay zucchini pieces in a single layer on baking sheets with as little overlap as possible. Sprinkle about 1/2 teaspoon of kosher salt generously over zucchini. Let sit for 10 minutes or until water begins to bead on the surface; blot dry with a paper towel. Flip zucchini pieces, then salt other side and repeat this process again to draw out as much water as possible.
While zucchini is sitting, prepare your filling: In a bowl, combine ricotta, mascarpone, and parmesan cheeses along with egg. Stir well to combine. Fold in spinach and garlic, and season with salt and pepper (go easy on the salt since the zucchini itself is already salted).
Spread about 3/4 cup of marinara sauce in a 13-by-9-inch baking pan or casserole dish.
Place one piece of zucchini on a clean work surface. Spread about 2 to 3 tablespoons of filling in an even layer on each sheet, then roll, starting with the short end closest to you. Place in prepared baking dish with the seam side down. Repeat with remaining zucchini, arranging the rolls in 2 rows of 6 in the pan, with a little space between them.
Top rolls with remaining marinara sauce; sprinkle with grated mozzarella cheese.
Bake for 20 to 25 minutes or until sauce is bubbling and cheese is fully melted. Remove from oven and let cool for 5 to 10 minutes before serving warm.
Did you make this recipe?
Let us know what you think!
Leave a Comment below or share a photo and tag me on Instagram with the hashtag #loveandoliveoil.