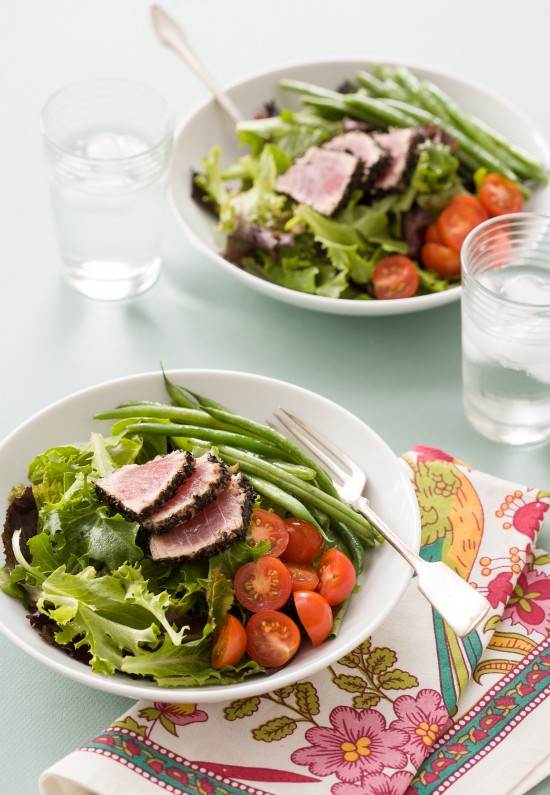 How many times, in the midst of the endless food of the holidays, have you wished for a simple salad? After a second helping of turkey, bowls of creamy mashed potatoes piled high with rich gravy, and a larger-than-you-really-needed slice of decadent pumpkin pie for dessert (and then another slice for breakfast), sometimes a salad sounds downright divine.
For those momentary healthful cravings, this salad is perfection. It's not just an ordinary Niçoise salad (which usually contains canned tuna fish), but instead features slices of black-sesame-crusted tuna atop a bed of bright baby greens and tossed with a Japanese-style wasabi vinaigrette.
This salad is just one of the recipes we've created for the Spice Islands® Flavor Explorer blog, this one showcasing the unique black sesame seeds and potent wasabi powder. I can tell you that we loved cooking our way through the Spice Islands® library, playing with flavors and combinations that we'd never used before.
Hungry for more? Hop on over to the Spice Islands blog, where you'll also find our recipes for Sicilian pan pizza with sun-dried tomato pesto and coconut beef stir fry rice bowls. And there's way more to come!
Niçoise Salad with Seared Black Sesame Tuna
Ingredients:
For dressing:
1 teaspoon Spice Islands® Wasabi Powder or other instant wasabi powder
1 tablespoon rice vinegar
1/2 tablespoon soy sauce
1/2 teaspoon sesame oil
1/8 teaspoon Spice Islands® Ground Coriander
2 tablespoons canola oil
For tuna:
1 tablespoon canola oil
2 (8 ounce) sushi-grade ahi tuna steaks
Spice Islands® Fine Sea Salt and Spice Islands® Fine Grind Black Pepper, to taste
1/4 cup Spice Islands® Black Sesame Seeds
For salad:
6 ounces haricot verts (French green beans) or green beans, trimmed
6 ounces mixed baby greens
1 pint cherry tomatoes, quartered
Directions:
In a small bowl, whisk together wasabi powder and rice vinegar. Let sit 5 minutes to allow the flavors to fully develop. Whisk in soy sauce, sesame oil and coriander. Drizzle in canola oil, whisking vigorously until emulsified and combined.
Preheat canola oil in a large nonstick skillet over medium-high heat until shimmering.
Season all sides of tuna steaks with salt and pepper. Pour sesame seeds onto a small rimmed plate. Lay tuna steaks into sesame seeds, coating all sides with an even layer. Add tuna to hot skillet and sear for about 1 to 2 minutes per side. You can choose to cook the tuna for slightly more or less time depending on desired doneness. Cooking for 30 seconds per side will give you the smallest opaque border with a bright pink, raw center. Slightly longer, more like 2 minutes, will give you a barely pink center.
Transfer tuna to a cutting board and, with a sharp knife, cut into 1/4-inch thick slices.
Meanwhile, place green beans in a lidded, microwave safe dish with about 1 cup of water. Microwave on high for about 2 minutes (3 minutes if using regular green beans), until bright green and tender. Drain and rinse with cold water to stop the cooking. Toss beans with 1 tablespoon of dressing.
Toss greens and half of the remaining dressing and divide among serving bowls. Top with cherry tomatoes, green beans and tuna slices. Drizzle tuna with remaining dressing and serve.
Did you make this recipe?
Let us know what you think!
Leave a Comment below or share a photo and tag me on Instagram with the hashtag #loveandoliveoil.