If Tokyo is modern, electric, and chaotic, Kyoto is ancient, calm, and spiritual. It was a distinct contrast, but I couldn't choose which one I liked better. Tokyo was exciting, sure, and we could have easily spent weeks there exploring, but I felt like I could live in Kyoto.
We had heard from more than one person that if you were to visit just one city in Japan, it should be Kyoto. I don't necessarily agree, I'm glad we got to see Tokyo too, but I see why they say it: Kyoto has a history that Tokyo simply doesn't (not its own fault of course that the visual record of its history was demolished). But if you want to see historic Japan, ancient shrines and temples and serene gardens, Kyoto is the place to do it.
We arrived in Kyoto at the height of cherry blossom season. Not intentionally, having booked our tickets more than 6 months out we had no idea when the blossoms would peak. But we became intentional in our determination to appreciate the sheer beauty before us, because there are few things as beautiful as cherry blossom trees in full bloom.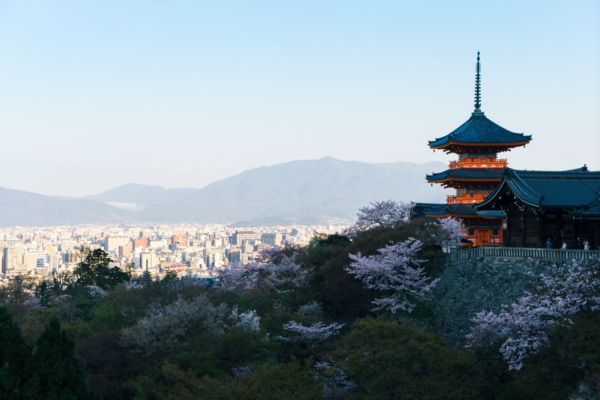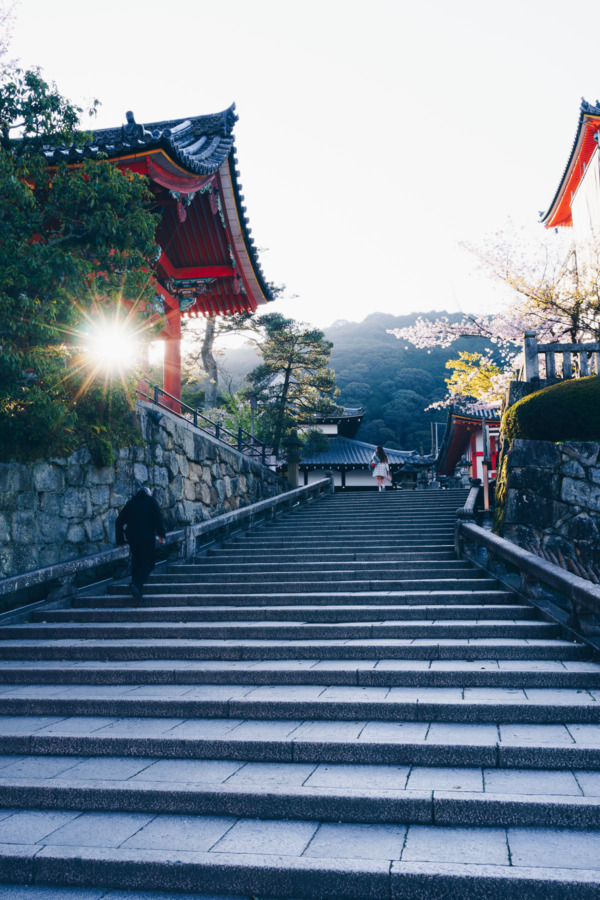 Travel tip: take advantage of your jetlag and get up with the sun. Go visit the touristy spots (but check the hours to make sure they'll be open!) before the tourists are awake. We did this when visiting the Kiyomizu-dera temple and it was lovely, not to mention made for some beautiful photos. We were able to explore the grounds without throngs of tourists, and see the sun come up over the mountains.
It was actually quite chilly during these early morning jaunts, and we became dependent on the hot drink vending machines. That's right, you can actually get cans of hot coffee and tea from a vending machine. When your fingers are freezing and the coffee shops don't open for another hour, those vending machines are a godsend.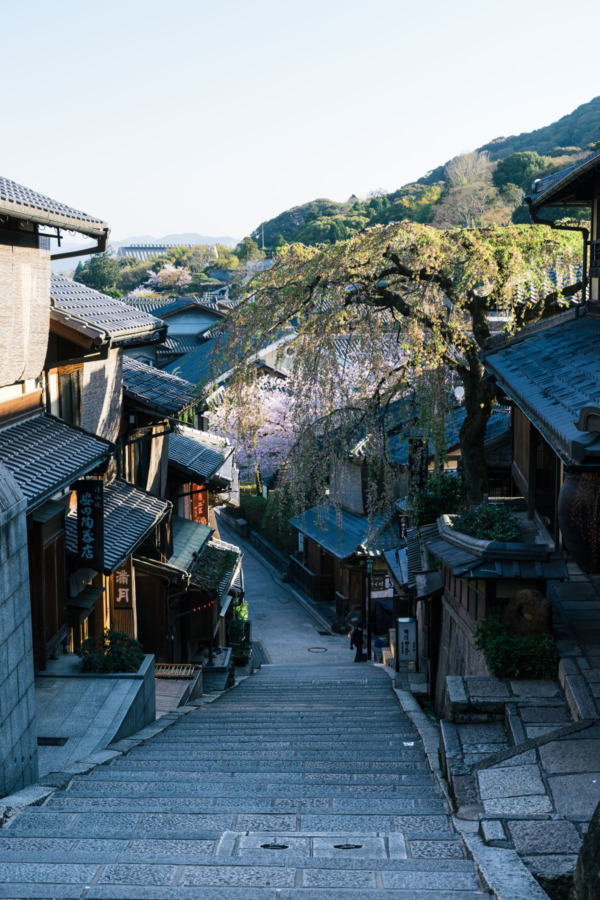 Funny story: as we were posing for this picture, a little old Japanese man sidled up beside Laura and Connor (who were taking the photo), pulled out his phone, and took a few snapshots of his own. Grinning, he showed them the results of his artistry, gave us a thumbs up and went about his way.
Somewhere in Japan there is a photo of us on an old man's phone. What he's doing with it is anyone's guess.
As I mentioned, we spent a few of our days in Kyoto with fellow food blogger Laura and her husband Connor, whose own trip overlapped ours in both Tokyo and Kyoto. Laura was working with Journy and had a pretty thorough itinerary for their days there, and we tagged along to what turned out to be some of our favorite spots on the trip, including Aoonigiri: a one-man onigiri restaurant near the Honen-in Temple. It was superb, with hand-formed balls of perfectly fluffy rice and simple fillings and crispy nori and amazing mushroom-based miso soup on the side. Full credit to Journy for this find, as I never would have even known about this place on my own.
Before a trip, Taylor and I usually research the heck out of a place before visiting, cluttering our google map with stars and pins and notes galore, so that wherever we happen to end up there is likely to be a 'recommended' spot to eat nearby. That said, I'm totally sold on Journy, and even worked with them to put together an itinerary for our recent trip to Italy (we only had 2 nights in Venice and wanted to make the most of it, but didn't necessarily have the time to research on our own). Let me say: it was SO nice not having to scour the internet before we left. It was incredibly freeing knowing that we had a plan; that whether or not we followed it exactly, we had a place to go for lunch or for dinner that didn't involve any thought or argument. How many times have you found yourself stuck in an unfamiliar area, hungry and cranky and yet not wanting to squander one of your few precious meals at a tourist trap? The pressure to make the most of every meal often results in emotions flaring; more than once in past travels an entire day's worth of good intentions has broken down over the decision of where to eat for dinner. Having an end goal, a recommendation from a trusted source, was a huge relief.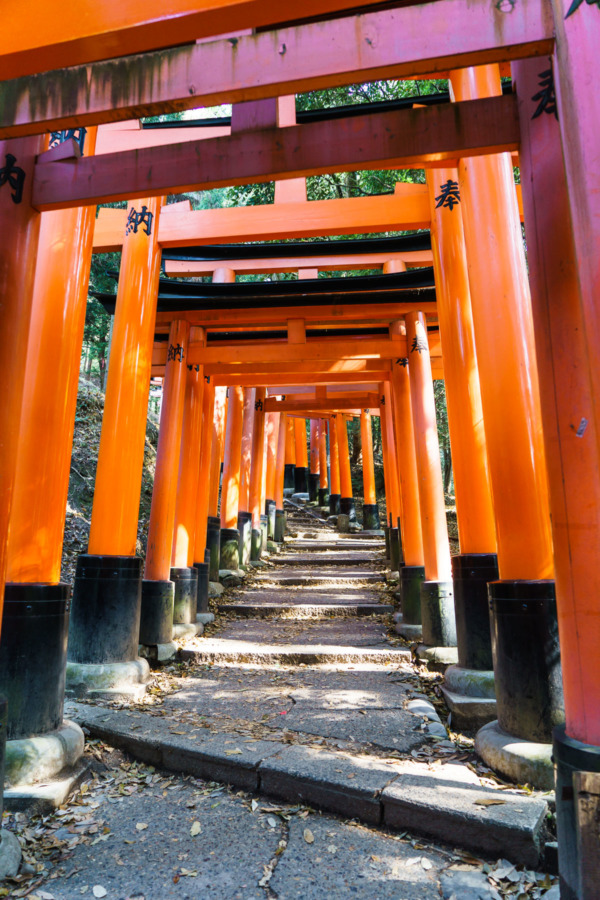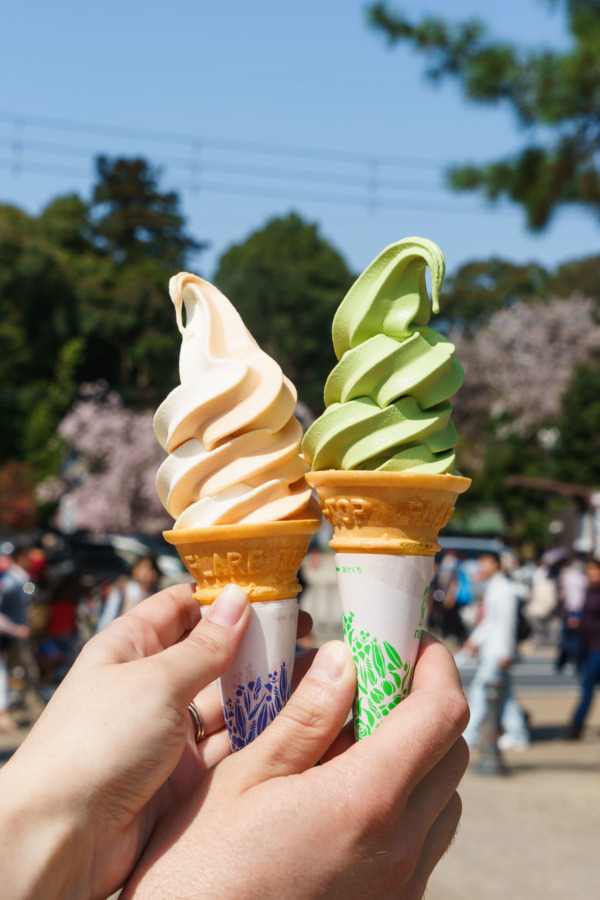 Nara is a quick 40 minute train ride from Kyoto, and we spent one day there to visit the famous Nara deer. I'm not sure what I was expecting, but this was one of the highlights of the trip.
The deer have, over generations, learned to 'bow' and will do so prolifically until you give them what they're after: deer cookies, which you can buy reasonably cheap from the vendors dotting the parks. If you're stingy with the cookies then the deer aren't quite so polite, head butting you from behind and nibbling at your pockets searching for treats. Still, if you're in Kyoto for at least a few days I highly recommend taking a day or half day to visit Nara.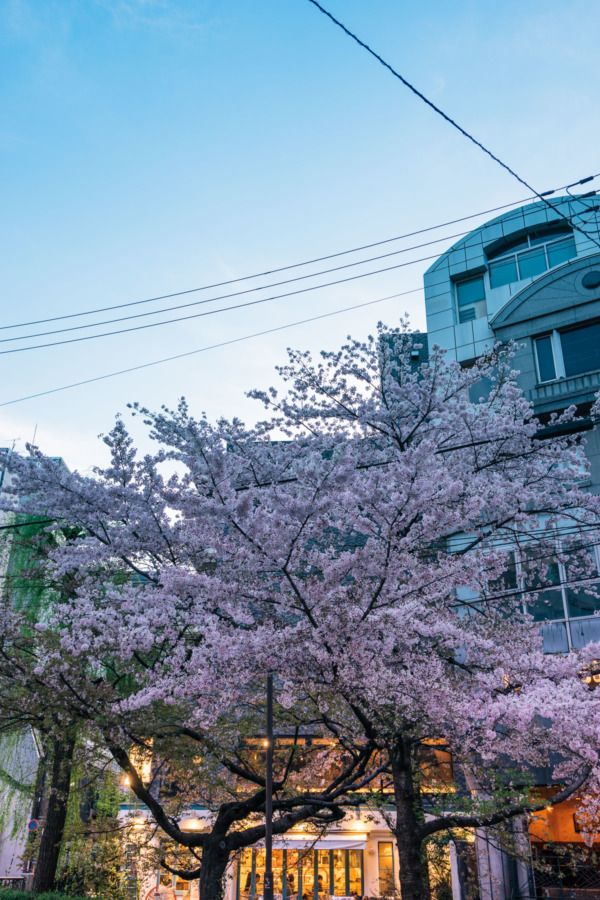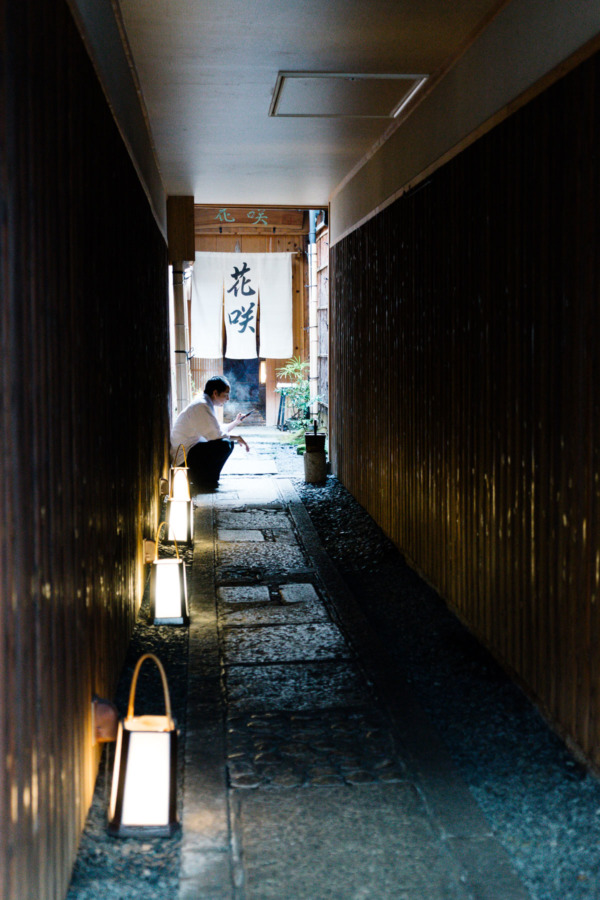 The Nishiki market was another highlight, located a short 10 minute walk from our hotel. We spent a few afternoons and evenings here enjoying the shops and culinary offerings, including soft serve (don't miss the Black Sesame soft serve at the sesame shop or the matcha soft serve at the everything-matcha stall), as well as fresh soy milk, seafood skewers, various fried fish-paste pastries, and even the cookie dough-filled mochi at the Snoopy store that inspired me to recreate it once we returned home.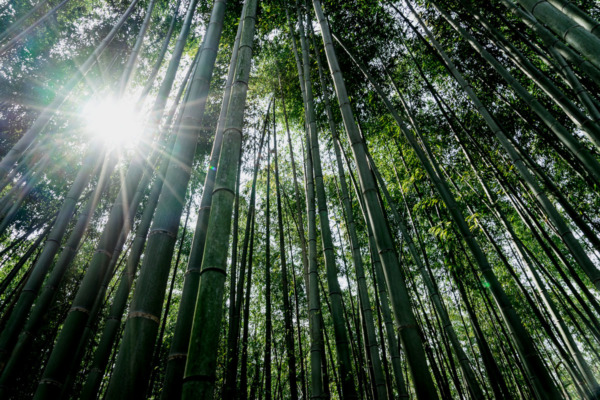 Another one of the culinary highlights of our time in Kyoto was our lunch at Shoraian: a kaiseki-style tofu restaurant nestled in the trees along the Katsura river.
The Kyoto region is known for its tofu, and Shoraian was a showcase of some of the best tofu of my life. It's unlike any tofu I've ever had, silky and almost custard-like, with a sweet grassy flavor that's truly divine.
You can choose from 3 tasting menu options, and I might suggest each person in your party get a different one since they vary the dishes and presentation for each one. I got the smallest Shoyo menu for 3800¥, and Taylor got the largest Shofu menu for 5800¥, both come with yudofu hot pot tofu and dessert.
The highlights, for me, were the tofu skin tempura, the tofu gratin that came with Taylor's menu, and the tofu ice cream for dessert.
If you're going to Kyoto I highly recommend making a reservation (be sure to do so well in advance as they fill up quickly… we emailed our hotel beforehand and they were able to arrange the reservation for us). The restaurant is not accessible by car, instead you can take a train to the bamboo forest or to Arashiyama park and then walk along the narrow stone paths amidst the trees to get there. Give yourself some extra time: Google maps does pretty well as far as walking directions but it still took us a few extra minutes to finally find it.
Thus concludes another epic post from an epic trip; seriously though, it was all I could do to narrow down my photos to the 70 or so here… every time I went through them I picked out a few more that I just had to include. It's a hard task when you're dealing with a city is picturesque as Kyoto.
Below are some more of our favorite spots and stops in Kyoto, useful if you're planning a trip there anytime soon, which I sincerely hope that you are. I'm still planning to do two more small posts about our stay at a traditional Japanese inn in Hakone, as well as our two nights at Tokyo Disney. Stay tuned! And if you missed it, you can check out our Tokyo post here.
Food & Restaurant Recommendations
Nishiki Market – A food lover's paradise. Don't miss the black sesame soft serve, the cookie dough mochi at the sushi store, the candied soy beans, or the seafood skewers.
Shoraian – The kyoto region is known for its tofu, and this spot, nestled in the trees along a stunning turquoise river, serves up a luncthime tofu feast unlike anything you've ever had before. Make reservations well in advance, as it tends to fill up. Also? Give yourself ample time to get there since it can be a bit tricky to find amidst the trees.
Ao Onigiri – One of our favorite spots, by far. Onigiri is my new favorite comfort food, and this place is incredible. So simple.
Musashi Sushi – C'mon ride the train. Seriously, Tokyo might be the place known for its sushi trains, but the one we found in Kyoto was leaps and bounds better than anything I've had in the states. They also have carry-out sushi and bento boxes if you're looking for a quick meal to go!
Miyako Yasai Kamo – A tasty vegetarian buffet. It was perfect for a night when we didn't have reservations and wanted something quick, affordable, and satisfying.
Kyoto Ramen Street – Once again, some of the best food we had was in the train station. Kyoto's Ramen Street is on the 10th floor of the station. A bit hard to find, but worth it in the end. Like in Tokyo, you can sample many different ramen styles all in one location.
Sights & Activities
Journy – If you like to have a plan but don't want to put in the work, Journy is your new best friend. They'll provide you with a detailed itinerary of your day, complete with activities and meal recommendations based on your personal preferences.
Tea Ceremony Camellia – Learn the art of the Japanese tea ceremony, from the history to the lore to the process of making matcha yourself.
Hyakumanben Handmade Market – If you happen to be in Kyoto on the 15th day of the month, make your way to the Hyakumanben Chion-ji temple (not to be confused with the Chion-in temple, totally different place) and check out this massive market filled with handmade goods. I found some lovely ceramics to take home with me. :)
Philosopher's Path – Especially in cherry blossom season, this path bordering the canal at the edge of the city is absolutely gorgeous.
Kiyomizu-dera Temple – There is no shortage of temples and shrines in Kyoto, but this is perhaps the most popular. Get there when they open at 7am for amazing sunrise views of the city and sparse crowds.
Fushimi Inari Shrine – The iconic orange gates are recognizable around the world. I recommend visiting this place early for the best photo ops as it can get very crowded.
Honen-in and Ginkaku-ji Temples – These were some of the most peaceful places I've ever experienced. The later was definitely more crowded, but the giant zen garden sand sculptures were incredible and definitely worth seeing.
Accommodations
Citadines – More of a short-term apartment than a hotel, but still with a full service concierge. The rooms are clean and have their own mini kitchenette, perfect for bringing home goodies from the market for later. Do breakfast on your own though, we found the breakfast buffet to be rather sad.