Barcelona: land of fresh seafood, churros, horchata and ham. Where modern mingles with traditional cuisine and the result is truly delicious.
We ate our way through the city like our lives depended on it. I've done my best to highlight our favorites, so be sure to click through and read the entire post. I've also included a full list of restaurants and shops at the end of this post, for you to use as a resource when planning your trip to Barcelona (and I wouldn't hesitate, it is easily one of my favorite cities I've ever visited). In case you missed it, our first post here highlights the amazing sights and landmarks of the city.
One of the high points of our time in Barcelona was the Sweets Lover Tour we booked one of our first days in town, an experience which was the perfect combination of sugar and history. If I had just eaten sweets for 3 hours straight I'd be comatose, but our guide broke up the sweet treats with bits of history and lore before we moved on to the next spot. We had taken an architecture tour the day before, and, looking back, it would have been much more enjoyable if the monologues on history and theory had been broken up by a few sweet morsels.
The hot chocolate in Paris was amazing, but the hot chocolate in Barcelona was even moreso. Almost like hot chocolate pudding, subtly spiced and luxuriously rich in both texture and flavor, so thick you had to eat it with a spoon. This cup from Caelum in the gothic quarter rewrote my definition of good hot chocolate.
I could have eaten twelve cones of these churros. Before this trip, I thought of churros as long skinny sticks of fried and sugar-crusted dough you'd find at fairs and amusement parts. Good, but nothing to break your diet over. But these, these churros are everything and then some. Fresh and tender and dusted with sugar while still warm, we were all moaning with pleasure as we devoured them without a second thought. You can find them all over the city, but we went straight the source: a nondescript little xurreria in the gothic quarter. If you didn't know any better you'd walk right by the hand-painted window filled with fried bits that look like french fries and funyuns and be none the wiser.
But might I suggest being the wiser this time and popping inside? You're in for a real treat.
It wouldn't be a trip to Spain without copious amounts of horchata (orxata in Catalan). Horchata is a creamy drink made from the tiger nut or chufa, which isn't actually a nut at all but rather a tuber. I was so excited to try the original version, as over on our side of the world the drink is more often made with rice and almonds. While the flavor is similar, I'd describe the chufa version as slightly grassier, more earthy in flavor, subtly spiced and sweet and ultra creamy. Truly, nothing compares.
Our favorite horchata came from a little spot called Sirvent, which also served delicious gelato. Talk about the perfect afternoon pick me up. La Valenciana was another shop nearby our apartment. While the horchata was a bit thicker/gritter in texture, it was still quite spectacular, and, as we discovered on our last day, you can also get horchata milkshakes (!!!)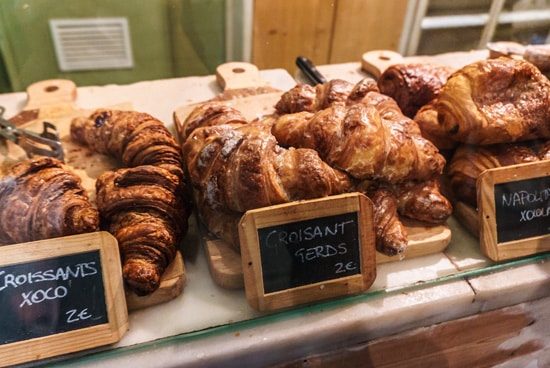 I never expected such amazing croissants in Barcelona, I thought Paris had that down pat. But apparently in Spain they like to make their croissants with pork fat instead of butter, and, well, you can imagine the result. These cream and chocolate-filled croissants from Hofmann pastry school and pastisseria were textbook perfection.
So far Barcelona has eeked out Paris in both the hot chocolate and croissant departments, if you can believe it. I couldn't, until I ate another.
The Barcelona markets are busy and bustling, packed with stands of fresh produce, fruit, and meats. We visited two markets, the Santa Caterina (whose iconic undulating roofline was the focus of much of our architecture tour), and the famous Boqueria market another day.
Ham selection is serious business, y'all (tip: the black-label ham is the highest quality, with sky-high prices to match, but the red is usually just as good and much more affordable).
While perfection in Paris was baguette and butter and soft goat cheese, here it was Iberico ham and machego cheese with a side of salty brined olives and Spanish wine. And this became our lunch/dinner/snack on more than one occasion.
You just can't get ham like that here in the states.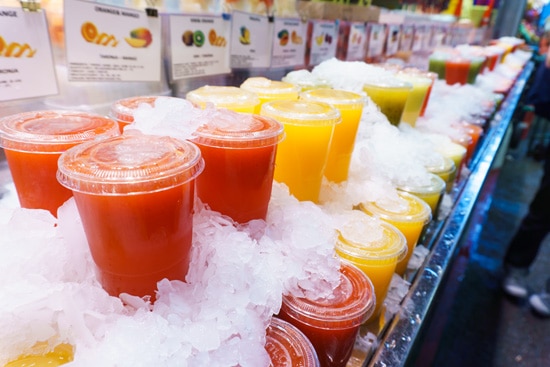 Fresh fruit juices in every flavor you can imagine (and even some you can't).
I loved walking in to a shop and picking something totally unique and different, without even knowing what it was in most cases. This fig tart from Forn Baluard in Barcelonetta had the flakiest crust ever.
It made a perfect lunch. ;)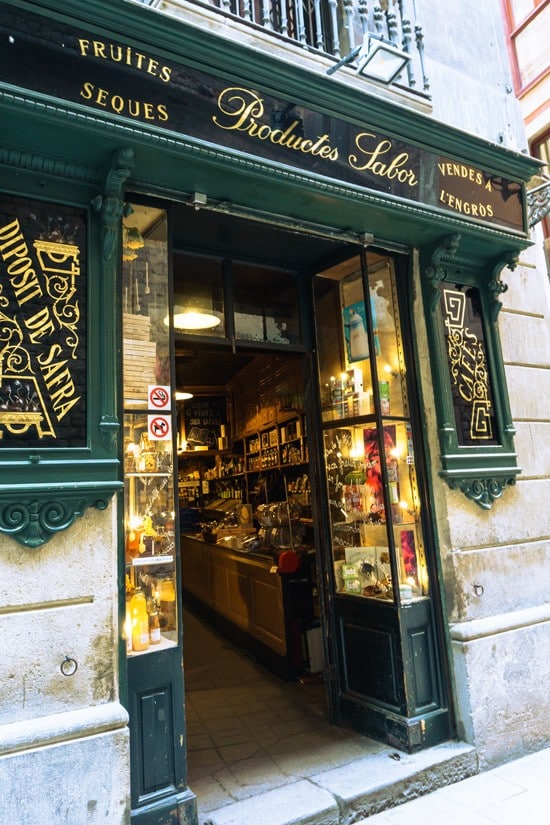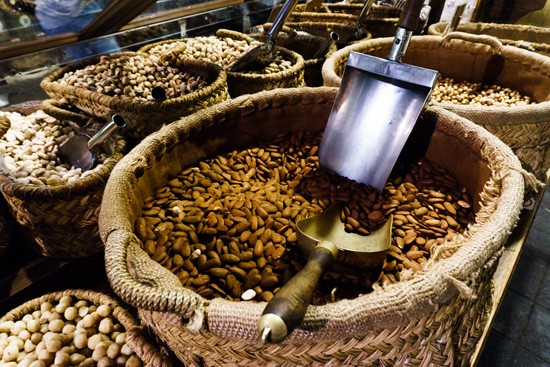 Casa Gispert was one of our favorite spots on our sweets tour, where we later returned on our own for gifts (for ourselves and for friends and family). The roasted almonds are indescribable, roasted slowly over the course of a few hours until perfectly smoky throughout. And don't miss the catànies either, which take their already amazing roasted almonds and coat them with chocolate and cocoa powder.
The head roaster is clearly passionate about his nuts (har har), so strike up a conversation with him and he'd absolutely love to take you in the back of the shop and show you the wood-fired roaster in all it's fiery glory. You can tell he loves what he does and that passion clearly shines through in the products.
The fact that this pastry shop, called La Pastisseria, sat mere blocks from our apartment was dangerous, indeed, and we visited it multiple times during our trip as soon as we figured out the odd opening hours (it's closed for a good portion of the afternoon like may shops in the city. Don't fight it, go  home and take a nap instead).
We picked up these 4 perfect cakes on the first of many visits, our selections including cherry, dark chocolate, passionfruit (of course), and a special 'rose' mousse cake for Sant Jordi. The croissants and breakfast pastries could rival Paris', too.
Quimet & Quimet is a quaint little tapas place that I saw listed over and over as one of the best tapas bars in the city, and the crowds support that, so I'd recommend getting there when they open. Sure, you'll probably be packed in with a bunch of Japanese tourists, but the tapas and pinxtos are on point. The montaditos (small sandwiches) with salmon, yoghurt, and truffle honey were our favorite, so much so that we ordered two more for good measure. We also tried some red and white vermout, a local specialty that our tour guide encouraged us to try. Not to be confused with vermouth as we know it here, this is a sweet fortified wine infused with herbs and spices. A bit sweet for our tastes but interesting nonetheless.
We happened upon an Earth-day festival one afternoon, the aisles lined with vendors selling everything from pottery to purses to cheese to chocolate.
While they didn't look like much, this local artisan was hand-rolling truffles (or trufas), and we spontaneously decided to try one.
And let me just say, it may have been the best bite of the entire trip. I know, that's a hearty claim for a little blob of cocoa, especially considering all other amazing things we ate there.
They were so good that we took one bite and went back and bought 4 more.
These weren't like your typical truffle, the kind with a creamy ganache filling. Rather, these were more like a ball of chocolate paste, I'm guessing cocoa powder mixed with some sort of binder (exactly what is a mystery). But the flavor was truly unbelievable. I can't even begin to describe it in words.
The company was called Xocolates Indians. As with many of the Barcelona shops and food we discovered, it's hard to find out a whole lot about them, even though they actually do have a website. I think they were just in town for the festival, normally based out of Girona. But if you somehow can find them, buy as many of these truffles as you possibly can. And try to coerce the ingredients list out of the guy making them.
I wish I could recreate something even remotely like this at home, and believe me, if I could I would, but I can't even begin to guess what was actually in these truffles. Should anyone be able to provide any insight here I will be forever grateful.
Forget water. When in Barcelona, you drink nothing more than horchata, hot chocolate, and wine. Ok, and gin and tonics. And vermout. And more hot chocolate…
We wanted to do a nice dinner one night, even if we ended up eating ham and olives the other nights. I found Accés simply by browsing google maps, it being literally across the street from our apartment, and with fabulous reviews to boot, it sounded perfect.
And it was. Despite the overly shiny decor (lots of chrome and purple and glass) the food was fresh and modern and incredible. Particularly these two starters that I've been dreaming of ever since: a butterfish ceviche with fresh lychees, and grilled scallops drizzled with a passionfruit sauce. The rest of our meal was equally good, but these appetizers were by far the highlights. Accés actually shared the ceviche recipe with me, as soon as I can find some fish worthy of such a dish and some fresh lychees you can be sure I'll share it here with you. Alas, that is not such a easy task here in land-locked Nashville…
I have to say I was more than impressed with the amazing food we enjoyed within blocks of our apartment. We weren't sure what the neighborhood would be like, seeing it was outside the typical tourist areas of old town, but as it turns out the Eixample district is where all the locals go to eat. There were dozens of 4/5 star rated restaurants with numerous reviews in Spanish and Catalan (my gauge of whether the restaurant is local/authentic or a tourist trap). We could have eaten every meal within a half mile of our apartment and not even make a dent in the options available to us.
This became our 'place' after our sweets guide recommended it to us after hearing we were staying nearby. It was one of those utterly cool but at the same time completely unpretentious bars that I wish we had here in Nashville. It was hip without being hipster, authentic without trying too hard, and just felt like some place I'd want to hang out regularly (and I'm not a person who usually wants to hang out in bars). They are known for their gin and tonics (which, apparently, is quite the thing in Barcelona right now), as well as their authentic tapas, most notably the amazing papas bravas drizzled with a creamy aioli.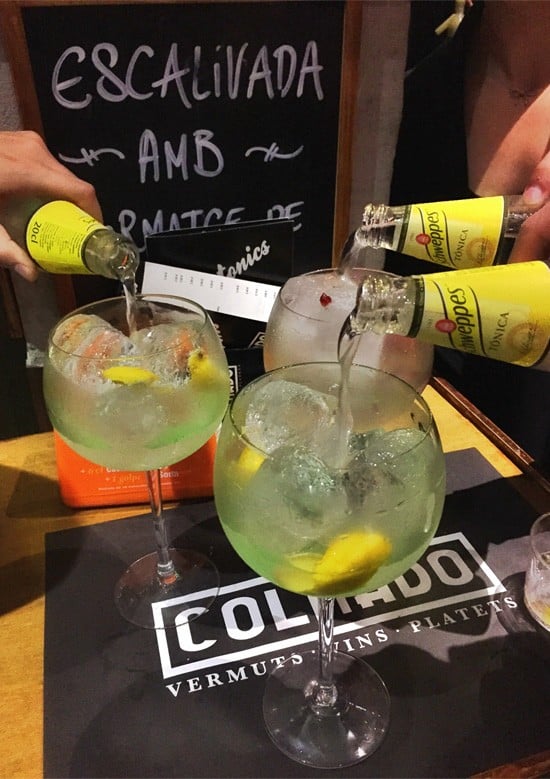 Cheers!
Like I did for Paris, I'm including here a list of links and resources to all the amazing food and drink spots we discovered. I hope you find it useful!
Restaurants & Resources:
Sweets & Pastries:
La Pastisseria: Amazing pastry shop in the Eixample neighborhood, and definitely worth a visit even if its out of your way. Breads and pastries, sure, but the true show stopper are their cakes: stunning and brightly colored and filled with all manner of delicious mousses and cremes and custards and cake. I'll take one of each, please!
Sirvent: Horchata horchata horchata! Oh, and gelato too. This was our favorite horchata of the trip.
La Valenciana: More horchata! Don't miss the horchata milkshakes, which combine their house-made horchata with your choice of ice cream flavor.
Xurreria Banys Nous: The best churros/xurros in the city. According to our tour guide, THIS is where all the other pastry shops and cafes get their churros. Grab a cone of the classic sugar dusted pastries and you'll be smiling in no time.
Caelum: Mind blowing hot chocolate that's practically warm chocolate pudding. An adorable little shop in the Gothic quarter that's as quaint inside as it is out.
Forn Baluard: Located in the Barcelonetta neighborhood, this bakery offers a variety of pre made sandwiches if you're looking for a quick lunch before you hit the beach, but don't miss the amazing pastries and artisan breads either.
Hofmann: Pastry school in the back, textbook pastries for sale up front, this shop is not to be missed, if for the croissants alone. There are also an assortment of packaged sweets and jams that make great gifts (the Mango Passion jam is to die for!)
Savories:
La Flauta: Amazing tapas, seafood, and their signature flautas (aka sandwiches). The grilled squid was quite possibly the best I've ever had (and I don't love squid).
Accés: One of the best meals of our trip. Despite the overly shiny decor, the food was fresh and memorable. The lychee ceviche and passionfruit scallops are dishes I'll remember forever.
Quimet & Quimet: Every article I read about Barcelona eats mentioned this place, and it didn't disappoint. Get there early as the tiny bottle-lined bar fills up within minutes. You yell out your orders to the owners behind the bar, and how they keep track of it all is beyond me. Don't miss the montaditos (small sandwiches), the bar's specialty. The salmon with yogurt and truffle honey was especially good.
Colmado: A cool and unpretentious bar in the Eixample district. On point gin an tonics served in giant bubble glasses, and an assortment of amazing tapas including their famous papas bravas (my attempts to recreate it have been less than successful).
Brunch & Cake: I felt like this place could be in New York City and be 10 time as crowded and 3 times as expensive and still be popular. I guess you could call it the Spanish take on American brunch, but it was delicious. We ate brunch there one day and it was quite good.
La Boqueria: Crazy and crowded and jam packed with people, it's an amazing sight to see. Fruit and produce and fresh juices and meats and cheeses and cases of olives as far as the eye can see. You can basically put together an entire meal here, and we did (on multiple occasions).
Santa Caterina Market: Slightly smaller and less crowded than the Boqueria, this market is no less impressive. It's located in one of the city's most famous buildings, with an impressive wave-like roof that has a modern market-inspired mosaic visible from the sky (or, you know, google maps).
Casa Gispert: One of the city's oldest gourmet food shops, specializing in roasted nuts since 1851. They know their nuts, that's for sure, so don't miss the deliciously smoky roasted almonds that the shop is known for. Also a great place to pick up some Spanish-produced foodstuffs (sea salt, saffron, condiments, etc) to bring back home.
Tours & More:
Food Lover Tour: The "Sweets Lover" tour was one of the highlights of our trip, featuring a number of local delicacies intertwined with a fascinating history of the city.