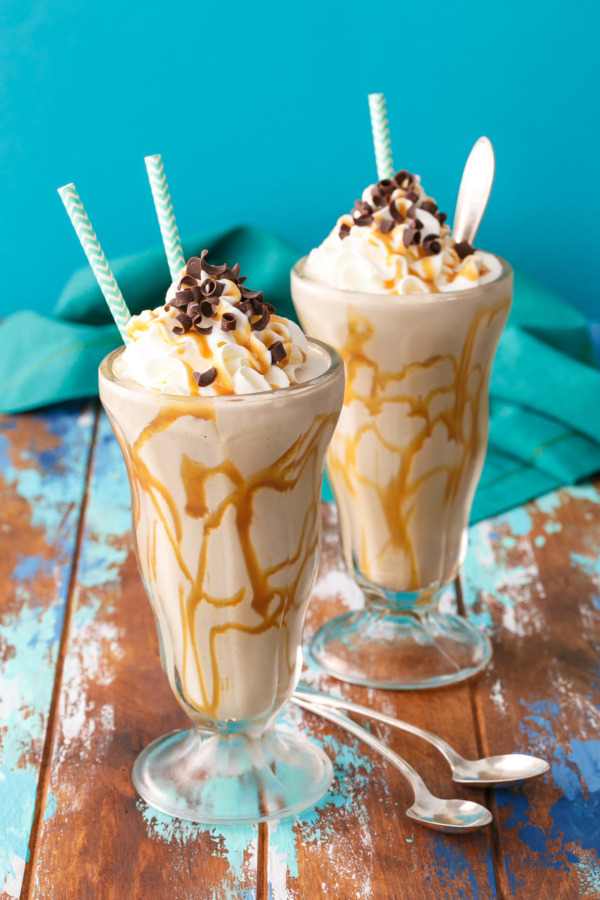 This post was created in partnership with GEVALIA, whose newest product has us buzzing (literally). Thanks for supporting us and the brands we love!
There are few things better than a tall, frosty milkshake on a hot summer day (although, let me say that photographing a milkshake on a hot summer day isn't nearly as fun, though the reward at the end makes it all worthwhile).
As a self-proclaimed milkshake lover, this might just be my favorite milkshake recipe yet, and that's saying A LOT. Of course, the fact that it is ridiculously easy to make doesn't hurt, either.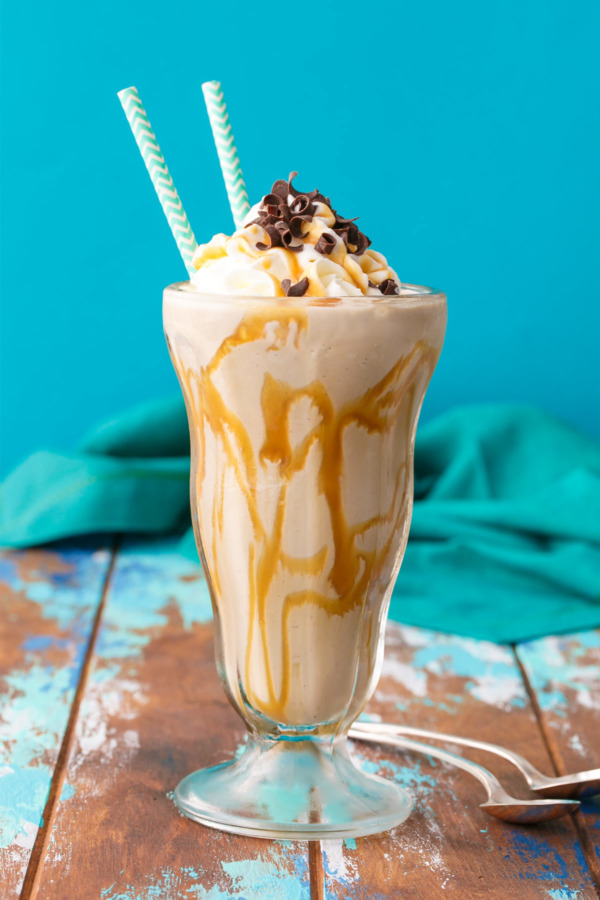 GEVALIA's new Cold Brew Iced Coffee Concentrate might have been designed for making custom cold brew coffee at home (a feat at which it definitely succeeds), but it also makes for a truly fabulous milkshake: just add vanilla ice cream. Because the coffee flavor is concentrated, you get a more intense coffee flavor without watering it down (which means your milkshake will stay super thick and creamy, just how I like it).
We also added a pinch of salt to punch up the caramel (because salty caramel > regular caramel) as well as some cinnamon to mimic that coffee-house flavor. And if you're feeling wild, garnish your shake with whipped cream, a drizzle of caramel sauce, and chocolate sprinkles for added fun and flair.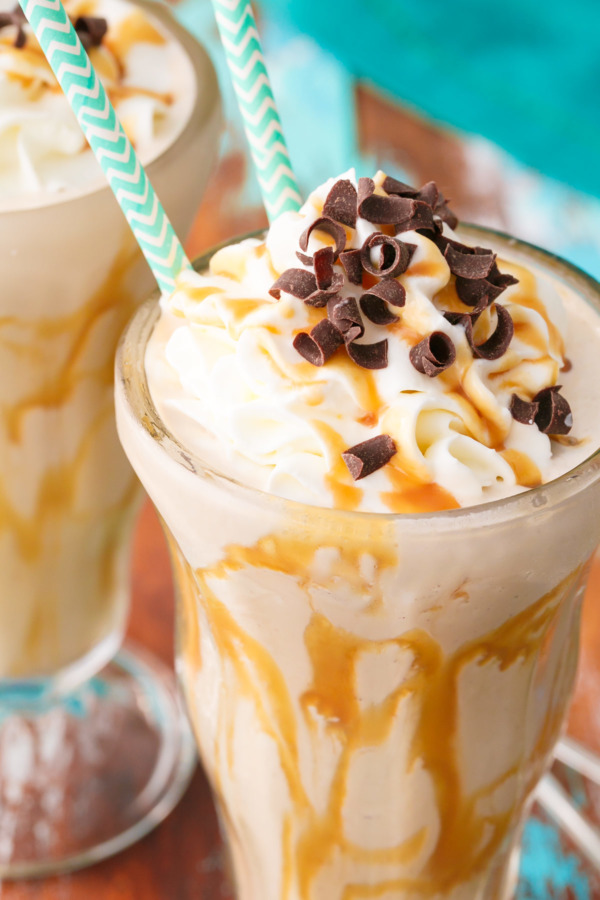 We used the Caramel flavored cold brew concentrate, which is a lovely balance of coffee flavor and caramel sweetness, but the Vanilla or House Blend varieties would be equally divine in shake-form. This is one of those recipes that you can really customize to suit your personal tastes and flavorful imagination. Why not make it your own and add a splash of chocolate sauce to the House Blend for a marvelous mocha milkshake, a handful of chocolate sandwich cookies to the Vanilla for a caffeinated twist on cookies and cream, or a ripe banana to the Caramel for a drinkable banoffee pie shake (OMG).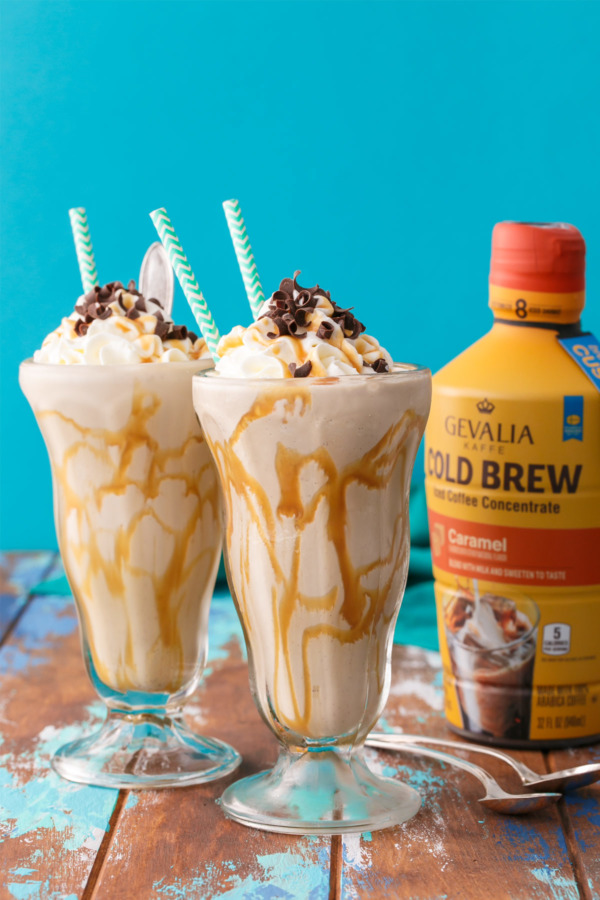 While the cold brew concentrate is shelf stable (find it in the coffee aisle), you'll want to thoroughly chill it prior to blending to keep your milkshake colder longer.

Tip: to get the abstract caramel drizzle effect, first freeze your glasses for at least 30 minutes until they are nice and frosty. I also recommend chilling your caramel sauce too so it's thicker and will stick to the glass. If your sauce came in a jar (or you made it yourself), transfer it to a plastic squeeze bottle with a small round tip. This will allow you to drizzle the caramel inside the glass more easily.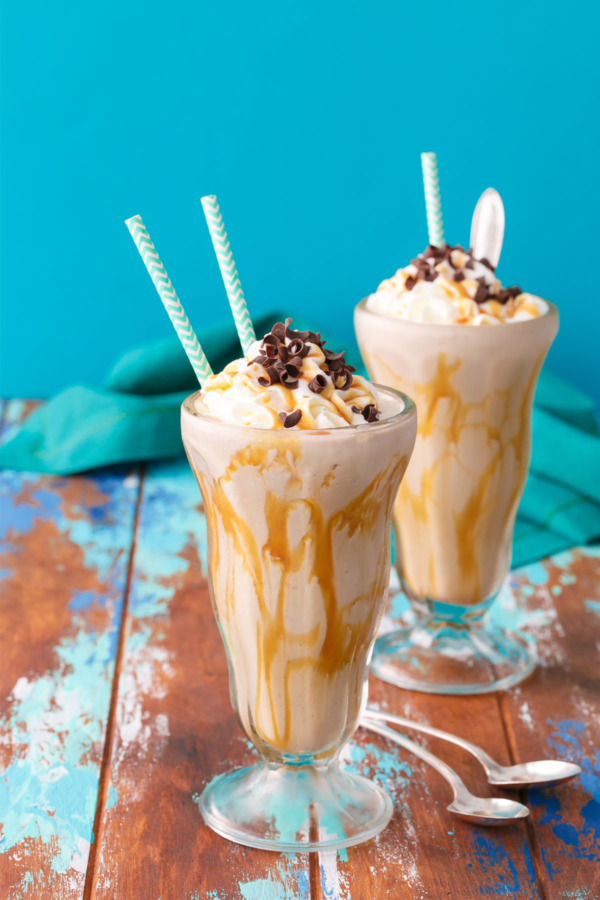 What better way to beat the summer heat than with a tall frosty glass of awesome? Seriously though… I'd almost forgotten how easy it is to make a homemade milkshake. I'd argue that it's even easier than scooping ice cream (and I HATE scooping ice cream). Let a pint of ice cream sit out and room temperature until it's the consistency of soft serve, then dump the whole thing in your blender along with the coffee concentrate. Blend for a bit and voila, milkshake time!
You can currently find GEVALIA Cold Brew Concentrate in the coffee aisle of a store near you or online.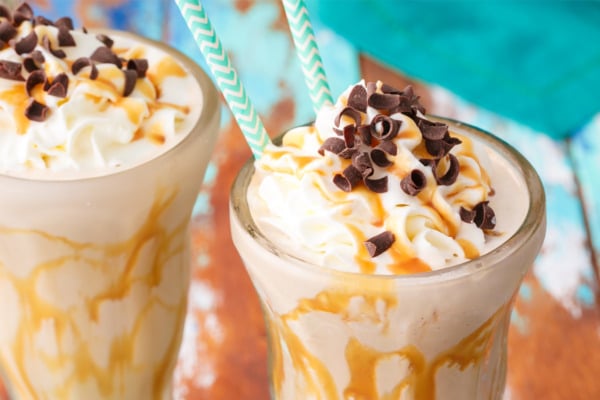 Cold Brew Caramel Coffee Milkshakes
Vanilla ice cream + cold brew coffee concentrate make for an easy & delicious coffee milkshake recipe that's ready in minutes!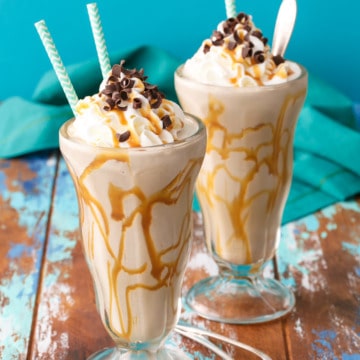 Ingredients:
1 pint (16 ounces) vanilla ice cream, softened slightly
2/3 cup GEVALIA Caramel Cold Brew Iced Coffee Concentrate, chilled
1/4 teaspoon ground cinnamon
1/8 teaspoon fine sea salt
whipped cream and caramel sauce, optional, for garnish
Directions:
Combine ice cream (softened to about the consistency of soft serve) along with GEVALIA Cold Brew Concentrate, cinnamon and salt in a blender. Pulse on medium-high speed until milkshake is smooth. Divide among chilled glasses. If desired, top with whipped cream and a drizzle of caramel sauce.
Did you make this recipe?
Let us know what you think!
Leave a Comment below or share a photo and tag me on Instagram with the hashtag #loveandoliveoil.
Disclosure: This post was created in partnership with GEVALIA. As always, all opinions written are purely our own. We're incredibly grateful for opportunities like these that allow us to continue sharing delicious recipes with you, so thank you for supporting us and the brands we love.