We've been home for nearly 8 weeks now and Japan is starting to feel like a dream. Did it really happen? Did we really go to that beautifully chaotic, deliciously weird country, overindulging in soft creme and mochi and noodles, surrounded by cherry blossoms and miniature deer and cat cafes? I have to say, Japan is one of those countries that you may not have considered before in lieu of European destinations, and hopefully this post will change that. Because it's truly a remarkable place, so resoundingly different from anywhere else we've been before, and yet, amidst the crows and chaos is a kind of elegant order, and inherent politeness and respect for people and place… and not to mention some ridiculously good food. It was, quite simply, an experience I'll never forget.
Let me just say: jetlag is no joke. I felt I'd handled it pretty well on previous trips to Europe, but for some reason going the other direction was much harder. I would wake up raring to go at 3 or 4 am, unable to go back to sleep, and then by 3 or 4 in the afternoon was ready to crash. I had to really push myself to stay awake long enough to eat dinner. The same thing coming home, it took me a solid 2 weeks before I started feeling like myself again (of course, the cold I picked up as a parting souvenir didn't help much). Still, the trip was worth it, and I'd encourage everyone to add Japan to their travel bucket list. It really is an amazing place.
Like our previous travels, we didn't try to see everything (and subsequently spending much of our valuable time transporting to and from). By acknowledging that we couldn't see an entire country in 12 days, and by picking a few main destinations in which to spend our time, we were able to experience more than just a surface level glimpse of each city. With Kyoto especially, our 5 nights there were the perfect amount of time to experience it intimately beyond just the main tourist attractions.
We spent a total of 12 nights in Japan: 4 in Tokyo, followed by one night at a serene ryokan (a traditional Japanese inn) in Hakone, then headed to Kyoto for the next 5 nights. The final 2 nights of our trip we spent just outside of Tokyo at Tokyo Disney (Taylor being a Disney nut and all, we couldn't miss what some call the best Disney park in the world). I'll focus on our Tokyo experience here, with a separate post on Kyoto (and Disney) later. See the bottom of this post for a list and links to our favorite spots.
Tokyo is consistently ranked as one of the cleanest, safest cities, which, considering its sheer size, is remarkable. But it's the truth. I never once felt unsafe, never wary of pickpockets, and was constantly amazed at just how clean the streets are. Yes, the train stations and popular areas were crowded, but it was a kind of orderly chaos that you don't see in other cities of this size. The public transit system is top notch, clean and consistently on time (we saw a few RED ALERTS pertaining to train delays… and the trains in question were a mere 3 minutes behind schedule. Oh, the horror!) Taylor especially loved that everyone followed the rules. Lines, for example, are not only respected but almost revered, whether at the train station or Disney World. It's a beautiful thing.
We tackled Tokyo in much the same way as we did Paris and Barcelona: for each of the days we were there we picked a neighborhood and set out to explore it. Unlike Paris and Barcelona, however, Tokyo doesn't really have any big ticket attractions: major monuments or historical must-sees like other cities (the city has been leveled multiple times in wars and earthquakes and is therefore very new overall). Other than a guided tour of the fish market, we didn't really have any specific plans or tickets purchased ahead of time, and that gave us a nice freedom to explore the areas at whatever pace we felt like that particular day.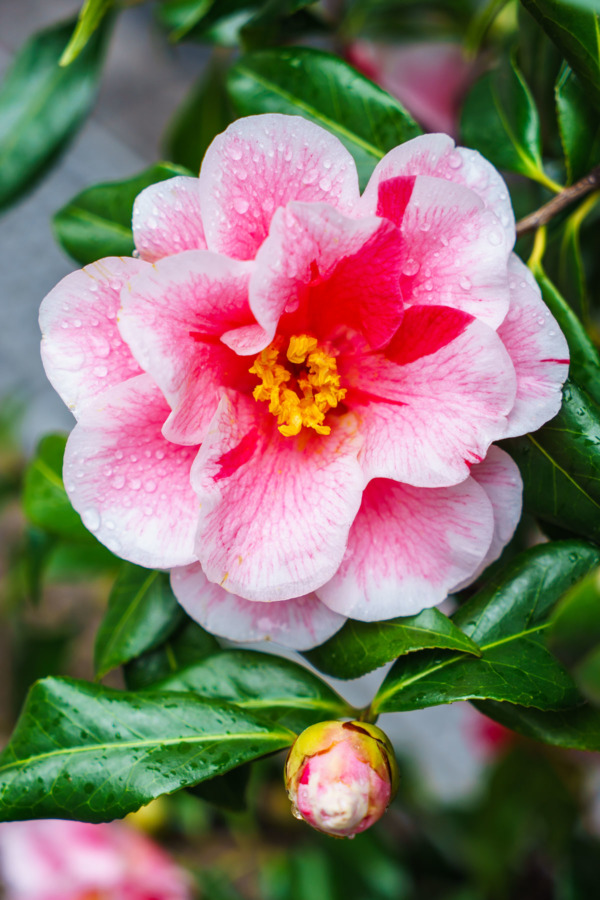 Asakusa/Kappabashi
Maybe we were still a bit jetlagged and cranky, but I feel like we didn't get a full appreciation of Asakusa. It's a cute little neighborhood, with lots of little artisan shops and restaurants, with the tourist-packed Nakamise shopping street and Senso-ji shrine at the center. That street sort of overwhelmed us, I think, and maybe jaded us a bit towards the cute and calmer streets mere blocks away.
Kappabashi kitchen town is a spot any cook can appreciate, though many of the stores are definitely geared towards restaurant-supply type products, I still found a few treasures. If you go, definitely stop in to the plastic food stores, you won't believe the things they make out of plastic!






Shibuya/Harajuku
Taylor wanted to see the Shibuya crossing, the famous multi-directional crosswalk that is one of the busiest intersections in the city. We were there on a rainy Saturday, so it really wasn't the chaotic scene I think we had hoped to witness. Someone told us the best view of the crossing was from the Starbucks, so we went in, paid way too much for a tiny cup of matcha pudding (beware of sneaky service charges) and made our way upstairs where we had to shove our way through other like-minded tourists to try to get a shot of the crossing. Needless to say, we didn't linger (also, that Starbucks must be making BANK on that location since the only reason most people are buying things is for the view).
Next we headed to another corner of the intersection to indulge in one of Japan's famous "puffy pancakes". The most famous of which is at a place called Cafe Gram, however I'd read that they only serve the pancakes at 3 set times during the day. You wait in line and get your 'ticket' then return at the set time to get your pancakes. Sorry, but there are very few things in life worth waiting in line for, and pancakes are not one of them.
Anyway, this other place, Hoshino coffee, was just opening up so we grabbed a prime table at the back of the restaurant, overlooking the crossing in what I'd argue was a better view than the stupid Starbucks. The pancakes take about 20 minutes to cook, so we had plenty of time to watch the ebb and flow of umbrella'd people crisscrossing the busy street.
When our pancake finally arrived, piled high with bruléed bananas and vanilla ice cream, we were more than pleased with our decision. I am intent on recreating these things at home, which I'd describe as something like a souffle pancake, light and airy and custardy on the inside. We ended up at another Hoshino a few days later (there are a few throughout the city) where we got one topped with bits of creme brulee and drizzled with creme caramel sauce. I highly recommend you try one for yourself.
After breakfast we headed to Harajuku, the street where quirky Japanese style was born. It was pouring, and the street was packed, but despite my aversion to crowds, I still loved this area. The shops were cute and eclectic, and the crowd was young and disproportionately local. Of course, the cat cafe that we stopped in didn't hurt, either. For 600 yen you got 30 minutes in an Alice in Wonderland-themed cat paradise.
For lunch we went to Afuri ramen, known for their yuzu-based ramen broth (spoiler: it's as good as it sounds!) The Harajuku location already had a sizeable line, so we hopped on the subway and headed South to the Ebisu location, where we slipped in with less than a 10 minute wait. Here, like many other ramen restaurants, you order from a machine, pay, and then pass your ticket to the waiter who fills your order. It's a quick in-and-out situation, not the kind of food you linger over like it is here in the US, which I liked.
Finally, we made our way down to Nakemeguro canals, a popular cherry blossom viewing spot in the city. Despite the rain, it was very busy, with hoards of people walking, herd-like, in the same direction around the canal, taking pictures and appreciating the beauty of the blossoms. We took a few pictures, but, being that it was towards the end of the day, were pretty beat at this point, so we escaped back to the quiet of our hotel to rest before dinner.


Shinjuku
For dinner we stopped at another department store, Isetan, and its basement food floor. While most of the food here is take out (there's not really any place to sit down and eat in the store) we stumbled across a 'pop-up' in the middle of the floor that had a small counter with a handful of seats, selling fresh udon to order. We ordered a plate of cold noodles served with a simple soy-based broth, and slurpled while watching them make fresh noodles right before our eyes.
We spent the rest of the evening exploring the brightly lit center of Shinjuku and the Kabukicho red light district (which isn't nearly as skeazy as it sounds, I never once felt unsafe here amidst the crowds). If you've seen pictures of Tokyo at night it was very likely the Shinjuku area you were seeing. I felt like I was inside a giant pinball machine.
Nearby are two notable areas within Shinjuku worth checking out: Golden Gai and Piss Alley. Golden Gai alone contains more than 270 tiny bars on its six dimly lit alleys, most seating only 5 or 6 people at at time. It's a dingy enclave in the middle of a clean concrete metropolis, a glimpse into a past that has, for the most part, been paved over. Piss Alley, similarly, is a single narrow alley blocks away from bustling Shinjuku station, filled with equally tiny eateries and ramshackle Yakatori huts. You'd miss it if you didn't know it was there.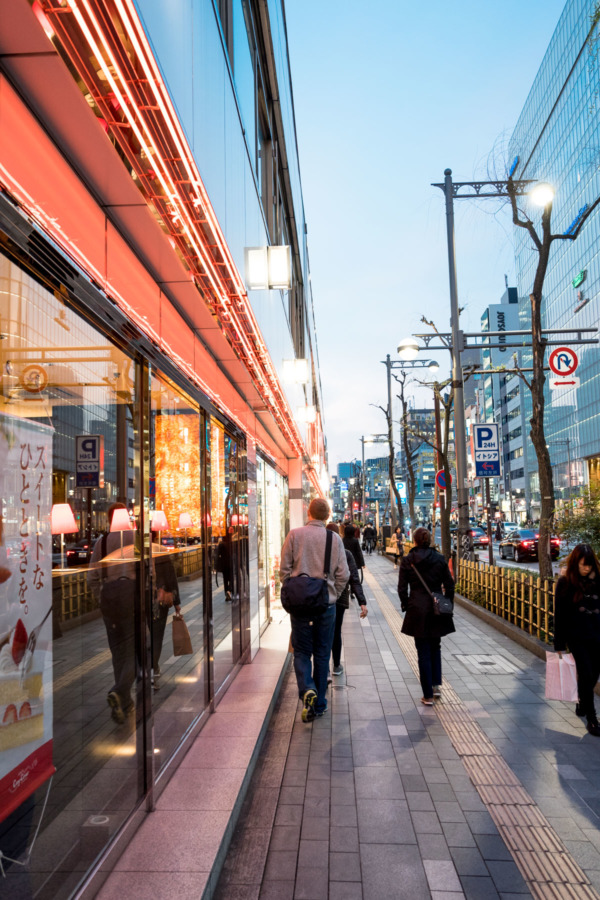 Tsukiji/Ginza
One of the highlights of our time in Tokyo was the Tsukiji market tour and sushi class we did with Laura and her husband Connor (who coincidentally happened to be traveling at the same time we were). The fish market is a must-see, especially for foodies, but it's a bit chaotic and not something I'd want to wander through myself. The tour alone was worth it in that respect, as we were guided through the maze-like aisles by someone who knew where to go and what it all meant.
The sushi class afterwords was a lovely bonus too, as we learned from a real sushi chef how to make traditional Japanese sushi (hint: it's really all about the rice) using fish we had helped pick out earlier than morning. It was a very educational and memorable experience and I'd highly recommend this tour to anyone visiting Tokyo!
After our class, stuffed to the gills with sushi, we wandered up to the Ginza neighborhood, with all its high rise buildings and high end shops.
We stopped in one of Tokyo's oldest coffee shops, Cafe de L'ambre, where the 100-year old owner still roasts the beans every morning by hand. This gem of a coffee shop, with its untouched-for-decades decor and thick, smoky atmosphere, you can get a cup of coffee brewed with Brazilian Bahia beans aging since 1973 (only 870¥ for a single shot), as well as fresher selections from all over the world. I honestly can't say if the 40+ year aging actually changes anything about the coffee, other than the price, that is. But it was fun to try it just to say we did.
Fabric Town
At the end of our trip, on our way to Tokyo Disney, we dropped our bags at the train station (another thing I love about Japan is all the stations have baggage lockers and/or baggage storage services if you want to leave your luggage and go explore) and went to Tokyo's famed fabric town, which we didn't have time to do earlier.
Let me say, if you sew or quilt or even if you just like fabric, this place is a must-see. Block after block of fabric stores specializing in fashion fabrics, quilting fabrics, home decor, even entire shops for just notions.
Taylor picked up a few things for some future projects, including a pretty linen for a lightweight pair of summer pants. I'm not a sewer, but I was so tempted by an adorable cat and macaron print fabric, among other things.
For lunch we went to the Ramen Street in Tokyo station, where there are a number of different ramen restaurants all in one place, with different styles from all regions of Japan. We chose a spot that featured a vegetarian ramen with carrot noodles. It was delightful and different. I have to say, you could go to Japan and just eat in train stations the entire time, and you'll find some of the best food in the city. (Also – the candy shop across the way from Ramen street carries a bunch of different flavors of Kit Kats!)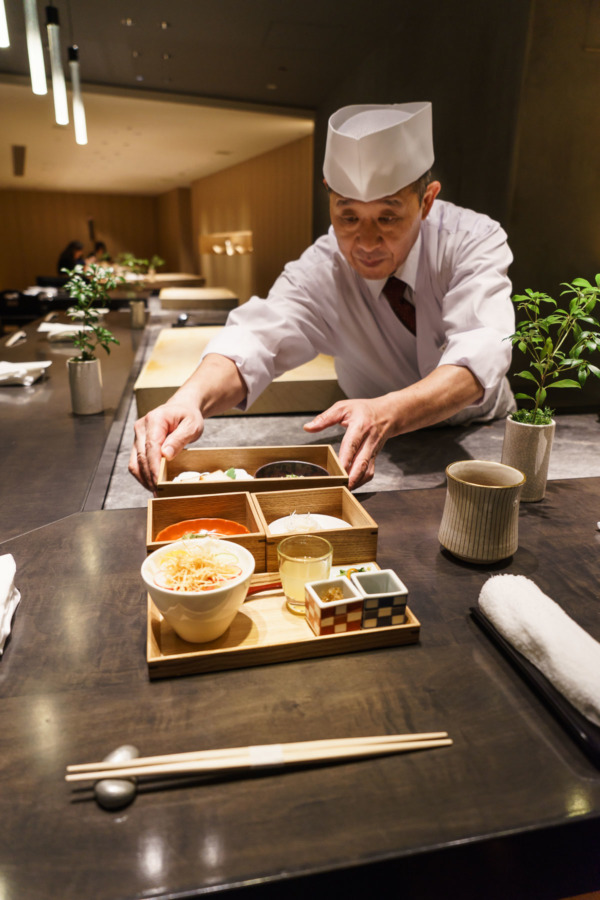 We stayed at the Hilton Tokyo in the Shinjuku business district, less than 15 minutes walk from Shinjuku station (but the hotel also offers a free shuttle that stops by the station every 20 minutes… handy when you're dead tired from a walking all day and it's raining to boot). We had a beautiful room on the 37th floor looking out over the city, as well as access to executive lounge with a private breakfast spread and other offerings throughout the day like afternoon tea (a perfect opportunity to unwind and recharge before heading out for the evening).
One of my favorite parts was the Japanese healthy bento breakfast we did our last morning in Tokyo. The breakfast doesn't cost extra if you already have executive lounge access, but you do have to sign up for the breakfast in advance. The bento-style breakfast was served with all sorts of delicious morsels including a seasonal salad, miso soup, soft silken tofu, some various fish 'things', and a shot of fruit vinegar juice (so good). It was a light and surprisingly filling way to start our day.
(Disclaimer: Hilton Tokyo provided me with a media rate and complementary executive lounge access. However all opinions expressed here are entirely my own).
Our Tokyo Favorites:
Hoshino Coffee – Puffy pancakes with a decent view of Shibuya crossing (also a location in Ginza). My advice? Skip the Starbucks (that charges a service fee) and get to Hoshino when it opens at 10, and grab one of the window seats so you can watch the crowds while you wait for your pancakes.
Afuri Ramen – A unique yuzu-based broth makes this ramen incredibly unique and delicious. There are a few different locations in the city, and while the Harajuku one might be the most crowded, all of them will have lines at some point, so I recommend going early. We each got a bowl of the signature yuzu ramen, one salt and one soy based to compare. The ordering machine can be a bit confusing if you don't speak Japanese, but luckily there were locals in line that were more than happy to help out.
Cat Cafe MoCHA – This is the cat cafe we visited in Harajuku. With an Alice in Wonderland theme, it was utterly charming, and a great way to escape the drizzle and crowds of Takeshita street for half an hour. If you are a cat person, I highly recommend checking it out (or one of the many other cat cafes in the city). Not a cat person? There are also owl cafes all over the place (though owls kind of freak me out so we skipped those).
Tsukiji Fish Market – One of Tokyo's most famous markets, the Tsukiji fish market is known for its early morning tuna auctions. If you want to get up at 3am to try to snag a coveted spot, go for it, but we opted to skip that in lieu of a guided tour and sushi class, which turned out to be one of the most memorable mornings of our trip. It helps to have a knowledgeable guide in the chaos of the fish market.
Shinjuku Station – One of the busiest train stations in the world, but it's also a dining destination. You could spend two weeks eating at the different places within the station and the surrounding department stores and still not try everything available there. Also, don't miss the best matcha soft serve at a tiny place called Cha-ikedaya. This tiny place is easily mistaken for a newsstand, but if you can find it you will be greatly rewarded.
Isetan – Another department store with an entire floor dedicated to food. We liked this one in particular as they had a udon popup where you could actually sit down and eat your freshly prepared udon.
Hilton Tokyo – Located in the Shinjuku business district, while maybe not as vibrant as some of the other areas (not a ton of shops/restaurants in the immediate area) was clean and quiet and safe, and easily walkable to the bustling Shinjuku station. A perfect central location for exploring the city. The hotel had a great breakfast setup too (which we appreciated as we could eat, and then head out to explore without having to find a place to eat straight away).
JR Rail Pass – We purchased our 2 week rail passes ahead of time (this pass is only available for tourists and you MUST purchase it ahead of time). While it was maybe a bit more than if we had purchased each leg individually, the convenience of it was well worth it (you just need to flash your pass at the manned booth when entering the station and you can literally go in and out as many times as you need). The only time we had to visit the ticket booth was to reserve seats for the bullet trains (something I recommend doing a day or two ahead of time as seats do fill up). We also each loaded up a Suica card for use on the non-JR subway lines and buses.
Pocket Wi-fi – In a city like Tokyo, with its sprawling train system and un-named streets and no logical address numbering system whatsoever, Google Maps will be your constant companion. Wi-fi, in this case especially, was an absolute necessity. We went with the Premium pocket wi-fi from Global Advanced Communications, and it was fast and reliable during our entire trip.