This recipe is from my Grandmother's recipe box, titled in her elegant script as "Joyce's Bourbon Delight".
I have no idea who Joyce is (my grandmother was Elaine) but these little boozy bites are, quite simply, delightful. So thanks to Joyce, whoever/wherever she may be, for sharing this aptly-named recipe with my grandmother and in turn allowing me to share them with you.
It must be a Southern thing, this bourbon delight, or what many call bourbon balls.
I've encountered two kinds of bourbon balls during my time in the South, one being the kind sold by professional candy makers and bourbon distilleries, snappy chocolate with a creamy fondant center thoroughly infused with bourbon.
The other kind, the kind I've heard from countless friends and neighbors that their grandmothers used to make… that's what these are. No professional candy-making skills required, just some vanilla wafer crumbs, chopped nuts, melted chocolate, and a generous glug of bourbon. Simply swap Joyce's name for your own grandmother's and my guess is they'll taste just like you remember.
(As to why these lovely Southern grannies were feeding children bourbon-spiked candies on special occasions, I'm not quite sure about that one…)
I'd describe the texture of these like a rustic cookie dough, with crunchy bits of granular sugar and chopped pecans, with a hint of cocoa and more than a generous splash of bourbon.
Grandma's recipe says they can be rolled into balls or shaped into crescents and rolled in powdered sugar or coated with coconut and topped with chopped peanuts (which I find odd since the filling is either pecan or walnut).
I went with a ball-shaped and used 3 different coatings, including powdered sugar (you could also use cocoa powder), as well as grated coconut and chocolate sprinkles. The later two were trickier, since the dough was soft but not necessarily sticky, and, especially as it cooled, the coconut and chocolate didn't want to stick to it like you'd expect. I ended up dabbing my palms with a bit of corn syrup as I shaped the balls, then rolled them in the sprinkles/coconut to help it stick.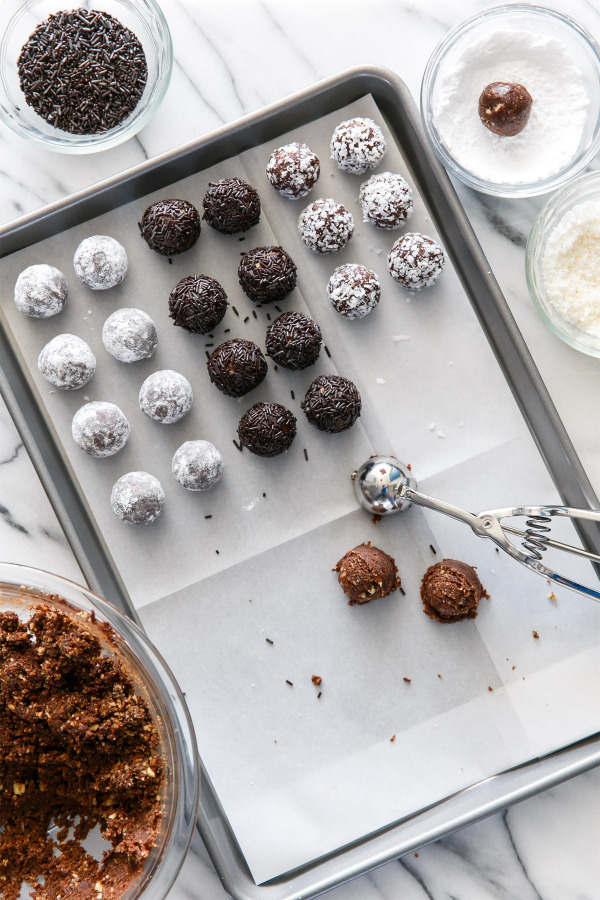 They are the perfect little bite sized treat. Although bite-sized is also dangerous because it's far too easy to pop a few in your mouth, one after the other, every time you walk by the fridge.
As for Joyce… her identity might be a mystery, but her bourbon delight is definitely one worth sharing.
Joyce's Bourbon Delight (Bourbon Balls)
Just like grandma used to make… these bourbon-spiked candies are an easy treat that can be prepared ahead of time (in fact I'd argue they are better after an overnight rest).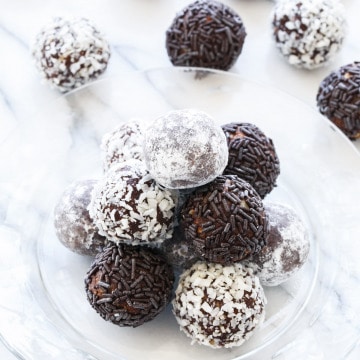 Ingredients:
6 ounces dark or semisweet chocolate chips or chopped chocolate
1/2 cup granulated sugar
3 tablespoons light corn syrup
1/3 cup bourbon
2 1/2 cups (10 ounces) vanilla wafer crumbs
3/4 cup finely chopped pecans or walnuts
cocoa powder, powdered sugar, grated coconut, or chocolate sprinkles (for rolling)
Directions:
Gently melt chocolate in a double boiler set over low heat, or in the microwave, heating in 30 second intervals on 50% power (stirring after each interval).
Stir in sugar and corn syrup until paste-like. Add bourbon and stir until fully incorporated.
Mix in wafer crumbs and ground pecans until well blended.
Shape dough into 1-inch balls; roll in coating of choice (cocoa powder/powdered sugar is the easiest; if you find coconut or sprinkles are not quite sticking to the outside, put a dab of corn syrup in your palm as you roll the balls, then roll in the coating. It'll help it stick).
Store in an airtight container (with waxed paper between layers if stacked) and refrigerate for at least 24 hours to let the flavor mellow, and they'll keep well for up to 5 days. You can also freeze the balls to serve later.
Did you make this recipe?
Let us know what you think!
Leave a Comment below or share a photo and tag me on Instagram with the hashtag #loveandoliveoil.