I'm back, with another installment of Nashville Eats & Treats series. Just in time for Valentine's day, I'm sharing the best date night restaurants in Nashville. These are fancier spots (by Nashville standards at least) and perfect for a special occasion dinner, though that's not to say you can't still find reasonably priced dishes on their menus (City House's pizzas, for example, are a steal). Let's just say that despite these being some of our favorite restaurants in Nashville, they aren't the kind of places we frequent on a weekly basis. They are also the kind of places where reservations are recommended (especially on a Friday or Saturday night when pretty much everywhere in Nashville worth eating tends to be packed).
So grab your honey, make a reservation, and prepare yourself for a truly amazing meal!
City House
Quite possibly our all-time favorite restaurant in Nashville, City House is consistently amazing. It's been in the neighborhood about as long as we have, and I'll admit we don't enjoy it nearly often enough as we try to keep up with all the new spots always popping up. They offer a regularly changing menu with Southern-Italian fare throughout the week (closed on Tuesdays), and a special "Sunday Supper" menu with a completely new menu each and every Sunday.
→ City House / cityhousenashville.com / 1222 4th Ave N, Nashville, TN, 37208
Rolf & Daughters
I may be biased since I live mere meters from the front door, but R&D is one of Nashville's best and coolest restaurants. Definitely make a reservation if you're going on a weekend, or show up early to grab a seat at the bar or community table.
→ Rolf & Daughters / rolfanddaughters.com / 700 Taylor St, Nashville, TN 37208
Etch
Chef Deb Paquette is a Nashville fixture. I know there were many who were truly heartbroken when she closed Zola in 2013 (I sincerely regret never making it there). Alas, Deb couldn't stay away very long and Etch is the result. It's stellar through and through, from the cauliflower (trust me, it's amazing) the butter tasting (yes, butter tasting)… you'd be hard pressed to go wrong with anything on the menu. A great option if you have other activities planned in downtown the same evening.
→ Etch / etchrestaurant.com / 303 Demonbreun St, Nashville, TN 37201
Fifty-First Kitchen
Located in West Nashville in the Nations neighborhood, 51st Kitchen is a hidden gem. Granted, it has changed chefs/owners since (the original owners have moved on to their newest venture, Nicky's Coal Fired Pizza just up the street) but this charming little restaurant is still worth a visit. We went for our anniversary a few years ago and each and every course was superb (not to mention stunning).
→ Fifty-First Kitchen & Bar / 51nashville.com / 5104 Illinois Ave, Nashville, TN 37209
404 Kitchen
If you're looking for a unique meal in Nashville, this tiny restaurant out of a converted shipping container is it. Plenty of unique, memorable dishes and an ever-changing menu that makes the most of local meats and seasonal produce.
→ 404 Kitchen / the404nashville.com/kitchen / 404 12th Ave S, Nashville, TN 37203
Prima
Upscale "New American" with luxe modern decor and an upscale yet varied menu to please just about anyone. There is no doubt Prima is a perfect date-night destination. Also? Their "Lotus" (pictured above) is quite possibly my favorite cocktail, ever. Hibiscus and ginger beer, how could you go wrong?
→ Prima / primanashville.com / 700 12th Ave S, Nashville, TN 37203
Lockeland Table
One of the more casual joints on the list, Lockeland can be a special occasion restaurant or an everyday one depending on your mood, whether you're craving pizza or pig ears and pork loin. It's very popular with the locals in East Nashville, something that's obvious from the packed house almost every night of the week. I love the casual vibe of this place; it's simply buzzing with good, delicious energy and the food is certainly reflective of that.
→ Lockeland Table / lockelandtable.com / 1520 Woodland St, Nashville, TN 37206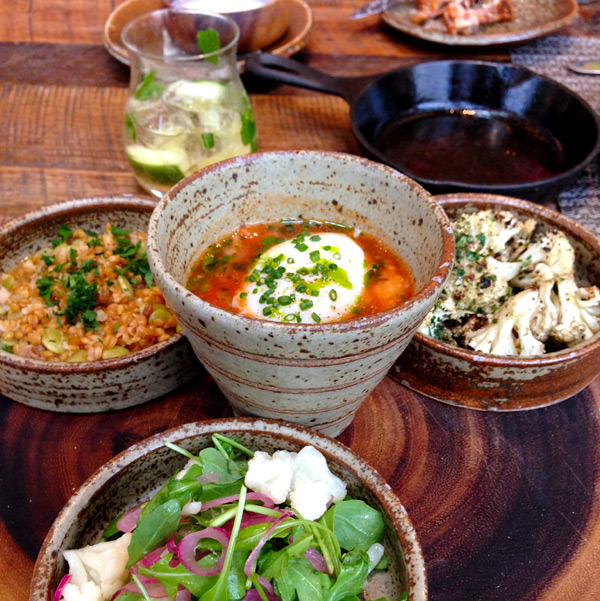 Husk
Charleston's famed eatery (and chef) made his home in Nashville, and it is good. Celebrating Southern food at it's finest (they boast that they source everything they possibly can from the South). Some of the menu items might sound a bit off the wall, but trust in chef Sean Brock and you can't go wrong. Also? It may sound like the least exciting thing on the menu but the vegetable plate always rocks my socks off (seriously).
→ Husk Nashville / husknashville.com / 37 Rutledge St, Nashville, TN 37210
Flyte
Flyte is often overlooked for newer or more trendy restaurants (something this city has no shortage of), but we've never been disappointed with the international-inspired menu at Flyte.
→ Flyte World Dining & Wine / flytenashville.com / 718 Division St, Nashville, TN 37203
---
For easy trip planning, I've put together this a handy-dandy Google map with all the locations featured in this post as well as others in this series. Look for the purple markers that indicate the spots listed in this post (green is lunch, pink is sweet spots, yellow is brunch, and blue is French fries – because Fries totally deserve their own category).