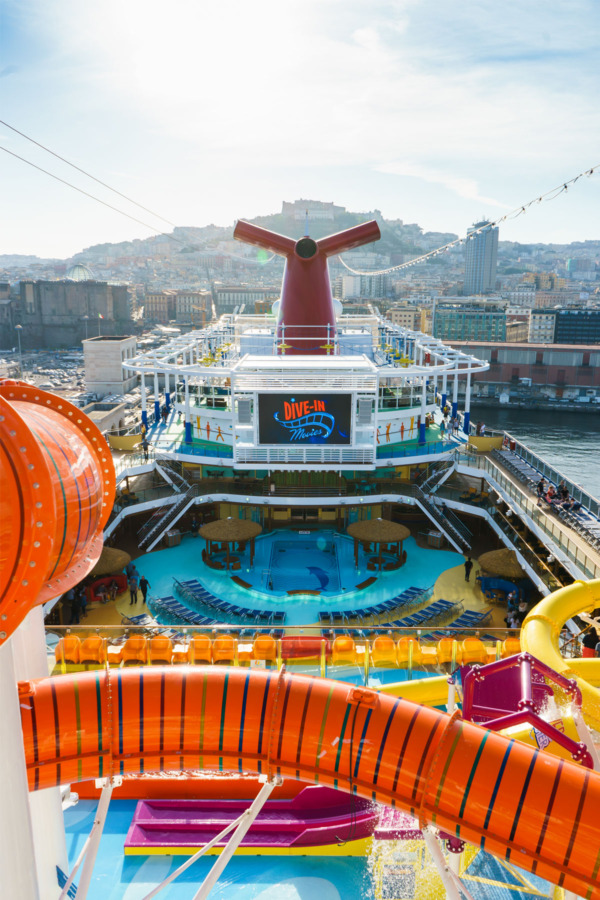 It's been over 2 months since our European cruise aboard the Carnival Vista, and I'm just getting around to writing about it. How do you begin to put such an experience in words, to whittle down thousands of photos to a few dozen that sum up the entire experience?
You don't. Not easily, at least.
And maybe that's why I've been putting off writing this post for so long. Unlike a recipe post where the words (usually) flow out of me like honey on a hot summer day, travel posts are just plain hard. I never feel like my photographs accurately reflect the beauty of the scenery or the bustle of the cities or the awe of ancient ruins; my words feel frozen and stiff compared to the vibrant and dynamic and truly memorable experience I've just had. But, I'm going to do my best. Because this is an experience that needs to be shared.
When we travel on our own, we like to immerse ourselves in a city, staying there for at least a few days before moving on to the next destination. That way we feel like we really get to experience a city and get to know its personality beyond what's on the surface. A cruise is not that kind of travel. Rather, you get a little sample of each different city you visit. In that respect, a Mediterranean cruise is a fantastic way to see a bit of everything, a tasting platter if you will, to help guide you in future travels (I know for sure Greece and Turkey are places I want to go back to someday, as well as the other half of Italy that we didn't see on our honeymoon.) We typically had about 8-12 hours in each port, which, especially when it comes to a city like Rome, was not nearly enough. But I saw it as a chance to get the big tourist attractions out of the way, so if (or should I say, when) we go back to these cities in the future, we can jump right in to the good stuff.
A Mediterranean cruise is a great way to see the highlights of Europe in a single go, your hotel moving along with you as you hop from city to city without ever having to pack up your suitcase. And that's where a cruise definitely has an advantage: lodging, meals, transportation… it all comes with the ship.
We feel so fortunate to have been invited aboard the Carnival Vista on this fabulous 10-night European cruise. This is the first time Carnival has offered a European itinerary, but it made perfect sense since the Vista was built in Italy, why not spend the next 6 months sailing the Med? The Vista will eventually make its way to Miami where it will mainly sail around the crystal blue waters of the Caribbean, but the company has plans to return to Europe with the completion of the second Vista-class ship in 2018 (code name: Vista Sista).
I've organized these posts (with a trip of this magnitute it only makes sense to split it in two) chronologically so you can follow our journey day by day. I'll share some pictures and some stories from each stop along our 10-night cruise, as well as some amazing images and facts about the Vista itself (spoiler alert: it's awesome).
We sailed aboard the Vista as guests of Carnival, but please know that all experiences and opinions are completely our own.
Day 1: Barcelona, Spain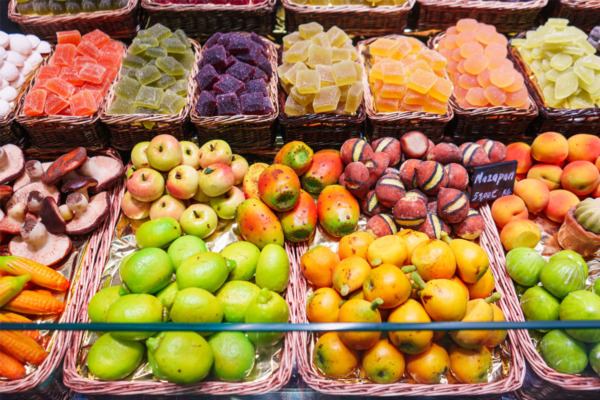 The Vista departed from Barcelona, Spain. We visited this vibrant city last spring, and were giddy at the opportunity to return so soon. We flew in a day early, both to have some time to play in one of our favorite European cities, but also because we're anxious travelers and didn't want to risk missing the boat (literally) should our flights be delayed for any reason. The idea of flying in the morning of makes me break out in a cold sweat… too many variables that could go wrong.
(Related sidenote: if I could pass along just one piece of advice for new cruisers, it would be to fly in a day early. It's simply not worth the risk to do otherwise. Consider it a little bonus (assuming you do arrive on time) and make the most of that extra day.
We sure did.
We stayed in a cute little hotel on the edge of the Børn neighborhood, a different location than we had stayed previously, so it allowed us to explore some new territory, though you can bet we also found time to revisit some of our favorite spots from our trip last year, including Casa Gispert to stock up on roasted almonds, and Bubó to indulge in one of their divine pastries.
We also took the opportunity to do something that we missed last time: breakfast at El Quim de la Boqueria. This little spot nestled in the bustling Boqueria is famous for its signature dish: fried eggs and baby squid. It's something Taylor had read about before our trip last year. While we did make it to the Boqueria, it was crazy busy (which it usually is most of the day) and so getting a seat for the 4 of us at the little bar top was out of the question.
This time, we used jet lag to our advantage and woke up with the sun on Saturday morning, traversing La Rambla and arriving at El Quim shortly after it opened.
We were rewarded for our efforts with a platter of succulent baby squid piled on top of a crispy egg fried in olive oil with garlic, chili pepper, maldon sea salt and black pepper. The baby squid is unbelievably fresh, with a brininess that tastes like it was pulled from sea mere minutes before (and it probably was). It's not fishy or funky at all, and even I, as someone who wasn't necessarily thrilled at the idea of eating baby squid, enjoyed it immensely. It's not cheap eats by any means (almost 20€ for a single dish), but it was well worth it. Seriously, this dish will go down in Taylor's mind as one of the best dishes he's ever eaten… and this, if you know Taylor, is a rare honor that doesn't get bestowed on food often. He enjoys food, sure, and can definitely appreciate a good meal, but when he has something truly amazing, the memory of that dish is seared in his mind forever. And this dish, unlike that one time when Kroger was giving away free Italian sandwich samples (why he always remembers that, I have no idea) is well worthy of such an honor.
Seriously, if you're ever in Barcelona, this is one thing, along with a trip to the Sagrada Familia, that you must go out of your way to try.
On Saturday afternoon we boarded the ship and settled into our balcony stateroom as we set sail for Marseille.
Day 2: Marseille, France
We docked in Marseille on a Sunday, which, albeit peaceful, was perhaps not the best day to explore this particular city (or any city in France, I expect). I had bookmarked a few shops and bakeries to check out while we were there, only to discover that they (along with just about everything else outside of the main tourist center) were shuttered and closed. That, paired with the unrelenting wind, left us cold and grumpy and hungry, wandering around an unfamiliar city with no particular plan or goal (except to find something sweet to eat).
Luckily, we stumbled upon a vision in pink: a quirky little chocolate shop called Et Moi Et Moi. The flamingo-pink "art and chocolate boutique" was even more charming because it was actually open. We stumbled in with our flushed cheeks and windblown hair, where we were greeted warmly by the shop owners (after only briefly poking fun at our horrid French). They offered us some of their house-made chocolate chaud (hot chocolate), which we ever so gratefully accepted, sitting down to sip and savor it at one of the sunny (and sheltered) tables outside.
Funny how all it takes is a good cup of chocolate chaud (and a few charming pink flamingos) to turn the day around.
Lesson learned: pay attention to what day you will be docking in each city, especially if you are in Europe. If it's Sunday (and even Monday in many cities in Spain, for example) you might be better off booking a guided excursion where you don't have to worry about things being closed.
Day 3: Livorno/Pisa, Italy
From the port of Livorno, we boarded a bus to the Leaning Tower of Pisa. Our tour consisted of a seriously abbreviated overview as we rushed from one important building to another. It was (unsurprisingly) crowded there, full of tourists all trying to get the same photo (you know the one…) It was actually moderately entertaining watching people pose, a look of faux strain on their faces as they 'held up' the tower with their hands. At the end of the guided tour we were given a mere 20 minutes to explore on our own (approximately 11 1/2 minutes of which we spent waiting for a bathroom). Despite that, I will admit Pisa is pretty impressive, and I'm glad I got to see it, no matter how superficially. We can now say been there, saw that, never have to go back again.
Many of the others in our group opted to take the bus into Florence. While we adored Florence when we visited in 2010, we didn't feel a 1 1/2 hour bus ride (each way) for 3 hours in a city we'd already thoroughly explored was the best use of our time.
Instead, we took a free city shuttle into the city of Livorno, a humble little port town that was pleasantly charming and down to earth, a nice contrast from the throngs of tourists we endured earlier in the day. It was early afternoon, and many of the shops and markets were closing (darn these European cities and their leisurely schedules) but we managed to find an indoor market with an open food stall and proceeded to indulge in pesto pasta and Gorgonzola gnocchi served on styrofoam plates and red wine in plastic cups, which didn't diminish the deliciousness of it one bit.
The lesson we learned here is despite the draw of the tourist attractions, I would encourage you to explore the little port towns along the way, most within walking distance (or a quick shuttle ride) from the ship. Because, unlike cruises in the Caribbean, these are actual towns that have been there for centuries. You just might find some truly memorable gems, and you won't have to battle thousands of tourists with their iPads either.
Day 4: Civitavecchia/Rome, Italy
That last picture pretty much sums up our feelings about Rome. Yes, the landmarks are amazing, I'm glad I saw them, but we couldn't help feeling a little like livestock, being herded around from one spot to the next, hypnotically following the faded blue bandana on a stick. Our 10 1/2 hour guided excursion took us to the highlights of Rome, which included the Colosseum, the Trevi fountain, and St. Peter's Square and Basilica, as well as a few other famous sights seen from the window as the bus rolled on by. The guided tour was definitely worth it in this case, if only to skip the line at the Colosseum (otherwise we would have easily wasted half our precious day there).
They say Rome wasn't built in a day, and it shouldn't be seen in a day either. While it's technically possible (we proved that), by the end of it you'll be more than ready to shut yourself in your stateroom for some serious alone time.
No, it wasn't ideal, but… when in Rome, right?
Day 5: Naples/Pompeii, Italy
We docked in Naples and headed straight for the ancient ruins of Pompeii. I'll admit that my only expectations of this miraculously preserved city were based solely on that one Doctor Who episode (yes, the one with Peter Capaldi before he was the Doctor).
Funny how so many of my preconceived notions of history have been shaped by Doctor Who.
Anyway…
While there were no TARDIS sightings, I felt like I had traveled back in time. The ancient ruins were far more expansive than I could have imagined, even more so considering over 30% of the city remains buried. It was only moderately crowded (or maybe my perception was skewed after the mobs from the previous day in Rome) but Pompeii was easily one of the highlights of our trip.
I could have easily spent all day there, but our guided tour was only a half-day excursion. We headed back to the ship, planning on crashing in our stateroom for a nice afternoon nap (well, me at least, Taylor was headed straight for the water slides). Then we thought to ourselves, we're in Naples, the center of the pizza universe (I mean, it's called neapolitan pizza for a reason). It didn't seem right to get back on the ship without having at least one slice.
Or even better, a whole pie.
Having done no research, we wandered into the city until we found a place that looked decent enough and didn't have a line around the block. And you know what? It probably wasn't the best pizza in Naples, but it was pretty darn fabulous. So was the plate of simple tomatoes with mozzarella: much like the butter in France, something about the mozzarella in Italy is simply unlike anything we've ever had before.
There must be something in the water there.
And what stunning water it is, too.
This concludes the first half of our journey. I've got part 2, to Greece and beyond, coming soon!
Onward!
Disclosure: Thank you to Carnival for inviting us on this amazing journey. As always, all opinions written are purely our own. We're incredibly grateful for opportunities like these that allow us to continue sharing delicious experiences with you, so thank you for supporting us and the brands we love.