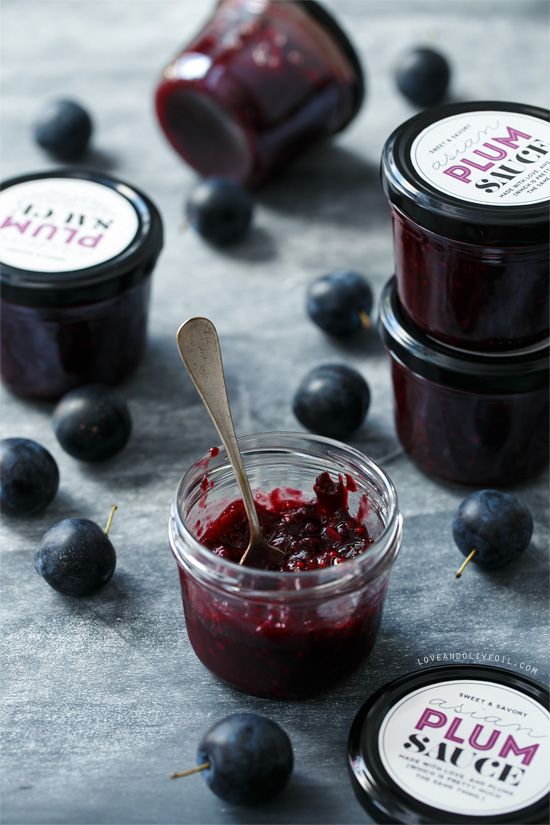 Have we ever talked about baker's instinct?
You know when you're baking cookies, chilling on the couch while they bake, and happen to stand up 9 seconds before the timer goes off?
Or when you, on a whim, dip your finger into the cake batter before pouring it into the pans, only to realize you forgot the sugar?
That's baker's instinct (of course, a baker with REAL instinct probably wouldn't have forgotten the sugar to begin with, but that's beside the point…)
Well, apparently there is a canner's instinct too, which I discovered a few weekends ago when I hit the Damson jackpot.
Despite the fact that we live a mere 1/4 mile away from Nashville's largest farmers' market, we often choose to be lazy bums on Saturday morning rather than take advantage of all the market has to offer. We'll wander down there every few weeks though, and load up on tomatoes and grass-fed beef and whatever vegetation happens to be in season.
We hadn't been in a few weeks, for various reasons, but I convinced a reluctant Taylor to take a trip there this past weekend. We didn't need anything in particular, I just felt a twinge of something that told me we needed to go.
And sure enough, there they were.
Damson plums. The little-known damsels of the stone-fruit world. Elusive, with a super short season, they'll show up at the market for a week or two before they disappear for another year.
See? Canner's instinct. That twinge I felt must have been the Damsons calling me from afar. It was meant to be.
While I typically make jam (Damsons make some of my favorite jam), this year I went in a slightly different direction and turned them into a sweet and savory Chinese-style plum sauce. Cooked low and slow for over an hour with a flavorful mix of ingredients, this homemade plum sauce is a definite winner in my mind. I can just imagine it slathered on a gorgeous duck breast, or thinned with a bit of soy sauce and rice vinegar for dipping hot and crispy egg rolls.
Be sure to click through for the recipe and download the free printable canning labels to dress up your own jars!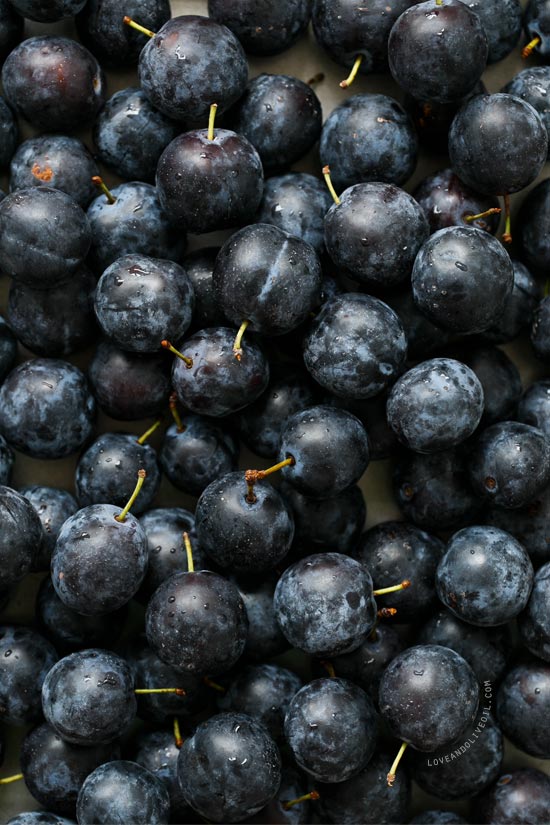 Damson plums are different from regular plums, small and tart and very attached to their pits (indeed, pitting them really is, well, you know—the pits). Although you could use regular plums in this recipe, the Damson's defining factor is their ultra-tart skins, which, when cooked down until the last bits of toughness are gone, impart an incredible flavor and brilliant purple color onto whatever concoction in which they are thrown. If you can find them, pile as many as you can into your market basket and don't look back (pay for them first, of course).
The sauce incorporates mostly plums, but with some cider vinegar, sugar, fresh ginger, hot pepper (use whatever kind you'd like for your preferred level of heat), onion, garlic, and mustard seed.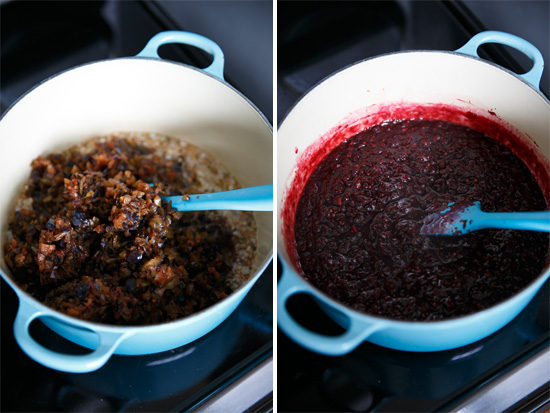 I was worried when I first started cooking the sauce that I'd end up with brown goo. One of my favorite parts of Damson jam is the brilliant color that emerges from the skins. And sure enough, after about 15 minutes of simmering, there it was, that gorgeous, rich fuchsia hue that I so adore.
Just don't wear a white shirt while you're cooking this one, ok?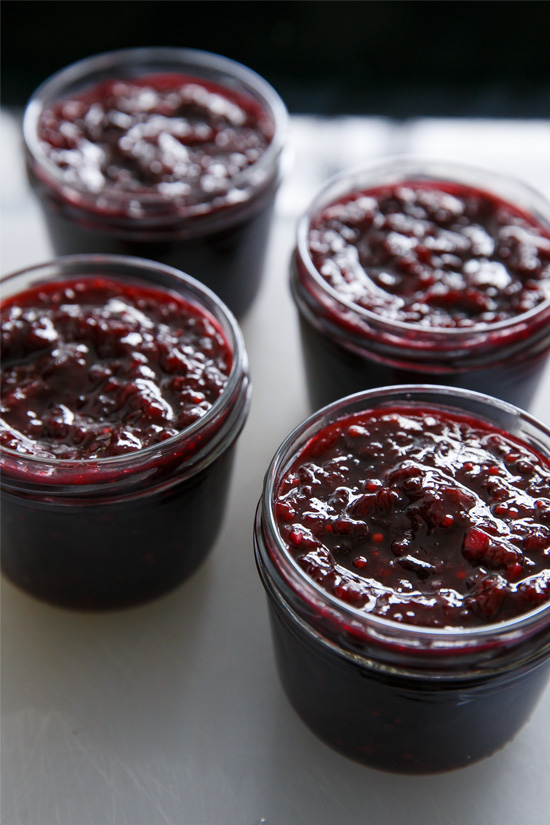 I halved the original recipe and got 4 half-pint jars, but you could most certainly make the full batch or even quarter it if you just wanted a few jars to use right away and didn't want to deal with canning. But, canned or not, I know that this stuff won't go to waste.
Asian Plum Sauce
Ingredients:
2 1/2 pounds plums, pitted
1 cup lightly packed brown sugar
1/2 granulated sugar
1/2 cup cider vinegar
1/2 small onion, finely chopped (about 1/3 cup chopped)
1 tablespoon finely chopped green pepper (such as jalapeño or serrano, or a milder poblano if you don't like the heat)
1 tablespoon whole yellow mustard seeds
1/2 tablespoon kosher salt
1 garlic clove, minced
1/2 tablespoon finely chopped fresh ginger
Directions:
Place pitted plums in the bowl of a food processor; pulse briefly until coarsely chopped (do not purée). You can also chop the plums by hand if you prefer a coarser texture. You should end up with about 5 cups of chopped plums.
In a large non-reactive (stainless steel) saucepan, combine brown sugar, sugar, vinegar, onion, pepper, mustard seeds, salt, garlic and ginger. Bring to a boil over high heat, stirring constantly. Add chopped plums and return to a boil. Reduce heat to medium and boil gently, stirring occasionally to prevent scorching, until sauce is thick and syrupy, about 1 1/2 hours.
While sauce is cooking, prepare canner and wash/sterilize 4 half-pint (or equivalent) canning jars. Keep jars in hot (not boiling) water until ready to use.
Ladle hot jam into jars, leaving 3/8-inch of headspace. Remove any air bubbles and adjust headspace, if necessary. Wipe the rims clean and top with lid; screw on ring until finger tight. Process in a boiling water bath for 15 minutes. Remove from water and let cool completely, 12 to 24 hours. Check seals. Any unsealed jars should be refrigerated and used within 1 month.
Did you make this recipe?
Let us know what you think!
Leave a Comment below or share a photo and tag me on Instagram with the hashtag #loveandoliveoil.
Bonus Printable Labels
This sassy sauce called for something witty. Something modern. I don't usually like plain white labels (the have too much of a printer-paper look to them), but in this case, it worked well to offset the jewel-like hue of the sauce. As usual, there's no point in me wasting a bunch of my time designing labels for 4 measly jars, so I'm pleased as punch to share them and justify that as time well spent. You know I wholeheartedly believe that a naked jar is, well, kinda lame. Have some sympathy for those poor naked jars and dress them right with an awesome label.
The downloadable PDF file includes both large labels for wide mouth jars (6), and smaller labels for standard or narrow mouth jars (8), so it's flexible no matter what size jar you choose to use.
To use, simply download the printable file by completing the form below. Print your labels onto full-sheet sticker paper, cut out, and apply directly to the the finished jars.