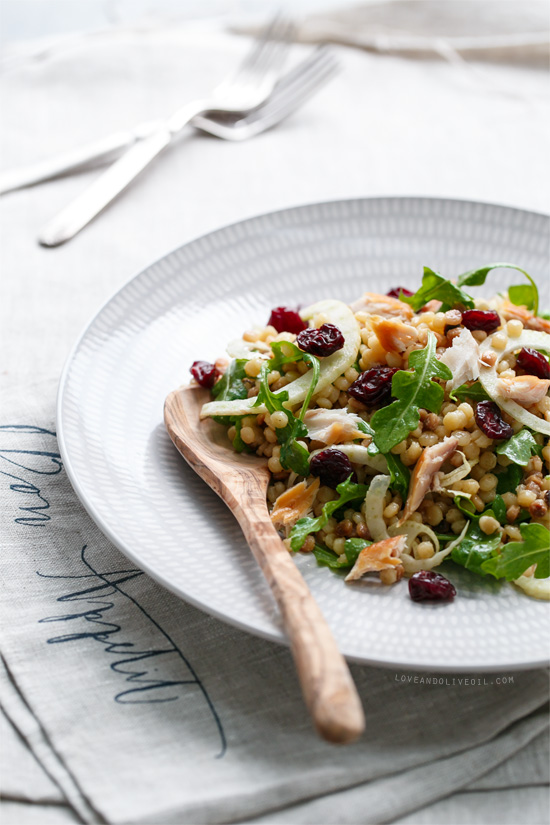 Taylor has decided that dried tart cherries are his new favorite thing this side of Disney World.
"If you didn't need these for a recipe," he told me, "I'd have devoured the entire bag by now."
To which I replied that we can always buy more, and if it makes him happy, by all means, eat away. (It's the little things, right?)
And in fact, I'm inclined to agree with him.
I've never been a fan of raisins (which have absolutely NO place in cookies), and dried cranberries are often too tanic and overpowering (especially when you accidentally buy the orange-flavored ones, they overtake your entire meal). Dried tart cherries, however, are miracles. Little wrinkly miracles; pockets of flavor that compliment and enhance without overpowering. And unlike the chewy/leathery/tough texture of other dried fruit, cherries are tender and supple and won't break your teeth in the process.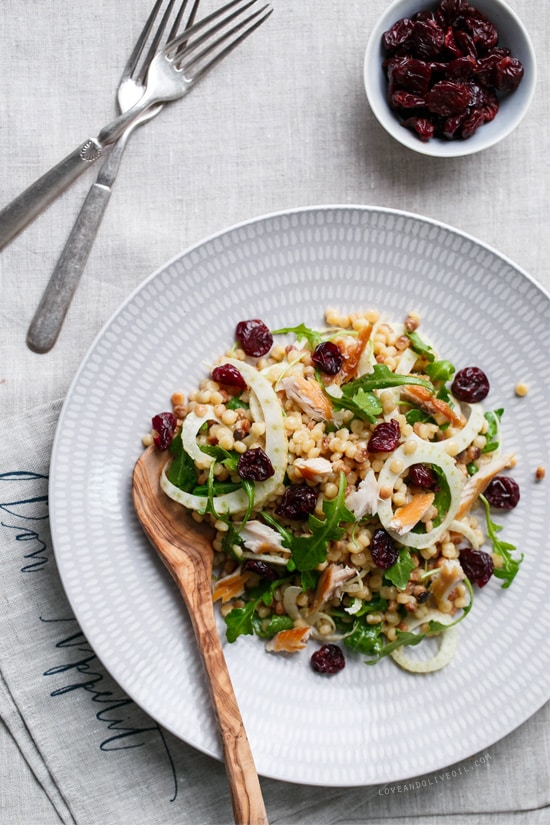 Contrast is king in this colorful salad, which pairs bitter and sweet, salty and smoky, bright and crunchy: multiple dimensions of flavor and texture that make it come alive. It might seem like an odd combination of disparate ingredients, but each one becomes a piece in the greater whole and does so with purpose and intention.
We wanted a salad that would satisfy as an entree, and that meant adding some sort of protein to compliment the fresh and fruity flavors. Not wanting to stick with the same-old-same old (meaning, flaked salmon or canned tuna, mostly like) we stumbled across some smoked trout that looked intriguing. It's actually very similar in flavor to smoked salmon (not cold smoked/cured salmon like Lox, but rather the stuff that's actually smoked until opaque and flaky) and in fact you could easily substitute one for the other here if necessary.
While we originally planned to use pearl couscous, we found a stray bag of Fregula in the back of our cabinet that we had picked up on our trip to DeLallo foods last fall and promptly forgot. Fregula sarda is a semolina-based pasta, similar to Israeli or pearl couscous that has been toasted until it's 50 shades of golden brown. I remember being intrigued by the idea of a toasted pasta, and indeed, it carries a subtle toasted flavor not unlike a piece of crisped bread.
It makes me wonder, can other kinds of pasta be toasted too?
This toasty base serves as the foundation for a unique and satisfying salad. With bright and bitter arugula, crunchy raw fennel, and sweet dried tart cherries, it's a trifecta of toppings that are perfected even more by the smoky salty fish and the tart and creamy cherry vinaigrette (a dressing which, might I add, would be great to have on hand for last minute salads… so make a double batch if you so choose).
Quick. Healthy. Flavorful. Unique. What more could you want in a meal?
Cold Fregula Salad with Tart Cherries and Smoked Trout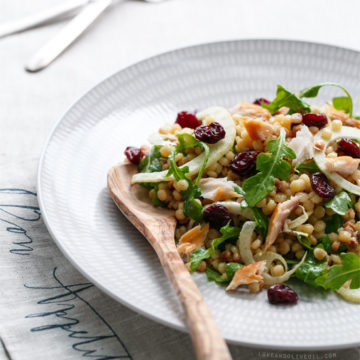 Ingredients:
For Dressing:
2 tablespoons white wine or champagne vinegar
2 tablespoons dried tart cherries (optional)
2 tablespoons sherry vinegar
1 shallot, minced
2 tablespoons Dijon mustard
1 tablespoon honey
1/4 teaspoon each salt and freshly ground black pepper
1/2 cup olive oil (extra virgin or a combination of extra virgin and light or grapeseed oil for a lighter flavor)
For Salad:
16 ounces fregula sarda, cooked according to package directions*
1 bulb fennel, cored and very thinly sliced
4 ounces baby arugula
4 ounces smoked trout, skin removed and flaked
1/4 cup dried tart cherries
Directions:
Optional: soak 2 tablespoons dried tart cherries in champagne vinegar for at least 6 hours or overnight. Drain and discard cherries (you can use them on the salad if you like, however they are very potent, so taste them first beforehand).
Combine cherry-infused or plain champagne vinegar, sherry vinegar, shallot, mustard, honey, salt, and pepper in a blender or food processor; pulse to mix. Slowly drizzle in olive oil, mixing on low speed until emulsified and thickened.
Prepare fregula sarda according to package instructions until just al dente. Drain and let cool to room temperature or refrigerate.
In a large bowl, combine cooled fregula with arugula and sliced fennel. Toss with dressing until evenly coated. Divide among serving dishes. Top with flaked trout and sprinkle with remaining dried tart cherries. Serve at room temperature.
*Fregula sarda is a semolina-based pasta that has been lightly toasted. You can find it in some Italian specialty food stores or online. You can substitute Israeli or pearl couscous instead, and lightly toast the pasta in a skillet or oven until just starting to color before cooking according to package instructions.
All images and text ©
Lindsay Landis
/ Love & Olive Oil
Did you make this recipe?
Let us know what you think!
Leave a Comment below or share a photo and tag me on Instagram with the hashtag #loveandoliveoil.
Disclosure: This post was sponsored by the Cherry Marketing Institute. As always, all opinions written are purely our own. We're incredibly grateful for opportunities like these that allow us to continue sharing delicious recipes with you, so thank you for supporting us and the brands we love.