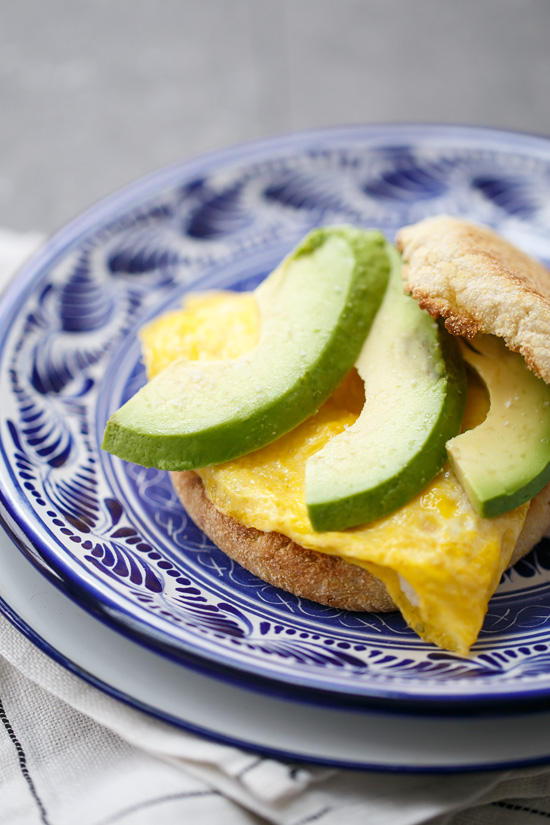 I'm calling these breakfast sandwiches, but for us they are more often lunch sandwiches, as eggs are often our go-to for quick and filling lunches. But you know we are strong proponents of breakfast for dinner, so why not breakfast for lunch, too?
The key is the egg, scrambled and cooked super thin and folded into quarters. Think of it like an ultra thin omelet or a scrambled egg crepe. An unusual preparation, perhaps, but totally practical and perfect draped on a toasted English muffin.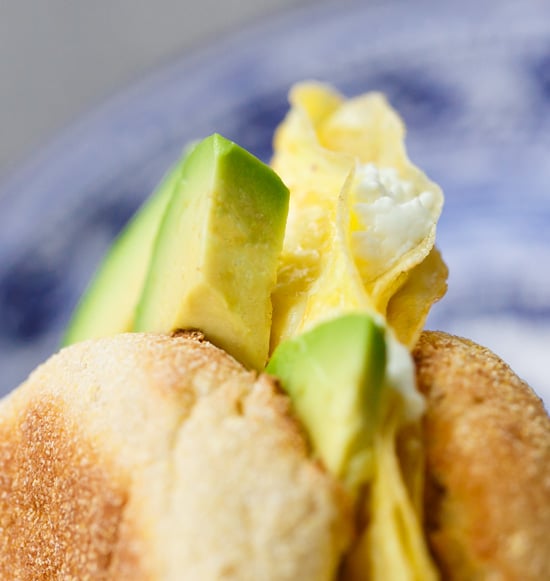 I often refer to these as "Taylor's fancy eggs" since they were purely his creation (but don't mistake that moniker to mean they are complicated, because they are anything but). The goat cheese and avocado was (obviously) my contribution.
When making these eggs, you want to use a small (8-inch) nonstick skillet. Good nonstick being the key, otherwise your thin layer of egg won't come out cleanly.

One egg at a time, whisk the egg like you were making scrambled eggs. Pour into the hot buttered skillet and swirl like you were making a crepe. It takes a whole 30-45 seconds to fully cook when the egg is this thin, so by the time you're done sprinkling on the goat cheese it's probably ready. Then just gently fold the egg in half and then in half again using a thin spatula, and transfer to your toasted and buttered English muffin. See? They look a lot fancier than they really are.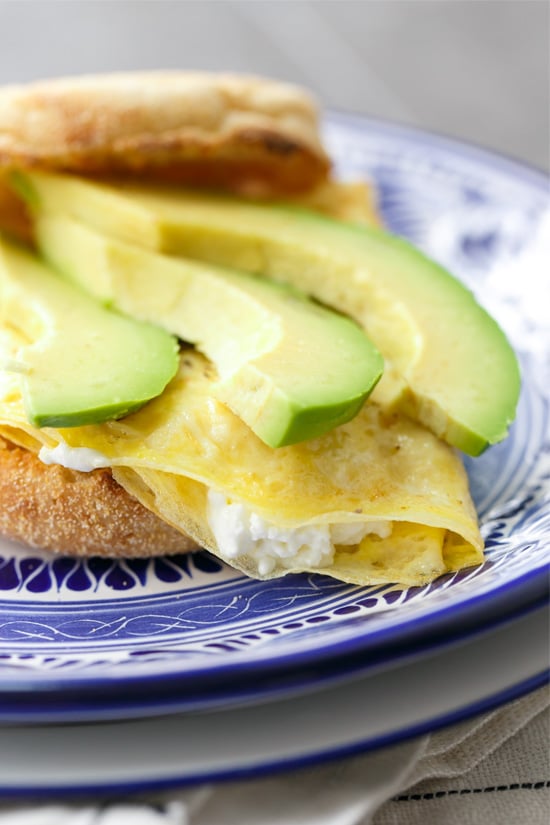 This is one of those 'everyday' recipes that I often don't even think to share. It's so simple that I almost don't even consider it a recipe. It's more of a foundation and a technique than a complete recipe. Maybe you replace the goat cheese and avocado with jack cheese and salsa, or fontina cheese and crispy bacon. You could even leave off the cheese entirely and go naked. Try it on thick sliced crusty bread, or even a fresh buttered bagel. Really, the possibilities are endless.
Goat Cheese & Avocado Egg Sandwiches
Ingredients:
butter, for cooking
4 large eggs
4 ounces fresh goat cheese, crumbled (about 1/2 cup)
1 avocado, halved, pitted, and sliced
4 English muffins, split and lightly toasted
salt and freshly ground black pepper
Directions:
Heat a small 8-inch skillet over medium heat. Add a pat of butter when it's hot enough to sizzle.
Beat one egg in a small bowl. Pour into hot skillet and quickly swirl to coat the bottom of the pan in a thin layer.
Sprinkle goat cheese over top of egg layer. This will probably take you about 30 seconds, at which point the egg is done.
Use a thin spatula to gently fold the egg in half, then in half again to form a quarter circle. Transfer to warm muffin, season with salt and pepper, and top with 3 avocado slices.
Repeat with remaining eggs as desired.
Did you make this recipe?
Let us know what you think!
Leave a Comment below or share a photo and tag me on Instagram with the hashtag #loveandoliveoil.