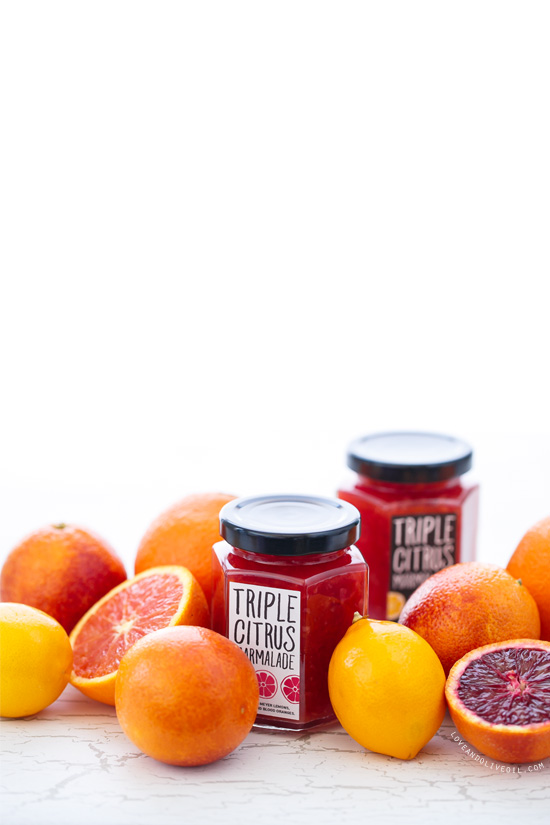 YOU GUYS.
It's citrus season! Perhaps the only redeeming quality of these frigid winter months.
We may be completely iced in for 3 1/2 more days at this rate, but rather than see this confinement as a sentence, I see it as an opportunity. To make more marmalade, that is. I mean, if I have to endure this wretched ice-pocalypse, I might as well get some marmalade out of the deal.
Besides, citrus season doesn't last long, so we may as well revel in it while it lasts. (Though winter, on the other hand, WILL IT EVER END?)
I'll admit, I may have gotten a little carried away at the grocery store (last week when I could actually GET to the grocery store, I mean). When faced with all that delicious citrus tempting me from the produce aisle, do you blame me for not being able to decide? The blood oranges were looking oh-so-lovely (they've always been my favorite), but oooh, look at those pretty Cara Cara oranges, I don't think I've tried those before! And of course I must stock up on Meyer lemons too, just in case.
Once again, my indecision was decisive, giving me no choice but to combine all my impulse purchases into this gorgeous triple citrus marmalade the color of the richest red sunset you've ever seen. I mean, really, who says marmalade has to be just one fruit? Why not combine the best of them all, the mild tartness of the Meyer lemon, the color and sweetness of the blood orange, and the gorgeous grapefruit flesh of the Cara Cara, into one singular inspiring marmalade: the one marmalade to rule them all.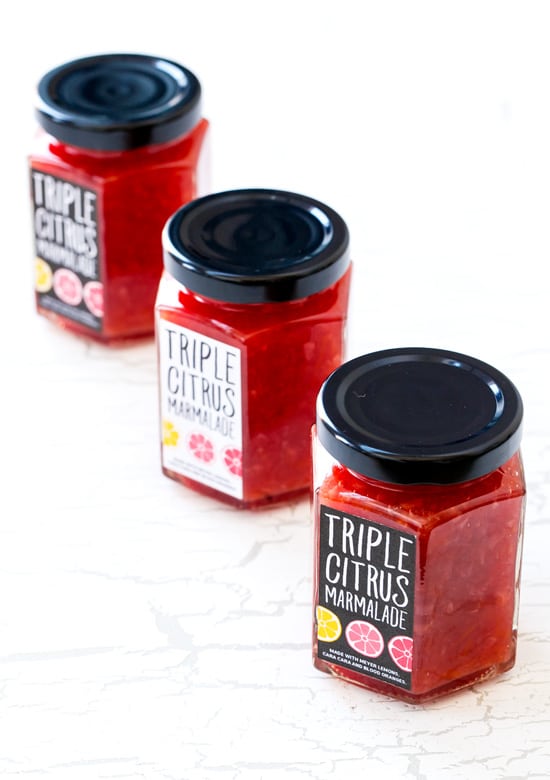 My method of preparing marmalade might seem unusual, but so-help-me-god I cannot stand the typical citrus prep involved (quartering, seeding, coring, thinly slicing). It is just so dang tedious. I'm not a human mandoline, after all. Believe me. I made a second batch of marmalade the traditional way (a truly tart jam that I'll share with you soon enough!) Don't get me wrong, it turned out great, but only because I took the time to slice the citrus paper thin. And honest to goodness it just about killed me.
Death by marmalade.
Now that's a new one.
Not to mention if you're like me in that you find most marmalade a bit too chunky, this is your jam. Tedium aside, I tend to prefer a smoother, less chewy marmalade, which is why this "zest and pulse" method is perfect for me.
It may be cheater marmalade, but it's downright easy in comparison. First you want to zest the heck out of your citrus using a citrus zester (NOT a microplane, rather the kind that produces thin ribbons of peel). Once the citrus is thoroughly stripped to its skivvies, take it the rest of the way by peeling or slicing off the remaining pith (that stuff is bitter and we don't want it).
I actually started slicing off the pith with a sharp knife, and then soon realized that it was quicker and less wasteful to just peel it. Whatever works.
Then simply slice up what's left, removing whatever seeds you encounter (disclaimer to friends & family who may receive this marmalade in their Christmas care packages: I may have missed a few) and then toss everything into the food processor. No supreming, no slicing, no fancy knife skills required. The food processor chops up what's left of the citrus, creating a nice solid and smooth base for the marmalade. Once cooked, the fine strips of zest are all you need to give the marmalade some texture and to make it recognizable as marmalade, but nothing like the unpleasant chunks of pith and peel that are often found in such preserves.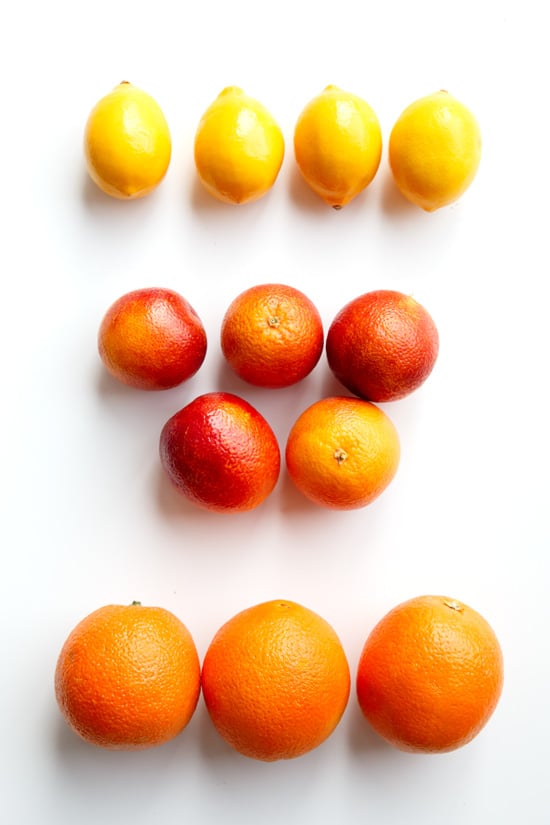 This recipe calls for 2 1/2 pounds of citrus, and what you see above is exactly what I used. That's 1/2 pound of Meyer lemons, 1 pound of blood oranges, and 1 pound of pretty-in-pink Cara Cara oranges, but you could certainly change it up based on what's available to you. As long as the total equals about 2 1/2 pounds, and you end up with approximately the same amount of zest and juice, any citrus is fair game.
Citrus has lots of natural pectin, and that's why most marmalade recipes you see contain little more than fruit, water, and sugar. Soaking the citrus overnight with the pectin-rich seeds draws out even more. However, another thing I hate (notice a theme here?) is how long marmalade takes to cook, upwards of 40 minutes sometimes, and the constant testing and retesting needed to make sure the stuff has properly gelled. Instead of dealing with all that uncertainty, I augmented the natural pectin in the fruit with a little bit of Pomona's. It essentially takes all the guesswork out of the marmalade-making process, at the same time allowing you to use about half of the sugar (and we all know just how sickeningly sweet marmalade can be).
Of course, you can definitely make this marmalade the traditional way without the pectin, simply (er, not so simply actually) increase the sugar to 4 cups or so and boil it for about twice as long, until it passes the dreaded gel test.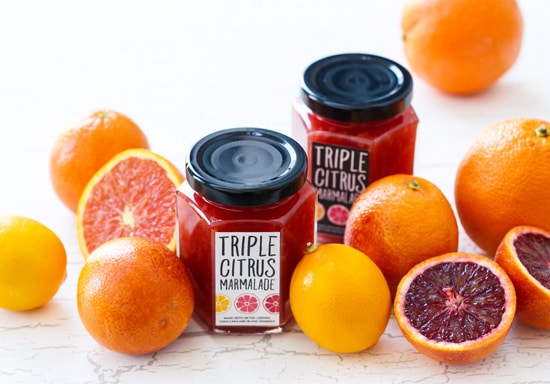 Let's be honest. Canning in the summer can be downright miserable, adding heat and humidity on top of more heat and humidity. But in the depths of winter when the heat runs non-stop and yet you're still chattering in your slippers, well, canning is the perfect way to warm your soul.
Not to mention the free steam facials. It's really a win-win for everyone involved.
Triple Citrus Marmalade
Ingredients:
2 1/2 pounds mixed citrus (I used 1/2 pound lemons, 1 pound blood oranges, and 1 pound cara cara oranges)
2 1/2 cups granulated sugar
1 tablespoon Pomona's Universal Pectin
2 teaspoons calcium water (comes with the pectin)
Directions:
Coarsely zest citrus, getting as much of the peel off as possible. Alternatively, peel of sections of the skin with a vegetable peeler, then thinly slice into strips using a sharp knife. You should have about 1 cup of zest in total.
Peel or cut of what pith is left of your citrus. Coarsely cut into pieces, reserving all juices, and carefully remove all seeds (if your citrus has a lot of seeds , slicing it into 1/4-inch thick slices helps make sure you get all the seeds). Set seeds aside (don't throw them away, they're full of valuable pectin!) Secure any seeds in a tea ball or length of cheesecloth tied into a bundle.
Place seeded citrus and all reserved juice into a food processor. Pulse 2-3 times or until no large chunks remain, but don't process so much that the citrus is liquefied. You should have about 4 cups of citrus pulp.
Transfer to a large bowl along with zest and 2 cups water (filtered, if necessary). Submerge the cheesecloth bundle in the liquid; cover tightly with plastic wrap and refrigerate overnight or up to 2 days.
When you are ready to can, prepare canner and wash/sterilize your half-pint mason (or equivalent) jars. Keep jars in hot (not boiling) water until ready to use. Warm lids in hot (not boiling) water to sterilize and soften seal.
Remove the cheesecloth bundle; squeeze out any remaining juices and discard the seeds. Pour the soaked fruit and all liquid into a large, non-reactive saucepan.
Bring to a simmer over medium-high heat and cook, stirring occasionally, for 20 minutes.
Meanwhile, place sugar in a bowl. Whisk in pectin until evenly incorporated. Prepare calcium water according to package instructions.
Once marmalade has been boiling vigorously for 20 minutes, remove from heat and measure. You should have approximately 4 cups of cooked fruit (measuring is important to ensure the proportion of pectin and sugar is correct).
Return to medium-high heat and stir in calcium water. Bring to a vigorous boil, then add sugar mixture, stirring until sugar is dissolved and mixture returns to a full rolling boil that can't be stirred down, about 2 to 3 minutes. Remove from heat.
Ladle hot sauce into jars, leaving 1/4-inch of headspace. Wipe jar rims and threads. Screw on lids and rings. Process in a boiling water bath for 10 minutes. Remove from water and let cool completely, 12 to 24 hours. Check seals. Any unsealed jars should be refrigerated and used within 3 weeks.
*If you prefer to make your marmalade the old fashioned way without pectin, increase the sugar to 4 cups and cook the marmalade longer, at least 30 to 40 minutes, or until the marmalade measures 220 degrees F and passes the gel test: (drop a spoonful of marmalade onto a chilled plate. Return to the freezer for 1 to 2 minutes, then check for doneness. If you want a firmer gel, cook for a few minutes longer.)
Did you make this recipe?
Let us know what you think!
Leave a Comment below or share a photo and tag me on Instagram with the hashtag #loveandoliveoil.
Bonus Printable Labels
I'll admit that this marmalade is gorgeous on its own, encased in glass, like a shining jewel of sugar and fruit. But how will people know what's inside (because its unique sunset hue doesn't look like any marmalade we're used to) without a label to tell them? Luckily I've got you covered. Download and adorn your jars with these printable labels that are both informative and decorative.
The downloadable PDF file includes two dozen 1.25-by-2.25-inch rectangle labels, half black and half white, designed to perfectly fit my 6oz hex jars, but would also fit nicely on the side of just about any smooth-sided jar.
To use, simply download the printable file by completing the form below. Print your labels onto full-sheet sticker paper, cut out, and apply directly to the the finished jars.