Sweet & salty desserts are ubiquitous these days, playing into our oftentimes mingled sweet and salty cravings. But what about sweet, salty, AND savory? It can work, you know.
One of my all time favorite treats is Olive & Sinclair's Salt & Pepper chocolate bar. As weird as it sounds, it just works, proving that pepper can be a major player after dinner, too. It was that idea that ultimately inspired this sweet and savory holiday mashup.
Enter Kettle Brand® Popcorn: Salt and Fresh Ground Pepper, a savory popcorn flavor with a peppery kick. You may not initially think that this flavor would translate well into a dessert, but that just means you haven't tried these popcorn bars.
Everyone has heard of popcorn balls: the old fashioned and oft-ridiculed holiday treat (have you ever wondered why it is that popcorn balls seem to exist only from October through December? Weird.) But they're not exactly the most glamorous, or highly-prized holiday treat. And that's probably because, to put it bluntly: they're kinda lame. If I'm going to have dessert, I'm going to HAVE dessert, and gussied up popcorn really doesn't match my idea of an indulgence.
This version, however, might just change all that. Made with marshmallows, it comes together more like a rice krispie treat, spread into a pan and cut into squares. Add to that a dark chocolate drizzle and well, these are not your momma's popcorn balls (of that much I am most certainly sure.) Well, duh, they're not balls – they're bars. And that changes everything.
I hadn't tried Kettle Brand® popcorn before this, in fact I'm ashamed to admit I didn't even know they had popcorn. But they hit the nail on the head with this Salt & Pepper flavor; my pepper-loving husband couldn't have been more giddy to dig in. He probably could have eaten the entire bag right then and there if I hadn't stopped him (dear, we still need some popcorn left to test the recipe, you know).
It took a few tries to get the right balance of crunchy and sticky, sweet and peppery. Popcorn behaves quite a bit differently than rice cereal and therefore needs special treatment. But the result is perfectly light, airy, and crispy, the pepper giving the treats a subtle savory note that makes you sit up and take notice.

While this version errs on the crispy side of the spectrum (I wanted to retain some of the popcorn's inherent crunchy texture), if you're the kind of person who enjoys their rice krispie treats extra gooey, I might suggest increasing the marshmallow from 3 to 4 cups.
Talk about an easy dessert. Five ingredients, 30 minutes, and poof (pop?) you have yourself a satisfying treat, fit for a crowd. It's not too sweet, so it's just as enjoyable as a mid-day snack than an after-dinner dessert.
Salt & Pepper Popcorn Bars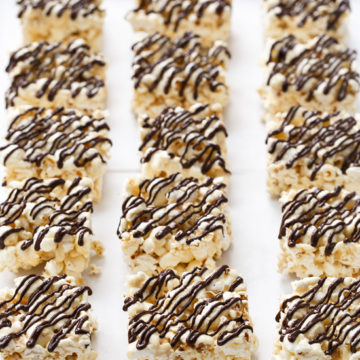 Ingredients:
12 cups Kettle Brand® Salt & Freshly Ground Pepper Popcorn
1/4 cup unsalted butter
1/2 cup light brown sugar
3 cups (6 ounces) mini marshmallows*
4 ounces dark chocolate, melted
Directions:
Line a 13-by-9-inch baking pan with parchment paper, foil, or plastic wrap. If using one of the later two, lightly butter or mist with cooking spray. Place popcorn in a very large mixing bowl and set aside.
Melt butter and sugar together in a saucepan over medium-high heat, stirring occasionally, until mixture begins to boil and butter no longer appears separated. Add mini marshmallows and stir until melted and smooth.
Pour hot marshmallow mixture over popcorn, stirring and folding popcorn until evenly coated with marshmallow. Pour into prepared baking pan, and press into an even layer (it might help to butter your hands and use that to press the mixture into the pan, but be careful as the popcorn is still warm).
Let cool for 30 minutes to 1 hour, then remove block of popcorn bars and transfer to a cutting board. Cut into 24 even squares; drizzle with melted chocolate.
Popcorn bars are best enjoyed within 1-2 days, stored in an airtight container.
*note: if you like your bars extra gooey, increase the marshmallow to 4 cups. As is the bars will be more crispy than gooey, as was our own preference.
Did you make this recipe?
Let us know what you think!
Leave a Comment below or share a photo and tag me on Instagram with the hashtag #loveandoliveoil.
Disclosure: This post was sponsored by Kettle Brand®. As always, all opinions written are purely our own. We're incredibly grateful for opportunities like these that allow us to continue sharing delicious recipes with you, so thank you for supporting us and the brands we love.