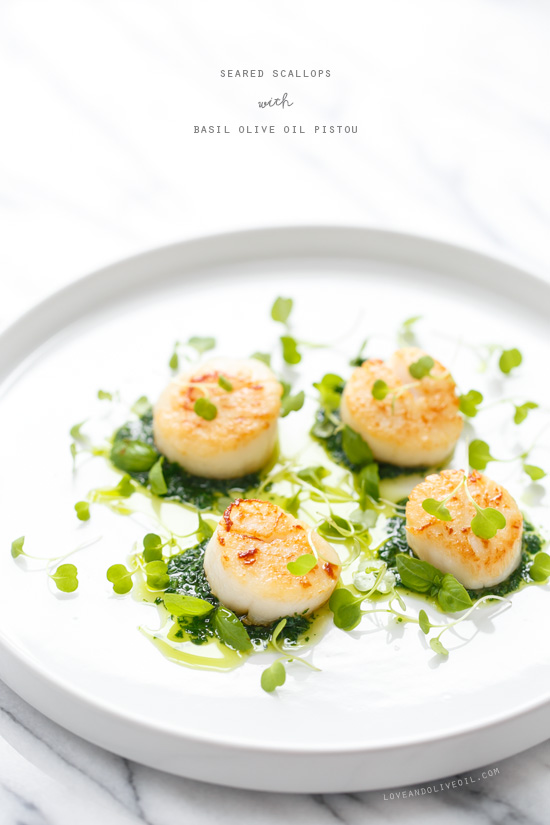 You may be wondering why I misspelled pesto. Thanks for feeling the need to kindly correct one of my regularly occurring typos (ahem, MOM), but in this case it's unwarranted. Pesto and pistou are actually distinct things. Similar, yes, but not simply a misspelled version of another. Pistou is essentially a pared down pesto, looser in texture and purer in flavor, made with only basil, garlic, and olive oil. If pesto is pure Italian, pistou is its French cousin.
Scallops, as delicate as they are, require a light touch. Pesto, with its added nuts and cheese, would overpower the mild scallop flavor. We still felt basil would be a perfect companion to the scallops, especially during the summer season when basil everything seems to be the case. Pistou turned out to be just the ticket, supporting and enhancing the tender sweetness of the scallops instead of engulfing it.
In addition to the scallops and the basil, the olive oil is really the star here. That's why I was so excited to be able to work with Capay Valley Ranches on this recipe, a California-based company specializing in premium olive oils made from California-grown olives. This isn't olive oil that you'd fry your chicken in. No, cooking tends to break down the essential compounds that give a good quality olive oil its nuanced flavors. The good stuff is best used as the finishing touch in dishes where the quality can really shine through.
Like these scallops. Because, let's be honest, if you're going to blow your monthly allowance on jumbo sea scallops (at least here in landlocked Nashville, they are not cheap!) why would you ruin such beautiful specimens with mediocre olive oil? Trust me on this one. A recipe like this should be worth the splurge, and that means pulling out all the stops, including your best olive oil.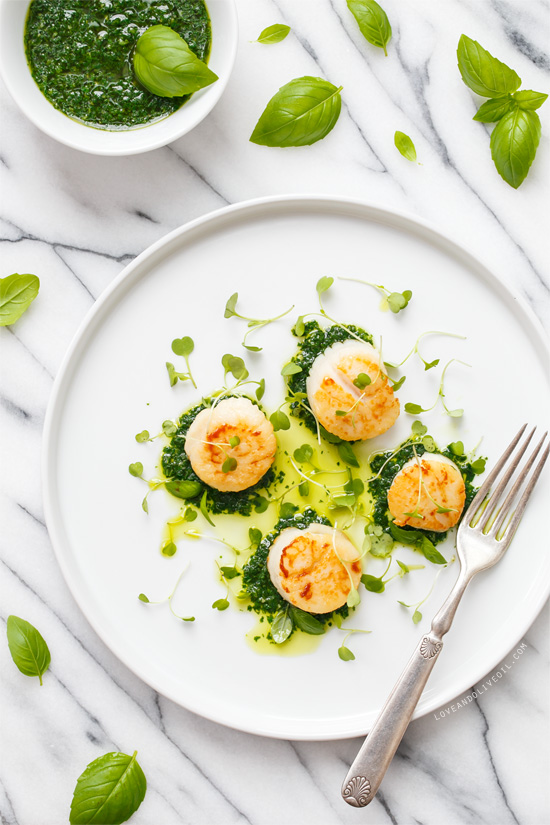 We made the pistou 4 ways, exploring the different infused oil flavors available from Capay Valley Ranches: basil, Meyer lemon, blood orange, and Persian lime. Each one transforms the dish into a unique masterpiece. You'd be hard pressed to believe they are the same dish.
The Basil amplifies the bright basil flavor and gorgeous green color of the sauce. It's like double dose of basil, the basil-infused olive oil making the basil taste even more like basil, if that's even possible.
Meyer Lemon is a perfect citrusy companion for the buttery scallops. Lemon and scallops are perhaps the most obvious pairing, but the candy-like sweetness of the Meyer lemon olive oil (as opposed to puckering acidity of fresh lemon juice) works wonderfully.
The Blood Orange brings a unique Mediterranean flair that is utterly delicious. I'm totally and undeniably infatuated with blood oranges, and this combination is no exception.
And the Persian Lime… well, I'll let you imagine how amazing that combination would be.
Of course, you could always make the pistou with all extra virgin olive oil, and you definitely wouldn't be disappointed. CVR's Arbequina olive oil is bold and peppery and holds its own against the aromatic flavor of the basil.
Seared Scallops with Basil Olive Oil Pistou with Microgreens
Ingredients:
2 cups packed fresh basil leaves
1/4 cup packed fresh parsley
2 garlic cloves, coarsely chopped
1/2 teaspoon sea salt
1/2 teaspoon lemon juice
1/3 cup Capay Valley Ranches Infused Olive Oil (Basil, Meyer Lemon, Lime, or Blood Orange), or more Arbequina.
8 large scallops, room temperature
salt and pepper
2 tablespoons olive oil, for cooking
1/2 cup microgreens (such as arugula or basil), for garnish (optional)
Directions:
Did you make this recipe?
Let us know what you think!
Leave a Comment below or share a photo and tag me on Instagram with the hashtag #loveandoliveoil.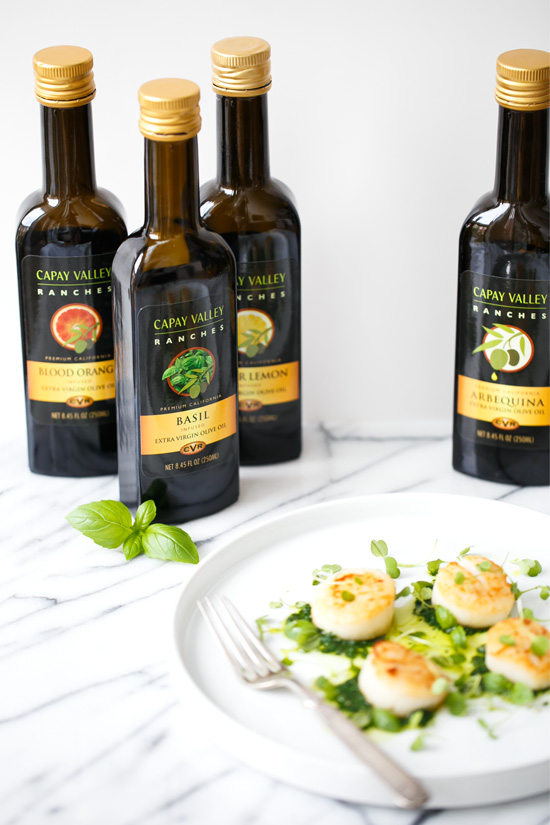 For anyone interested in these unique oils, Capay Valley Ranches is offering an exclusive 15% off coupon for L&OO readers! With their standard free shipping (on orders over $30), that's a great deal if you're looking to add some gourmet olive oils and vinegars to your pantry. Simply use coupon code L&OO15 upon checkout to receive your discount!
Sponsored by Capay Valley Ranches®. As always, all opinions written are purely my own.