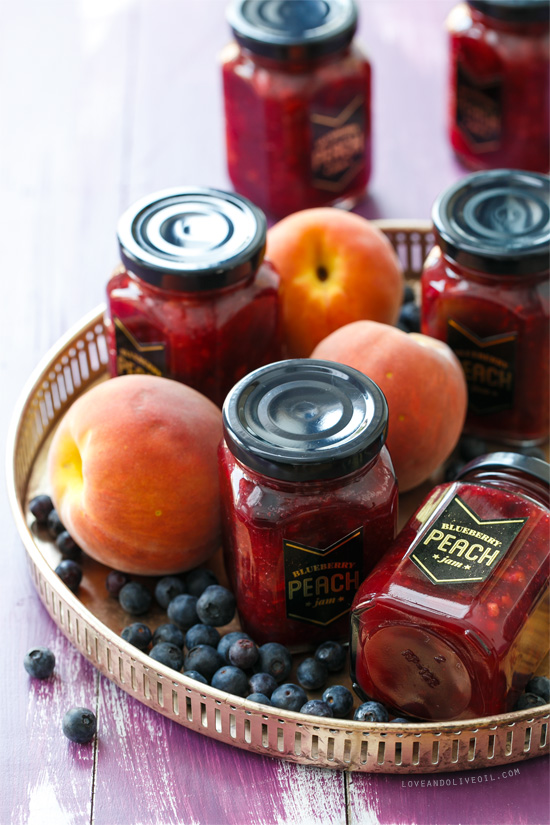 I've been hoarding fruit.
We've been blueberry picking and peach picking and would have gone cherry picking if they grew here, so instead I bought some cherries when they went on sale. All the excess fruit that wasn't devoured immediately is now stashed in our freezer.
Usually it all gets turned into jam within days, but this summer has been unusually busy, interspersed with travel and home projects and deadlines that have interrupted my normal canning process.
So I froze it all, bagged, tagged, and labeled, fully intending to can it all once things calm down.
The beauty of freezing fruit is that you can combine fruits that might not normally be available during the same season.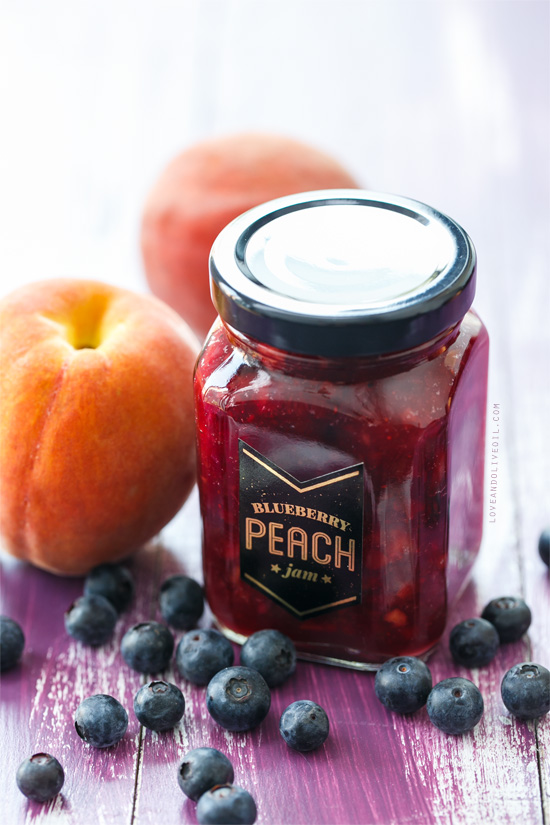 Peaches and blueberries do overlap, but we went blueberry picking early this year as soon as we heard the berries were ripe. You saw one of the results of that outing.
The jam is primarily peach with about a cup or so of blueberries. I knew the blueberries would have a stronger color and flavor and didn't want them to overpower the peaches.
The result is a gorgeous ruby-toned jam, rustic in texture and alluring in flavor.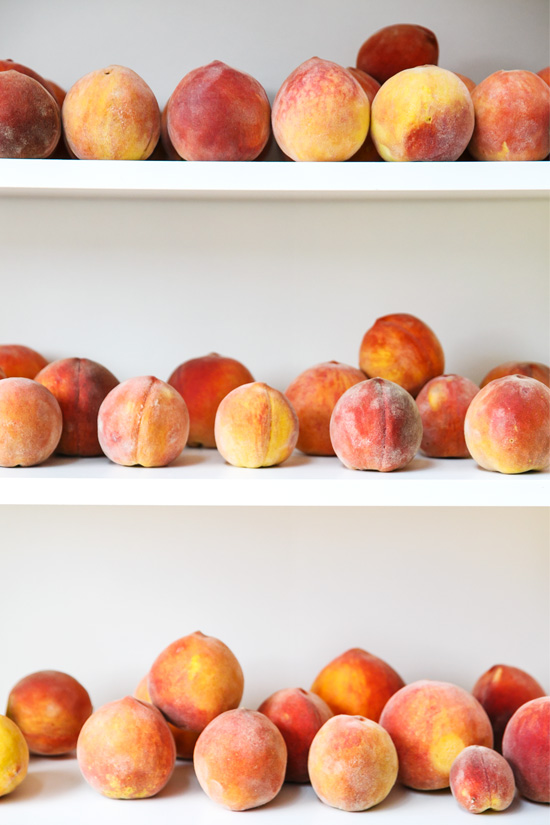 You should be prepared to see at least a few more peach recipes in the coming weeks (er, months, it is frozen after all!)
When we went out peach picking a few weekends ago, we discussed beforehand just how many peaches we'd need. I knew a batch of jam required 2-3 pounds of peaches. Unlike blueberries, a pound of peaches is surprisingly few, about 2-4 peaches depending on the size.
When we got to the orchards and saw the trees literally dripping with vibrant Contender peaches, we went a little overboard.
And by a little, I mean a lot. Nearly 30 pounds worth.
Taylor did a pretty good job of eating his share. I don't know what happened but he 'discovered' peaches this summer, and has been eagerly devouring at least 3 a day. I fear he may turn into a peach.
So half the peaches were already accounted for. Some we worked into our weekday dinners (like this summery peach caprese salad), some went into this batch of jam, and the rest we peeled, sliced, and froze for another day.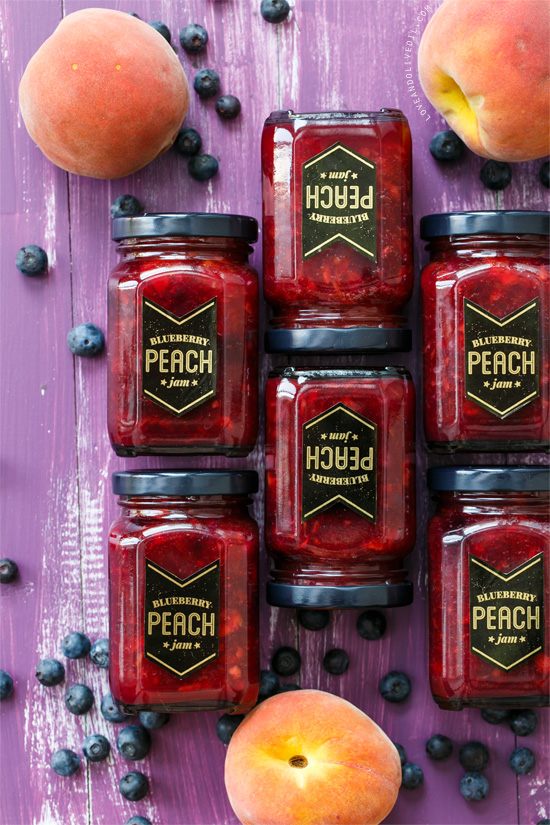 I printed the labels on fancy gold foil label paper. While the result is quite stunning (they seriously look like commercially produced labels), the ink definitely needs time to dry, and even then they are susceptible to finger prints, so be careful when applying them to your jars. A laser printer would probably be more practical if you had access to one. That or maybe spray seal the labels with a gloss sealer or something? Hmm.
Blueberry Peach Jam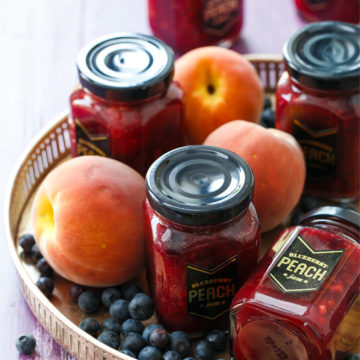 Ingredients:
2 pounds (5-7 medium) peaches, peeled and pitted
8 ounces (1 cup) fresh blueberries
1/4 cup lemon juice (from about 2 lemons)
1 1/2 cups granulated sugar
3 teaspoons Pomona's Universal Pectin
4 teaspoons calcium water (included with the pectin)
Directions:
Prepare canner and wash/sterilize 5 half-pint mason (or equivalent) jars. Keep jars in hot (not boiling) water until ready to use. Warm lids in hot (not boiling) water to sterilize and soften seal.
In a food processor, pulse peaches until coarsely chopped. Add blueberries and pulse briefly until coarsely chopped; do not liquefy as you still want chunks of fruit in your final jam. You should have approximately 3 cups of chopped fruit.
Pour fruit into a large, heavy saucepan along with lemon juice and calcium water and bring to a boil, stirring occasionally.
Whisk together pectin and sugar until evenly incorporated. Whisk in to fruit, stirring vigorously until completely dissolved. Continue to stir until mixture comes to a full rolling boil. Remove from heat and let sit for 5 minutes, skimming off any foam that may have formed.
Ladle jam into jars, leaving 1/4-inch of headspace. Wipe jar rims and threads. Screw on lids and rings. Process in a boiling water bath for 10 minutes. Remove from water and let cool completely, 12 to 24 hours. Check seals. Any unsealed jars should be refrigerated and used within 3 weeks.
Did you make this recipe?
Let us know what you think!
Leave a Comment below or share a photo and tag me on Instagram with the hashtag #loveandoliveoil.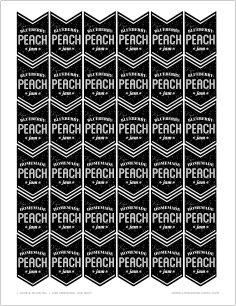 Bonus! I've created these unique chevron labels for your next batch of peach jam. The file includes half a page of Blueberry Peach Jam labels, and half a page of Homemade Peach Jam labels, so it's flexible no matter what recipe you choose to use.
To use, simply download the printable file by completing the form below, then print onto full-sheet sticker paper (I used gold inkjet sticker paper, which can be purchased online at OnlineLabels.com). Cut out the shapes and apply directly to the the finished jars. Curious about the Victorian square jars I've used? I ordered them online at SKS Bottle (the 6oz size).