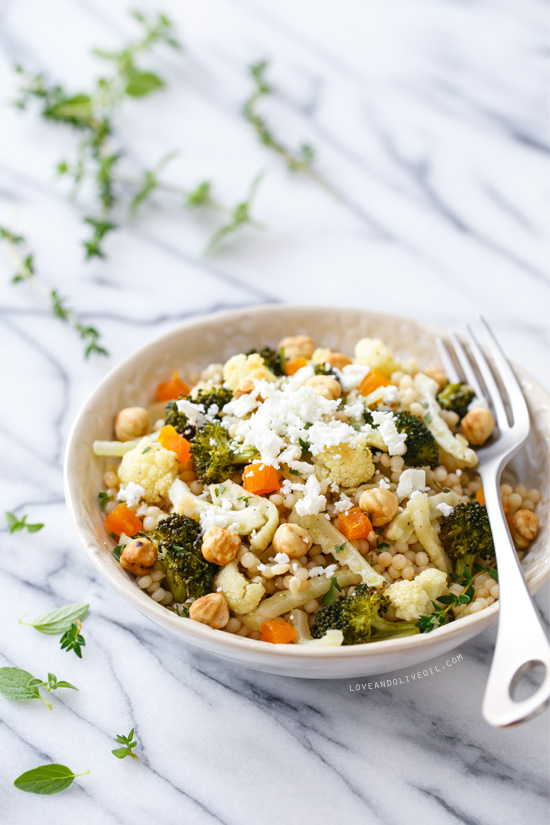 You want real life? This is it. This is how we eat on nights when we haven't specifically planned to make something else. On nights like those, we basically take what's in the fridge, roast it, toss it with cous cous, and top it with goat cheese (always goat cheese). Sometimes it's quinoa, or pasta, or some other carb foundation, but the general principal remains the same: grain + roasted veg + cheese + something crunchy. It's the equation for a lifetime of dinners.
This particular combination was especially memorable, so we made an effort to make notations and remember what all we threw in. Namely, roasted fennel, broccoli, and cauliflower, with toasted hazelnuts, dried apricots, and fresh herbs.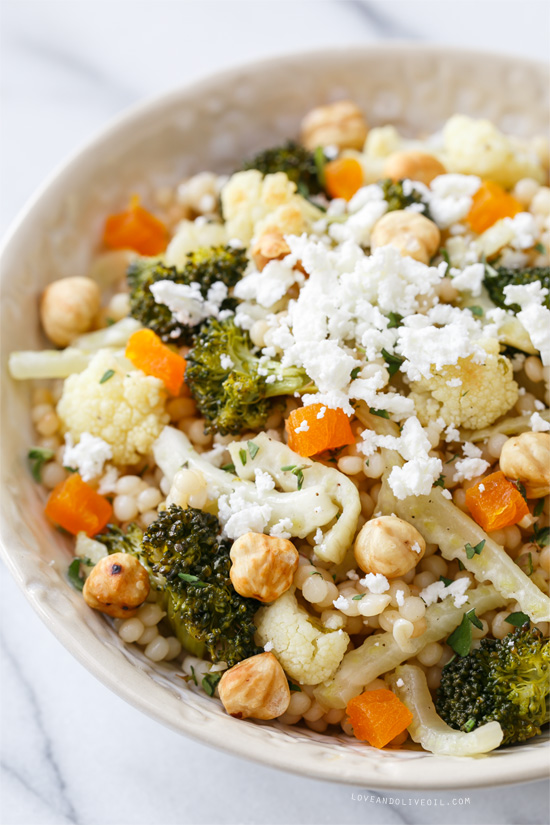 While we heaped piles of cous cous and veggies into our bowls and made it a meal, this would also make a fabulous side dish if you have to have something more substantial for dinner. I'm thinking like a roasted chicken breast or a grilled steak.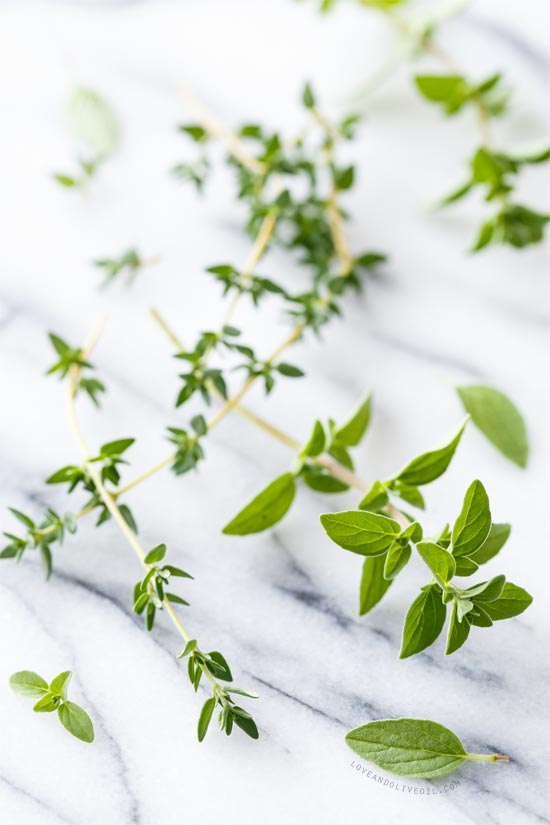 We're finally at the point in the year where we can utilize fresh herbs from our balcony garden. I hate having to rely on the little clamshell packs of herbs from the grocery, the kind that cost $3 for a tiny bunch and seem to go bad in the blink of an eye. I hate wasting beautiful herbs. I even hate wasting ugly herbs. With pots of fresh, aromatic herbs growing right outside our door from May through (hopefully) November, I'm able to snip off what I need and leave the rest, alive and growing strong, to enjoy another day.
What I'd give for a year-round summer, if only for the eternal herbs…
Roasted Fennel and Israeli Cous Cous Salad
Ingredients:
1 box israeli couscous, prepared according to package directions
1 cup broccoli florets (from about 1/4 large head)
1 cup cauliflower florets (from about 1/4 large head)
1 fennel bulb, cored, quartered, and sliced into 1/4-inch thick slices
3 garlic cloves, minced
4 tablespoons olive oil, divided
salt and black pepper
1 tablespoon sherry vinegar
1 teaspoon chopped fresh thyme
1 teaspoon chopped fresh oregano
1/2 teaspoon lemon zest
1/2 cup toasted hazelnuts
1/4 cup chopped dried apricots
1/4 cup crumbled goat cheese
Directions:
Preheat oven to 400 degrees F.
Toss broccoli, cauliflower, fennel, and garlic with 3 tablespoons of olive oil. Season liberally with salt and pepper. Spread out on a baking sheet lined with parchment paper or lightly oiled aluminum foil. Bake for 20 to 30 minutes or until veggies are tender and golden brown in spots.
Prepare couscous according to package instructions. Season to taste with salt and pepper. Add sherry vinegar, thyme, oregano, and lemon zest and stir to combine. Toss with roasted vegetables, hazelnuts, and apricots.
Divide among serving bowls. Serve warm or at room temperature with crumbled goat cheese sprinkled on top.
Did you make this recipe?
Let us know what you think!
Leave a Comment below or share a photo and tag me on Instagram with the hashtag #loveandoliveoil.