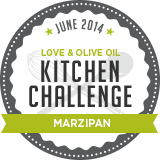 I've lamented before on the lack of good quality marzipan here in the US. Usually I end up buying almond paste and thickening it as needed, because it actually tastes like almond. The marzipan you buy in the store is, more often than not, a rock-hard log of flavorless, chalky stuff that's really a waste of good almonds more than anything.
In Europe, marzipan is regulated and must have a minimum almond content. In the U.S., it is generally made with a much higher ratio of sugar to almonds than almond paste, typically about 30% almonds for marzipan and 45% or so in products labeled almond paste. By contrast German marzipan can be upwards of 66% almonds. It's that super-high quality stuff that we're aiming for.
I had a source, briefly, of an amazing 60% marzipan, and used it wisely in a few treasured recipes. Alas, they discontinued their plans to distribute in the US and so I'm stuck here, marzipanless.
So, for this month's challenge, we're going to make homemade marzipan. If it works, the effort may be well worth it, since good marzipan is extremely expensive if/when you manage to get a hold of it at all.
The Challenges:
Almonds. The base of marzipan is (obviously) almonds. I'm not sure if you have to start with whole almonds and grind them yourself, or if almond flour/meal could be used instead. I've also read that California almonds by nature don't have as much of the 'bitter almond' flavor that is so characteristic of marzipan. I'd be curious if bitter almonds can even be bought here in the US and used to supplement the flavor, or at the very least adding some bitter almond oil or almond extract might improve the flavor.
Raw vs Cooked. There are two methods I've found for homemade marzipan. One is a quicker, raw method, basically mixing ground almonds with sugar and liquid, either water or corn syrup or egg white. Cooked marzipan starts with a boiled sugar syrup which is then mixed with ground almonds.
Usage. The biggest question, if this homemade marzipan turns out, is what to do with it? Because the possibilities are endless…
Resources & Recipes:
My trusty vintage candy-making book (pictured above) has a recipe for boiled marzipan, with egg whites and orange blossom water. I'll probably try this one first since it seems pretty legit. The book is called Candy (The Good Cook Techniques & Recipes Series) if you're curious.
This recipe from Kvali (also a cooked marzipan) explains very well the differences and pitfalls making authentic Danish marzipan at home.
If an uncooked marzipan is more your style, this one from Smitten Kitchen should get you started. It uses corn syrup rather than egg whites as a binder, so there are no concerns over raw eggs (though you could easily use pasteurized egg whites).
Join me!
Make a batch of homemade marzipan (raw or cooked, your choice) by Friday, June 27th and send me a photo of what you made with it (please send photos of the final dish that uses your homemade marzipan, just because a dozen photos of beige logs isn't terribly exciting. Please and thank you!) I'll post about my own experience the following week along with a roundup of everyone who tackled this challenge with me.
Submit Your Results »

The Kitchen Challenge series is simply about getting in the kitchen and challenging yourself to make something new; you aren't required to have a blog to participate, nor are you required to post about it if you do. However, if you do have a blog and post about the challenge, you are more than welcome to use the above graphic.