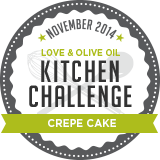 After a two month hiatus (was it just me or was October crazy for everyone?) Kitchen Challenge is back with a vengeance! For the first time, we've partnered with an amazing brand to make this challenge even more fun (hello PRIZES! see below for more details!)
This month, we're tackling crepe cakes. Which, really, is two challenges in one, the basic crepe being the first and the actual cake an entirely different challenge completely.
A crepe cake is not a quick, throw-together kind of dessert. Also called a mille layer cake (meaning a thousand layers because, honestly, by the time you're done making crepes it's going to feel like a thousand). It's more of a showpiece, a special occasion type of cake. And luckily, it is quite conducive to making well ahead of time, and in fact, typically requires at least a day to sit and 'mingle' before cutting and serving (it's less likely to slide apart that way). I'm thinking a fall-flavored crepe cake could be the perfect addition to your Thanksgiving table.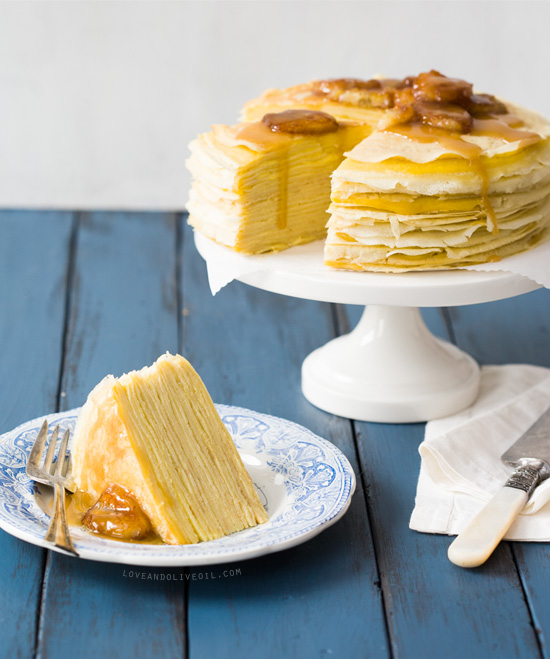 Technically, I've made a crepe cake before. For the book, actually. Vanilla crepes with a bananas Foster filling (pictured above – yum!) But I feel like it's still a challenge, always benefiting from refinement to technique and recipe, and thus perfectly suitable for a Kitchen Challenge subject.
Once you have a basic crepe recipe down, it's just a matter of filling. You can fill it with just about anything, from ganache to curd, pastry cream to whipped cream. While I have seen fully-frosted crepe cakes, I find the naturally ruffly edges of the crepes beautiful in their own right, and don't feel they need to be covered up.
The Challenges:
Technique. Crepe formation is no easy task. It takes practice and finesse. My advice? Don't expect your first few crepes to turn out. After a few tries though, you should start to get a hang of the wrist/swirl motion needed to create a perfect crepe.
Time. There's no denying that a crepe cake takes a significant amount of time effort. Luckily, it can be split up and made ahead of time (in fact, crepe cakes are often better that way!) I suggest making the crepes one day, then assembling the cake the next. Let it chill at least 24 hours before serving.
Yield & Scale. Every crepe recipe is similar, a thin batter of milk, eggs, flour, and melted butter. But the quantity of a basic crepe recipe is not necessarily scaled to make enough crepes for an entire cake. You'll need around 4-5 cups of batter (assuming 1/4 to 1/3 cup of batter per crepe) to make a reasonably sized crepe cake, (16-20 crepes being a good number for an impressive cake). Note too that the size of your pan will affect the number of crepes you get from a batch of batter. Smaller 6-inch pans will make more crepes (and a taller cake) than a larger 9 or 10-inch pan.
Flavor. I love challenges where your creativity can really shine through, and what flavor combinations you come up with!
Resources & Recipes:
Join me!
Accept the challenge, make a crepe cake, and submit it by Sunday, November 30th. I'll post about my own experience the following week along with a roundup of everyone who tackled this challenge with me.
In addition, 7 lucky participants will receive this gorgeous Swiss Diamond 9.5″ crepe pan (a $110 value). Depending on how many submissions I receive will determine how the pans are given away (if we only have 7 submissions, everyone gets one! For more than 7, the recipients will be drawn randomly). This giveaway is for US residents only.
What is the Kitchen Challenge?

The Kitchen Challenge series is simply about getting in the kitchen and challenging yourself to make something new; you aren't required to have a blog to participate, nor are you required to post about it if you do. However, if you do have a blog and post about the challenge, you are more than welcome to use the above graphic.
Disclosure: This post sponsored by Swiss Diamond. As always, all opinions written are purely our own. We're incredibly grateful for opportunities like these that allow us to challenge ourselves in the kitchen, so thank you for supporting us and the brands we love.