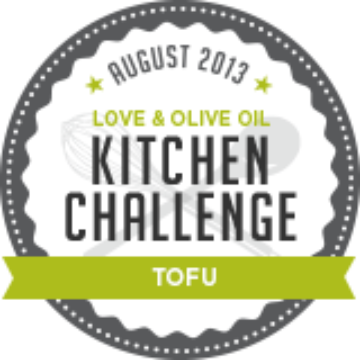 I've been wanting to make tofu for quite some time now, ever since I heard a piece on Splendid Table about it. Before that, I didn't even know homemade tofu was an option.
Before you go running for the hills, hear me out. Apparently homemade tofu is an enlightening experience. I mean, have you ever had tofu you could describe as 'pudding-like' or 'sweet'? I haven't, but I'm sure excited to try. So even if you are a devout tofu-hater, I implore you to just give it a chance. After all, the Kitchen Challenge series IS about trying new things, right?
The process actually sounds a lot like cheesemaking (gulp), involving little more than 'milk' and a 'coagulant'. In the case of tofu, the milk is rich soy milk (homemade as well unless you have access to a fresh source, regular store bought won't work), and the coagulant is either gypsum (calcium sulfate) or nigari (magnesium chloride), producing slightly more tender/mild tasting or firmer/sweeter tofu, respectively. Gypsum is probably the easiest to get a hold of, as it's also used in home brewing (notice a pattern here? So many of these challenge ingredients and tools can be found at home brew supply stores, even though what we're making has nothing to do with beer. Go figure!)
The idea of another project involving coagulation and curds, especially considering what happened last time, does make me nervous. But that's what these challenges are all about, overcoming your culinary fears and tackling them head on. After all, if it was easy it wouldn't be called a challenge.
The Challenges:
Milk. Regular, store-bought soy milk is not a substitute for fresh, rich soy milk, so I'd recommend making your own. Which is actually pretty easy. Dried soybeans are fairly easy to come by, I just picked up a few pounds in the bulk section of Whole Foods. Then simply soak them for 12 to 16 hours and blend them to a milkshake-like consistency. Voila. Seriously, that's it.
Coagulants. Gypsum is probably going to be the easiest to find, available at home brew supply stores or online. Nigari is the other option most often used in Japanese-style tofu, and if you have a specialty asian/japanese market nearby you may just get lucky.
Molds. Your homemade tofu can take many forms, but if you want the perfect square blocks you'll need some sort of mold. If shape doesn't matter, something like a loaf pan will work just fine, but there are specialty wood and plastic molds available.
Resources & Recipes:
Join me!
The whole process, from soak to set, shouldn't take you more than a day. And you have until Wednesday, August 21st to do it. So no excuses! Once you're done, submit your results (a photo of the final product OR what you did with it is perfectly acceptable) to be included in the roundup. The Kitchen Challenge series is simply about getting in the kitchen and challenging yourself to make something new; you aren't required to have a blog to participate, nor are you required to post about it if you do. However, if you do have a blog and post about the challenge, you are more than welcome to use the above graphic.
I'm confident that you guys will step up to this challenge, don't disappoint me! Let's show the world that tofu doesn't have to be flavorless blocks of blah, it can truly be delicious in its own right.