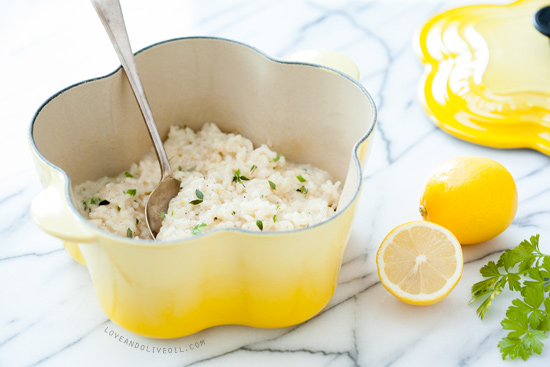 Hello, spring.
Hello, sunshine.
Hello, gorgeous flower cocotte.
Who would have ever thought cookware could bring such happiness?
In part 2 of our ongoing partnership with Le Creuset®, we've developed two delightful spring recipes for this gorgeous new piece.
This baked Lemon Risotto (pictured above) is perhaps the easiest risotto we've ever made. One pot. In the oven. 25 minutes and done. It's tart and creamy and would be perfect topped with some seared scallops or grilled fish.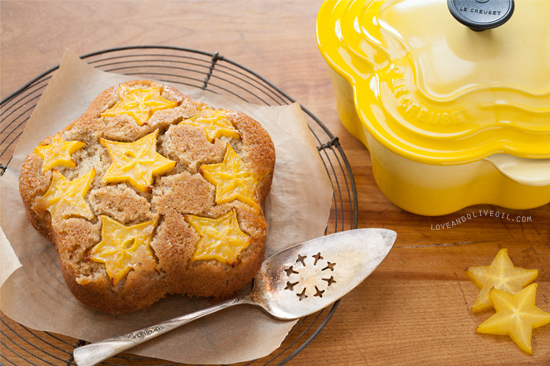 Also, in a unique twist on a classic, our Starfruit Upside-Down Cake is nothing short of stunning, and perfectly fitting of the flower shape. We'd never worked with starfruit before developing this recipe, and were intrigued by the unique flavor, somewhere in between a pineapple and a concord grape. It's a tart and fruity compliment to the lightly-spiced and oh-so-buttery cake. I'm not one to indulge in cakes that aren't chocolate and/or smothered in frosting, but this cake is definitely an exception to that rule.
Like the Heart Casserole we featured in February, the Flower Cocotte is the perfect size for a meal for two or side dishes where a larger dutch oven seems like overkill (which is often the case in our two-person household). Not to mention Le Creuset's newest color, Soleil, is stunning. Can you say great Mothers' day gift idea?
Baked Lemon Risotto
The fresh taste of lemon adds a bright flavor to this simplified risotto recipe. Bake and serve in the Flower Casserole, alongside a delicate flaky fish or seared scallops.
Ingredients:
2 tablespoons unsalted butter
1 large shallot, finely chopped
2/3 cup arborio rice
1/4 cup white wine
1tablespoon lemon juice
2 cups chicken stock, divided
2 tablespoons heavy cream
2 teaspoons finely grated lemon zest
1 teaspoon finely chopped fresh thyme
1 teaspoon finely chopped fresh parsley
Salt and black pepper to taste
Directions:
Preheat oven to 350ºF.
Melt butter in the flower casserole over medium heat. Add shallot and cook, stirring occasionally, for 2 – 3 minutes or until softened and translucent. Stir in rice and toss to coat. Add white wine and lemon juice, and stir until liquid is mostly absorbed, about 2 minutes.
Add 1 1/2 cups of chicken stock and stir. Cover and bake 10 minutes. Remove lid and give the rice a good stir, then return to oven, uncovered. Bake an additional 10 minutes or until rice is tender. If risotto is too dry, add more chicken broth, a little at a time, until it reaches the desired consistency.(It will thicken a bit more upon standing.)
Stir in heavy cream, lemon zest and herbs. Season to taste with salt and pepper. Divide among serving bowls and enjoy.
Did you make this recipe?
Let us know what you think!
Leave a Comment below or share a photo and tag me on Instagram with the hashtag #loveandoliveoil.
Sponsored by Le Creuset®. All opinions written are purely my own.