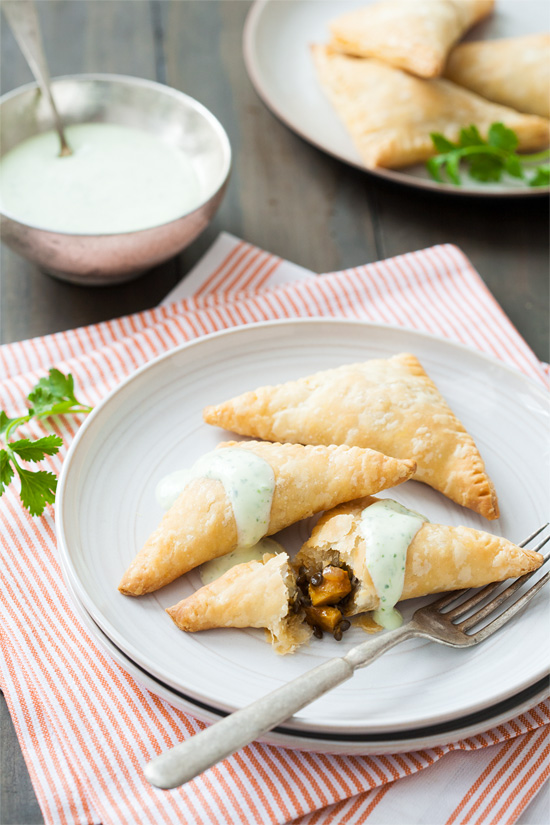 This recipe didn't come together easily. I had been meditating on a sort of savory vegetarian empanada recipe for some time now, inspired perhaps by the abundance of sweet potatoes from our CSA this fall that we are (still) trying to use.
The lentil/sweet potato/goat cheese combination was there from the beginning, but it wasn't going to be easy on me. And it took us more than a few tries before we finally found the right balance of flavors and textures that worked and didn't leave you wishing for a greasy meat filling instead.
But we did it, and the result is as delicious as it is unique.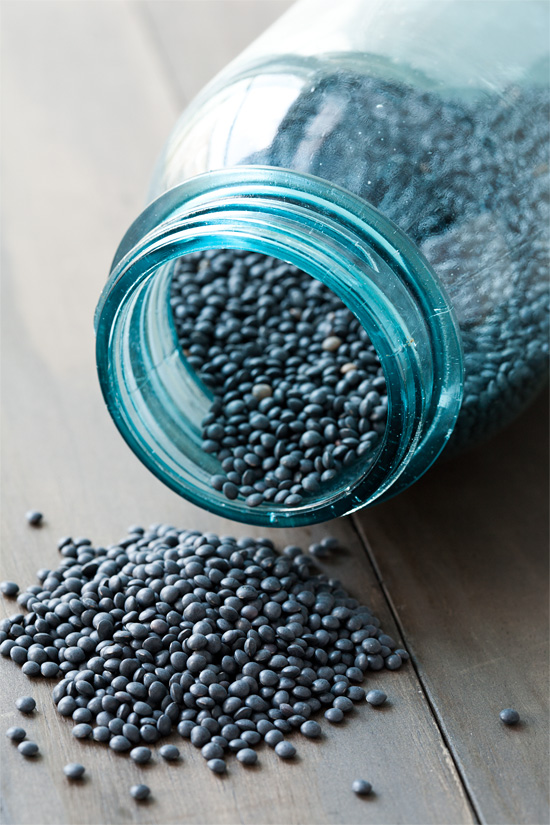 While we typically turn to the more common brown lentil or even the beautiful French green lentil, this time we tried something new: the black beluga lentil. Named for it's resemblance to caviar (I assume), it keeps its shape and texture better than the other varieties. If you have to substitute another variety, just make sure you don't overcook them, otherwise they will turn into a starchy mush.
The filling pairs these unique legumes with chunks of sweet potato and spicy chipotle, wrapped in a puff pastry pocket. To cool it all down, and because everything is always better with goat cheese, we serve it with a tangy lime, cilantro, and goat cheese dipping sauce which, on its own, is a bit too tart, but when paired with the buttery pastry and spicy filling, becomes the perfect counterpart.
Our determination finally paid off.
Vegetarian Lentil and Sweet Potato Empanadas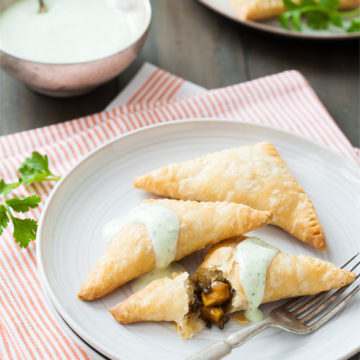 Ingredients:
1 cup vegetable broth
1/4 cup black beluga lentils
3 tablespoons unsalted butter
1/2 onion, chopped (about 1 cup)
1 jalapeño, seeded and chopped
1 smallish sweet potato, peeled and cut into 1/4-inch dice (about 1 cup)
1 chipotle in adobe sauce, chopped, plus 1 teaspoon adobo sauce
1/4 cup white wine
salt and black pepper, to taste
1 package (2 sheets) puff pastry, thawed according to package directions
For Sauce:
1/4 cup sour cream
1/4 cup soft goat cheese
1 tablespoon lime juice (from 1/2 lime)
1/2 cup packed cilantro leaves
2 tablespoons milk
salt and black pepper, to taste
Directions:
Preheat oven to 375 degrees F. Line two baking sheets with parchment paper and set aside.
Bring vegetable broth to a simmer in a small saucepan set over medium heat. Stir in lentils, then reduce heat to medium-low. Cover and cook for 18 to 20 minutes, stirring occasionally, until lentils are just al-dente. Remove from heat.
Meanwhile, melt butter in a large skillet set over medium heat. Add onion and jalapeño and cook until softened, about 4 minutes. Add sweet potato and chipotle and stir, cooking for about 4 more minutes. Season with salt and pepper. Add wine and stir until mostly absorbed, about 1 minute, then add lentils and their cooking liquid. Stir mixture until liquid is mostly evaporated and sweet potatoes are just tender, about 3 to 4 minutes more. Remove from heat and let cool slightly.
On a lightly floured surface, roll out one puff pastry sheet to a 12-by-12-inch square. Cut into 9 equal squares. Place about 1 tablespoon of filling in the center of each square (do not overfill). Bring opposite corners together to form a triangle encasing the filling, pressing edges to seal. Place on parchment-lined baking sheet, then crimp edges with a fork to seal further. Repeat with remaining pastry and second pastry sheet.
Bake empanadas for about 20 minutes or until golden brown.
To prepare sauce, combine sour cream, goat cheese, lime juice, and cilantro in a blender or food processor. Pulse until smooth. Add milk as needed to acheive desired consistency (thicker for dipping, thinner for drizzling). Season with a pinch of salt and pepper.
Did you make this recipe?
Let us know what you think!
Leave a Comment below or share a photo and tag me on Instagram with the hashtag #loveandoliveoil.