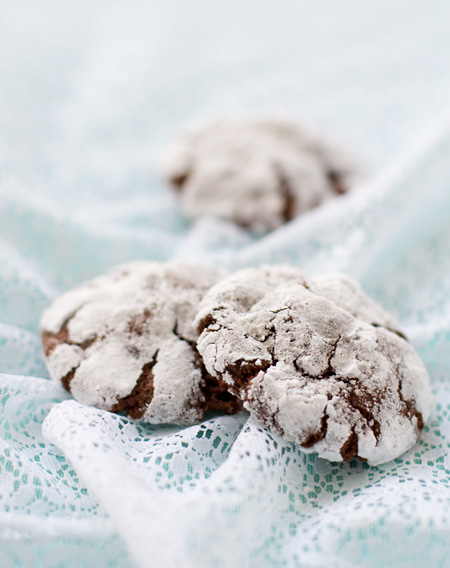 A Christmas cookie if I ever saw one. Snowy. Chocolaty. Minty fresh. Delicious.
Granted, my cookies looked nothing like the decadent black goliaths from the original post, but they were tasty nonetheless. Rich, almost brownie-like inside, with a hint of creamy mint. You could substitute any extract or flavoring in place of the mint, I chose to use Creme de Menthe because I love it and I had it on hand. Taylor, however, is a grinch when it comes to mint and chocolate and would have preferred it sans the green stuff. Simple vanilla would be fabulous, as would almond or even espresso.
Being that it's Christmas party season and all… these cookies make great (easy and impressive!) treats for any festive get together. Like say, a food blogger holiday shindig…
Now THAT'S what I call a pot luck! From pistachio toffee to grapes wrapped in blue cheese and pistachio, chocolate dipped potato chips to smoked salmon deviled eggs, when it comes to party food, food bloggers don't disappoint.
We hosted the 1st annual Nashville Food Blogger Holiday Shindig this past Sunday, and 18 of Nashville's finest foodies were in attendance. There was food (oh boy, was there food… albeit mostly cookies, it was sure tasty!), drink, fabulous foodie conversation…
…and a white elephant dish exchange. That's right, dish. I mean, what else would food bloggers rather have then a couple of brand new dishes (as well as clear your shelves of a few old or unused ones at the same time)? It was a smashing success.
For those interested, the NashvilleFoodBloggers.com website is the place to connect. We're hoping to have monthly or bi-monthly events, and will post information about those events on the website. If you're a food blogger in the Nashville area, don't be shy. We don't bite (unless you're a cookie, however, then you're toast).
Chocolate Creme de Menthe Crinkle Cookies
Ingredients:
1 3/4 cup plus 2 tablespoons all-purpose flour
1 1/2 teaspoons baking powder
1/2 teaspoon salt
8 ounces semi-sweet chocolate, finely chopped
2 1/2 cups sugar, divided
1/4 cup canola oil
2 tablespoons unsalted butter, melted
2 tablespoons light corn syrup
2 large eggs
1 large egg yolk
2 teaspoons pure vanilla extract
4 drops creme de menthe flavoring
1/4 cup granulated sugar
1/2 cup confectioners' sugar
Directions:
In a medium bowl, beat together well the flour, baking powder, and salt; set aside. Melt the chocolate in the microwave on 50 percent power for 1 minute, stir, and microwave for 15 seconds more and stir; set aside.
In a mixer with the paddle attachment, beat together sugar, oil, melted butter, and corn syrup. Beat in the eggs, egg yolk, vanilla and creme de menthe. Then on low, beat in the melted chocolate. Add the flour mixture and beat in on low speed. Wrap the dough in plastic and refrigerate for several hours or overnight.
Preheat oven to 325 degrees F. Line a baking sheet with parchment or a silicone mat. Roll the dough into 2 inch balls. Pour the remaining 1/4 cup granulated sugar into one bowl and the confectioners' sugar in another bowl. Roll each cookie dough ball lightly in granulated sugar first, then heavily in confectioners' sugar. (By rolling in plain sugar first, the confectioners' sugar does not soak in so much and stays on the surface better).
Arrange cookies 2 inches apart on the foil and bake one sheet at a time. For crisp cookies, bake 12 to 14 minutes. For a chewier cookie, bake 10 to 12 minutes. Transfer to cooling racks and allow to cool completely. Store in an airtight container at room temperature for up to a week.
Did you make this recipe?
Let us know what you think!
Leave a Comment below or share a photo and tag me on Instagram with the hashtag #loveandoliveoil.