One for the books, folks. The 1st annual Great Food Blogger Cookie Swap was a smashing success.
But I'll be completely honest with you.
I did it all for the cookies.
All the work, all the logistics, all the worry… all worth it. I really want to thank everyone who participated. To everyone who baked cookies, shipped cookies, received cookies, ate cookies… thank you for helping to make this quite possibly the most epic cookie swap, EVER. We even made front page news! Some quick math revealed that over 22,000 cookies were sent around the world as part of this swap! The thought of that many cookies flitting across the country and around the world makes my heart happy. :)
I got three boxes myself, including a surprise from my co-organizer. Which made me laugh because it was entirely unplanned, and yet we both decided, independently, to send each other a box of cookies. Great minds think exactly alike, apparently. :) Also making an appearance in my mailbox? Brown Butter Chocolate Chip Cookies with Bourbon Chocolate Ganache (top left) from Tripp and Polvorones (Mexican almond cookies, bottom left) from Suzy of Frosting for Dinner. Thanks guys! Your cookies were (*burp*) very much enjoyed!
The cookies I sent were these delectable sandwich cookies. Although it took me a few tries to get the cookie part right (a sandwich cookie must meet certain, very specific characteristics), from the first bite I knew the flavor combination was a winner. One of my all-time favorite cookies for sure. Chewy dark chocolate cookies with a hint of salt, filled with creamy malted milk chocolate buttercream. Sweet.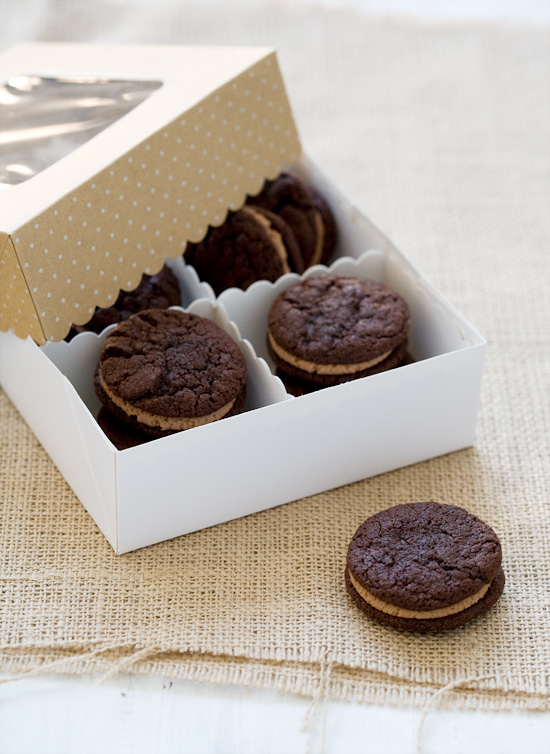 Chocolate Sandwich Cookies with Malted Milk Chocolate Buttercream
Ingredients:
Cookies:
1 1/2 cups all-purpose flour
1/3 cup dark or Dutch-processed cocoa powder
1/2 teaspoon instant espresso powder
1/2 teaspoon salt
1/2 teaspoon baking powder
1/4 teaspoon baking soda
1/2 cup (1 stick) unsalted butter, room temperature
1 1/4 cup granulated sugar
1 egg
1 teaspoon vanilla extract
Filling:
3 1/2 ounces (1 bar) milk chocolate, chopped
1/3 cup unsalted butter, room temperature
2 cups powdered sugar, sifted, plus more as needed
2 tablespoons heavy cream, plus more as needed
1 tablespoon malted milk powder
1/2 teaspoon vanilla extract
pinch salt
Directions:
Preheat oven to 375ºF.
In a large bowl, sift together flour, cocoa, espresso, salt, baking powder, and baking soda. Set aside.
In a large mixing bowl or the bowl of a stand mixer, cream together butter and sugar until light and fluffy, 3 to 5 minutes. Add egg and vanilla and beat until smooth. Add dry ingredients and mix until no traces of the dry ingredients remain, scraping the sides of the bowl to ensure that everything is fully incorporated.
Drop dough by the tablespoon onto parchment-lined baking sheets. Roll into smooth 1-inch balls, then flatten slightly with the palm of your hand, forming even 1/2-inch-thick disks. Bake for 8 to 9 minutes or until cookies are puffed and set. Let cool for 5 minutes on the baking sheet (they will deflate slightly), then transfer to a wire rack to cool completely.
To prepare filling, melt milk chocolate in a microwave or double boiler over low heat until smooth. Remove from heat and let cool to room temperature.
In a large mixing bowl, beat butter until fluffy, 1 to 2 minutes. Add powdered sugar, 1/2 cup at a time, mixing well after each addition. Add cooled milk chocolate and beat until smooth.
Combine heavy cream and malted milk powder in a small bowl and mix until powder is dissolved. Add to milk chocolate mixture, along with vanilla and salt, and beat until light and fluffy, another 2 to 3 minutes. At this point you may need to add more cream or more powdered sugar as needed to achieve the desired consistency.
To assemble, spread or pipe about 1 tablespoon of filling onto half of the cookies, then top with remaining cookies. Press lightly until filling spreads to edges. Store cookies in an airtight container in the refrigerator for up to 5 days.
Did you make this recipe?
Let us know what you think!
Leave a Comment below or share a photo and tag me on Instagram with the hashtag #loveandoliveoil.