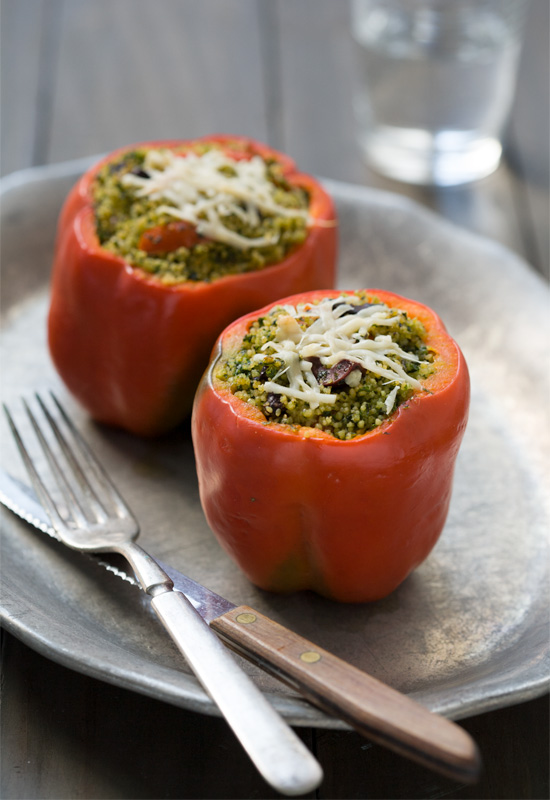 I'll admit, I'm not a huge fan of bell peppers. If they're chopped and the flavor dispersed in whatever I am eating, that's fine. But if there are big chunks in my soup or stir fry, I'll end up picking around them even if I'm not doing it consciously.
Don't even get me started on green bell peppers.
Blech.
This dish was made out of necessity – we couldn't think of anything else to do with the bell peppers from our CSA. And while, I admit, I ate the entire thing, if you're not a pepper fan you can easily treat the pepper as an edible bowl and simply eat the couscous with a spoon.
Because let me tell you about this couscous. It's incredible whether you stuff it inside of a pepper or not.
In my ongoing efforts to create pesto out of every green available, this time I turned to kale. A mix of kale and basil make for an earthy pesto that still has plenty of the classic pesto flavor. But you could use all basil if you wanted, or even swap in another green for the kale (spinach or arugula, perhaps?) The couscous then gets tossed with some diced tomato and kalamata olives for even more flavor.
It's worth stuffing yourself for this stuffing.
Kale Pesto Couscous Stuffed Peppers
Ingredients:
1 bunch kale, large veins removed
1 cup packed basil leaves
6 tablespoons olive oil
2 garlic cloves, chopped
1/2 cup parmesan, divided, plus more for topping
salt and pepper, to taste
1 cup whole wheat couscous, prepared according to packaged directions
4 large red bell peppers, tops cut off and core removed
1 tomato, cored and diced
1/4 cup kalamata olives, pitted and chopped
Directions:
Preheat oven to 375 degrees F.
Bring a pot of water to a rolling boil. Add kale leaves and blanche for 1 minute or until bright green. Remove with tongs or a slotted spoon, squeezing out excess water. Place in the bowl of a food processor or blender. Repeat with basil leaves, blanching for 30 seconds.
Add olive oil, garlic, and 1/4 cup parmesan to food processor and pulse until smooth. Season to taste with salt and pepper. Toss pesto mixture with couscous until evenly coated. Stir in diced tomatoes, olives, and remaining parmesan.
Arrange peppers on a baking sheet. Pack couscous into peppers, filling full to the rim but not overflowing. Top with a sprinkling of parmesan cheese and bake for 10 to 12 minutes or until cheese is melted and starting to brown. Serve warm.
Did you make this recipe?
Let us know what you think!
Leave a Comment below or share a photo and tag me on Instagram with the hashtag #loveandoliveoil.