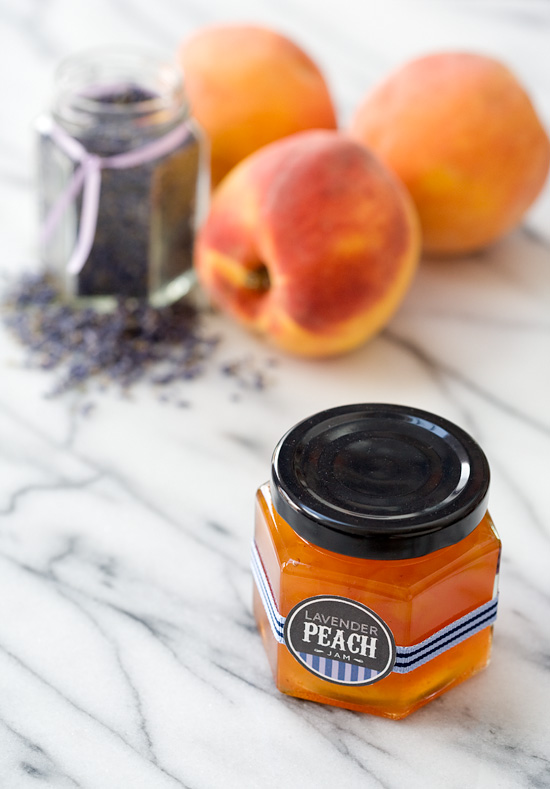 Be a peach, and make this jam for me, will you? Because it can only be described as delightful.
I'm not usually one for lavender or other floral flavors; they often come across as "perfumy" and I can't stand that.
But this is subtle. Just enough lavender to give the jam an air of elegance.
Whether you're one of those lucky ones with a yard full of fresh, fragrant lavender, or maybe you have a jar of dried petals that your lovely mother-in-law gave you way back in December and you have yet to use… either way be sure the lavender is organic and/or culinary grade. All lavender is not created equal; the last thing you want is to end up with a potpourri-infused jam.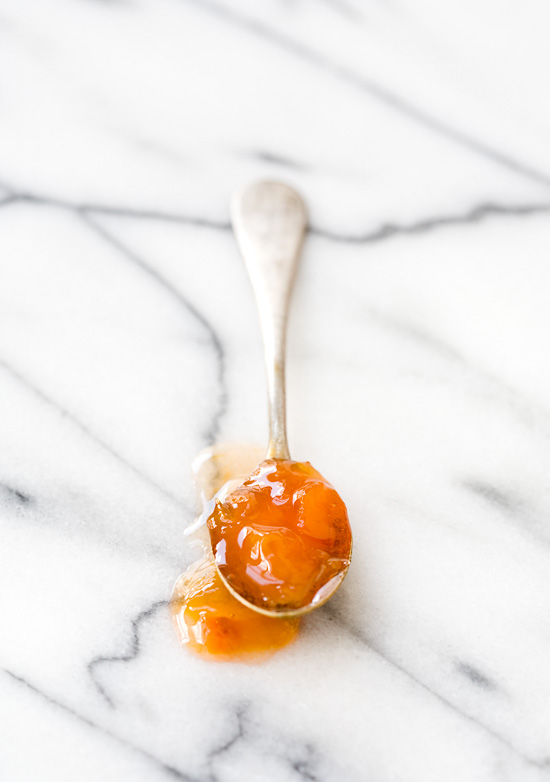 I could see this formula of fruit-plus-floral working well with other combinations. Strawberry rose, perhaps? Or blueberry violet? Orange marmalade and orange blossoms? I'm on a roll here. Or what about blackberry and elderflower, if I were ever to find myself in possession of such delicacies.
I do have to mention the one issue I had with this jam (more than likely, though, it was my fault and not the recipe's)… is that it is quite loose. I reduced the sugar ever so slightly (I know, shame on me), and followed the instructions for cooked jam on my liquid pectin package (which calls for you to boil for 5 minutes, add pectin, and return to a hard boil for exactly 1 minute). Regardless of the reasons for the soft consistency and where I may have gone wrong, the end result is nothing short of ambrosial.
(Psst! Download the printable labels for this jam here!)
Peach Lavender Jam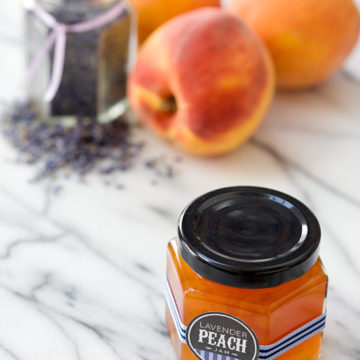 Ingredients:
2 tablespoons dried lavender flowers
1/2 cup boiling water
4 cups finely chopped peaches (from about 5 to 6 medium peaches, peeled)
2 tablespoons lemon juice
6 cups granulated sugar
1 pouch liquid fruit pectin
Directions:
Place lavender flowers in a small bowl. Pour boiling water over flowers and steep for 20 minutes. Strain and discard flowers.
Prepare canner and wash/sterilize 6 half-pint mason (or equivalent) jars. Keep jars in hot (not boiling) water until ready to use. Warm lids in hot (not boiling) water to sterilize and soften seal.
Combine lavender liquid, peaches, lemon juice, and sugar in a very large stainless steel or enamel saucepan. Bring to a full boil over high heat and boil hard for 2 minutes, stirring constantly. Remove from heat and stir in pectin.
Ladle hot jam into jars, leaving 1/4-inch of headspace. Wipe jar rims and threads. Screw on lids and rings. Process in a boiling water bath for 10 minutes. Remove from water and let cool completely, 12 to 24 hours. Check seals. Any unsealed jars should be refrigerated and used within 3 weeks.
Did you make this recipe?
Let us know what you think!
Leave a Comment below or share a photo and tag me on Instagram with the hashtag #loveandoliveoil.