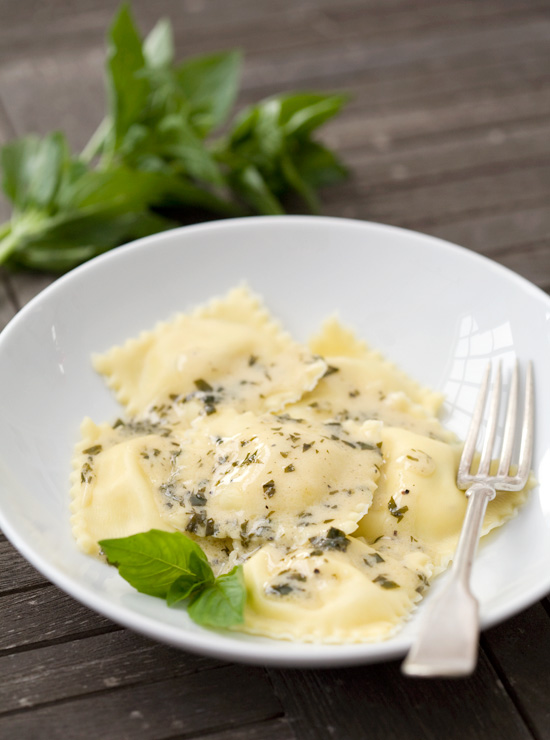 I have a new favorite gadget.
A ravioli maker.
It makes pretty ravioli.
Unitasker shmunitasker. I like it and it was well worth the $14.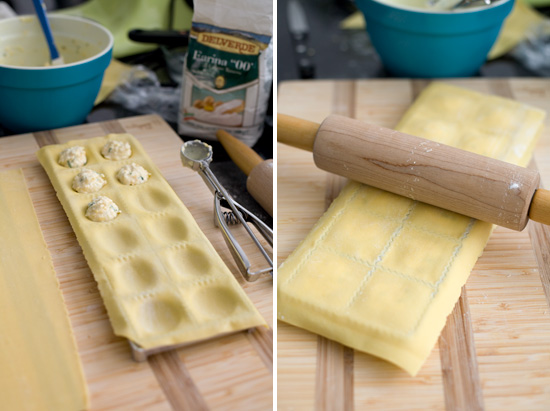 Just put one 4×12-inch piece of dough on the base, push down with the press, fill with filling, then lay the second sheet of dough on top. Run a rolling pin over top to seal and separate the raviolis.
Prettiest ravioli you ever did see.
With a gadget like this homemade ravioli might become a more common occurrence.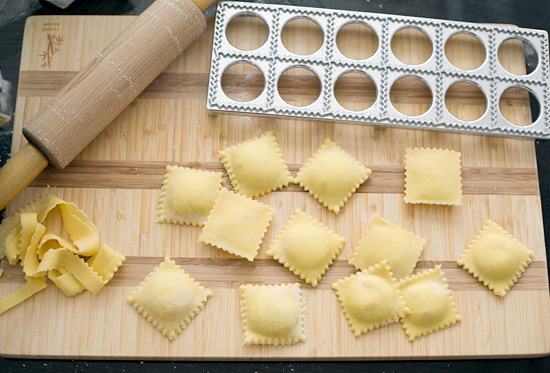 Our inaugural batch incorporated delicious sweet corn from our CSA, paired with some fresh herbs and ricotta cheese. Very simple, fresh, and satisfying. We topped it with a surprisingly light white wine, cream, and herb sauce.
The recipe made way more than two people could reasonably eat. That's another great thing about ravioli: for about the same amount of work you get 2 or 3 meals worth. And they freeze fantastically – just arrange them on a baking sheet sprinkled with some cornmeal or semolina flour, freeze them overnight, then transfer them to a dated and labeled zip top back. Pull them out whenever you need a quick meal. Fabulous, I tell you!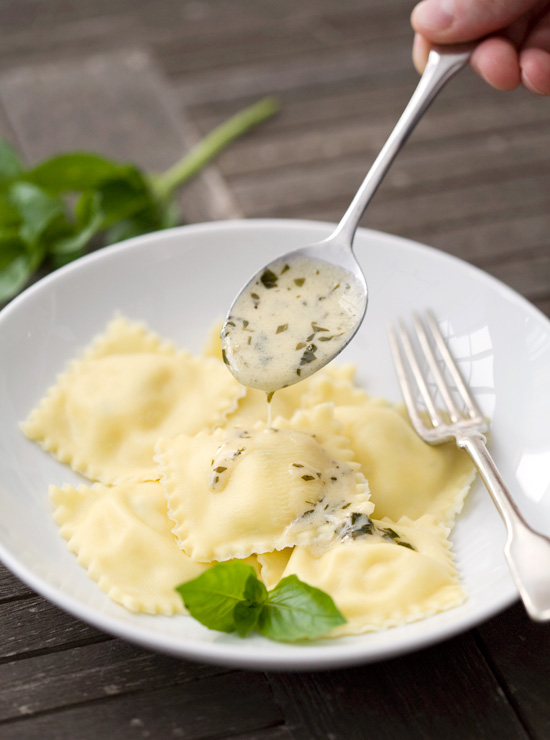 As a real shortcut, you could always use wonton wrappers to make super quick ravioli. They come out a little bit slimy, but still pretty darn good.
Fresh Corn Ravioli with Herb Cream Sauce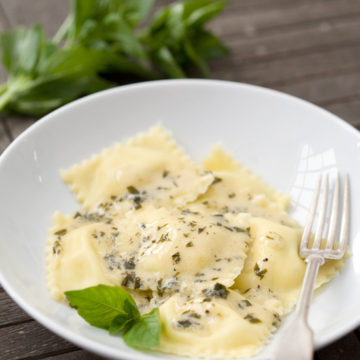 Ingredients:
For Pasta Dough:
1 3/4 cup "00" flour or all-purpose flour
1/4 teaspoon salt
2 large eggs
1/2 tablespoon water (or more or less as needed)
For Filling:
2 cups corn kernels (cut from about 3 ears)
2/3 cup whole milk ricotta cheese
1 egg
2 tablespoons heavy cream
1/4 teaspoon salt
1/4 teaspoon pepper
1 tablespoon chopped fresh basil
1 teaspoon chopped fresh oregano
For Sauce:
1/2 cup white wine
1/4 cup butter
1/4 cup cream
1/4 cup chopped mixed herbs (parsley, oregano, and basil)
Directions:
To prepare pasta dough by hand, on a flat surface, sift the flour into a large pile; make a well in the center roughly the size of your fist. Add eggs to well along with 1/2 tablespoon of water and salt. With a fork, whisk the eggs, gradually incorporating the flour. Add more flour or water as needed, a teaspoon at a time, to form a firm dough. Knead dough for 2 to 3 minutes or until smooth.
Or, to make it with a stand mixer or food processor, place flour and salt in the work bowl. Add eggs and mix on medium speed or pulse until dough comes together in a ball. Switch to the dough hook/attachment and knead for 1 to 2 minutes, adding more water or flour as needed, a teaspoon at a time, to form a firm dough. Transfer to a lightly floured surface and knead by hand for 1 to 2 minutes or until smooth.
Wrap dough tightly in plastic wrap and let rest for 30 minutes before rolling out by hand or with a pasta roller and cutting into desired shape.
To prepare filling, place corn kernels in a food processor and pulse once or twice until coarsely chopped. Transfer to a bowl and stir in ricotta cheese, egg, cream, salt, pepper, and herbs.
To assemble ravioli, divide dough into quarters and roll each out into thin sheets with a pasta roller (I went up to the "6" thickness on my pasta attachment). Drop 1 teaspoon of filling into the center of each ravioli, spacing the centers evenly about 2-inches apart. Moisten the edges with water, and top with a second sheet of pasta dough and press to seal; cut apart using a ravioli cutter, or a knife and crimp edges with a fork to thoroughly seal. Ravioli can be made up to a day ahead of time; arrange in a single layer on baking sheets lined with parchment paper and sprinkled with cornmeal or semolina flour. Cover with plastic wrap and refrigerate until ready to cook. You can also freeze them in a similar way; transfer them to a zip top bag after completely frozen.
Working in batches, boil ravioli for 7 to 8 minutes (add 2 to 3 minutes if cooking from frozen) or until tender. Transfer with a slotted spoon to serving dishes, reserving 1/4 cup pasta water.
To prepare sauce, heat a skillet over medium heat. Add wine and simmer until reduced slightly, about 2 minutes. Add cream and butter and simmer until thickened, 3 to 5 minutes, whisking constantly to prevent cream from scorching. If needed, add reserved pasta water, 1 teaspoon at a time, until sauce is the consistency of thick cream. Stir in chopped herbs. Spoon over ravioli and top with parmesan cheese, if desired.
Did you make this recipe?
Let us know what you think!
Leave a Comment below or share a photo and tag me on Instagram with the hashtag #loveandoliveoil.