There's something to be said about a cookbook that has me salivating over the savory section. Such is the case with Tart Love. Flipping through the pages, gazing at all the stunning images, I found myself wanting to dog ear just about every one of them (however, one does not "dog ear" such a gorgeous book, 'twould be blasphemy!)
Maybe I'll just bake my way through the book, one by one.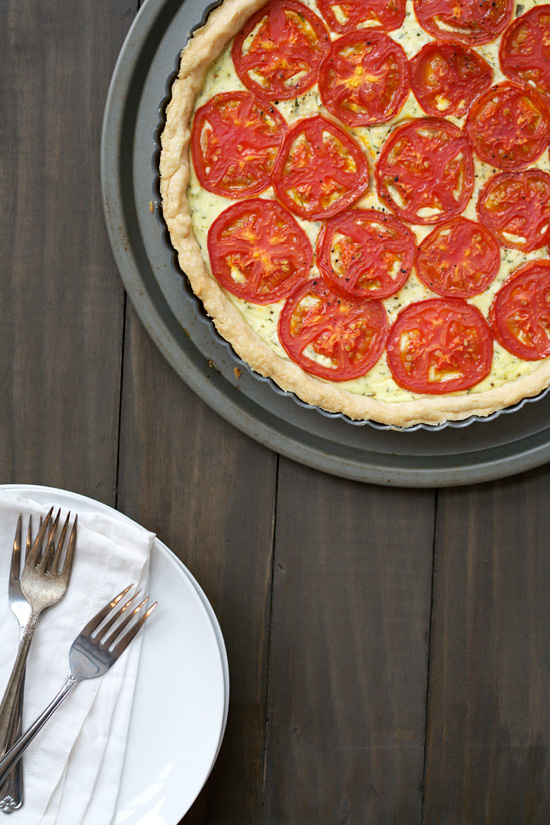 Starting with this Margherita tart. Which we gobbled up. Quickly and enthusiastically. And then ate the leftovers for breakfast.
While I loved everything about this tart, the one thing that blew me away was the crust. I have a record or producing some pretty uncooperative pie crusts. Crumbly. Oozing. Shrinky-dinky. Just plain ugly. But this crust gets a standing ovation from me. A few whirrs in the food processor followed by a quick nap in the fridge. Easy to work with and flaky as all get out. I'm in love. Tart love!
Margherita Tomato Tart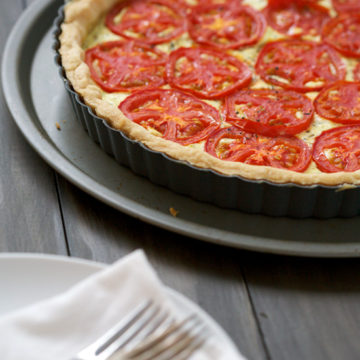 Ingredients:
For Crust:
2 1/2 cups all-purpose flour
2 teaspoons kosher salt
2 sticks (1 cup) unsalted butter, cold and cut into 1/4-inch cubes
3 tablespoons ice water, or more/less as needed
For Filling:
2 tablespoons fresh oregano, chopped
2 tablespoons fresh thyme, chopped
1 1/2 cups whole milk ricotta
1 teaspoon half and half
zest from 1 small lemon
1 egg yolk
2 scallions, chopped
2 large ripe tomatoes, thinly sliced
Salt and pepper, to taste
Directions:
To prepare crust, combine flour and salt in the bowl of a food processor. Pulse 10 to 12 times to combine. Add butter and pulse until butter is incorporated and mixture resembles coarse sand, 40 to 50 quick, successive pulses.
Add ice water, 1 tablespoon at a time, pulsing to combine. When the pastry begins to come together into a big, messy ball, stop. It's done. Do not add any more water than absolutely necessary.
Turn out pastry onto a lightly floured surface, and quickly shape into a disk. Wrap tightly in plastic wrap and refrigerate for at least 30 minutes or overnight.
Remove pastry from fridge and roll into a 1/4-inch thick disk. Carefully transfer to an 11 or 12-inch tart pan with removable bottom. Trim edges, folding over excess dough to form a slightly raised edge. Crimp as desired. Refrigerate for at least 20 minutes.
Preheat oven to 350ºF.
To prepare the filling, combine oregano, basil, ricotta, half-and-half, lemon zest, and egg yolk in a mixing bowl; whisk to combine. Fold in the scallions and season with salt and pepper.
Remove the crust from the refrigerator, and spread filling into the bottom, smoothing it into an even layer with an offset spatula. Arrange the sliced tomatoes on top of the filling, overlapping slightly in a concentric circle pattern. Sprinkle with salt and pepper and drizzle with olive oil.
Bake for 50 minutes or until the pastry is golden and the tomatoes are slightly shrunken but still slightly juicy. Increase heat to 400ºF and continue to bake another 10 minutes, or until any excess juice has baked off. Remove from oven and cool for 15 to 20 minutes before serving.
Did you make this recipe?
Let us know what you think!
Leave a Comment below or share a photo and tag me on Instagram with the hashtag #loveandoliveoil.