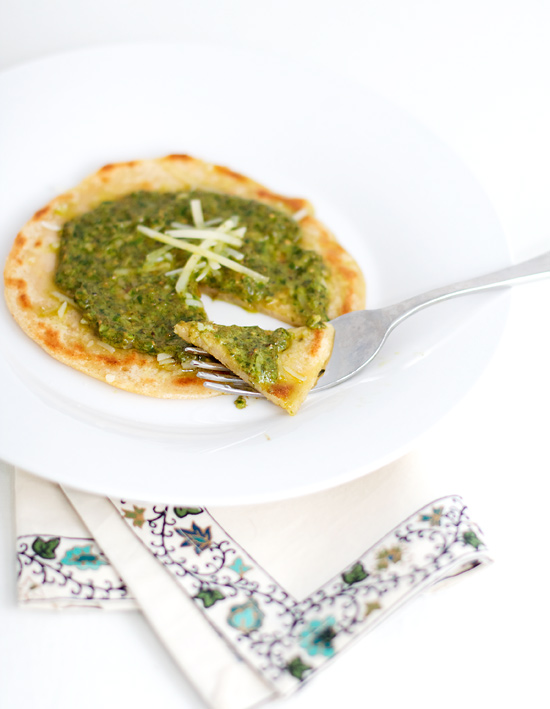 It's been 3 months since we returned from Italy, and there are still a few dishes that we cannot get out of our heads. Dishes that we knew, the second we tasted them, that we had to recreate (or at least try to) once we got home. One of the most unique and memorable was Testaroli, a crepe-like pasta that we enjoyed one afternoon in Manarola, on the Ligurian coast.
When I ordered the trio of testaroli, I thought I'd be getting a pasta with three different sauces. Granted, that is what I got, but I'd never seen pasta like this before. I was quite surprised when the plate arrived at our table; it was not what I was expecting.
Think of testaroli as the Italian version of a savory crepe. The traditional way to serve it is smothered with Genovese pesto, a specialty of the region, though the restaurant dish had variations with tomato sauce and olive oil as well. As I searched for recipes, most called for the crepe to be cut up into pieces or strips after cooking, and then boiling those pieces just like you would pasta. So maybe what we had wasn't traditional, but it sure was good.
While I don't think our version was quite as delicate as the Italian version (and maybe that's more a result of our amateur crepe-making skills than anything), this dish was incredible and will definitely become a regular addition to our dinner regimen. The testaroli itself isn't spectacular. Instead, the testaroli serves as more of a canvas for whatever sauce or topping it carries, which is why it is important to use the best pesto you can find if you can't make your own. I'll admit we did not make our own pesto this time (store didn't have basil and we didn't feel like driving all around town looking for some). But lucky for us Lazzaroli's, the little Italian pasta shop in our neighborhood, stocks a kick ass homemade pesto. Kudos to Tom on this one, as his handiwork really made this dish.
Buon appetito!
Testaroli al Pesto
Ingredients:
1/2 cup whole wheat white flour
1/2 cup all-purpose flour
1 cup water
1 big bunch fresh basil leaves, picked from the stems
1 tablespoon pine nuts
1 garlic clove, thinly sliced
1/3 cup freshly grated Pecorino or Parmesan cheese
1/2 cup extra-virgin olive oil, approximately, plus more for the pan
Salt
1 onion, cut in half
Directions:
Using a fork, stir water into the flour to form a thick batter. Continue mixing with the fork until all clumps have disappeared and the blend is homogeneous. Mix in salt to taste. Set aside and let sit, undisturbed, for 30 minutes.
Meanwhile, In the bowl of a food processor, combine the basil, pine nuts, garlic, and 2 teaspoons cheese. Pulse gently, just until roughly chopped. Pour in the olive oil bit by bit as you continue to pulse the basil and cheese mixture. When enough oil is in the bowl to make the ingredients pulse smoothly, pulse continually until all the oil has been added and the mixture is smooth and homogeneous. Season, to taste, with salt.
Heat a splash of olive oil in a 6-inch, non-stick omelet pan over high heat. Stick a fork in the top of the onion half, and use the cut side of the onion to spread the oil evenly around the pan. When oil is very hot, add a small ladle (1/4 cup) of the batter to the hot pan. Immediately swirl the pan to coat bottom with batter, and cook until crepe loosens from side of skillet and underside is pale golden, about 3 minutes. Flip and cook until both sides are golden brown. Repeat with the remaining batter, re-greasing the pan when needed, until all the batter has been used. Keep crepes in a warm oven until ready to serve.
Top crepes with pesto and a sprinkle of cheese. Serve immediately.
Did you make this recipe?
Let us know what you think!
Leave a Comment below or share a photo and tag me on Instagram with the hashtag #loveandoliveoil.