One Final Plea: Please take a moment and vote for my Rainbow Cake (entry #8) and help me win a $150 butter gift basket from Kerry Gold. If the contest were based solely on the quantity of butter used, I'd have it in the bag (I mean really, almost 2 1/2 lbs in one cake? Hello!) But it's not, and I need your votes! I'm in the lead right now, and I'd like it to stay that way. Voting ends tomorrow. Don't do it for me. Do it for the cake.
On to these biscuits. Cooking a full Thanksgiving meal for 3, we have to make some sacrifices. Not willing to budge on the matter of mashed potatoes or the required greenage, the sweet potatoes are one side dish we can eliminate (and we may have to nix the stuffing next year for the sake of our stomachs). But I love sweet potatoes. And not having them on Thanksgiving makes me sad.
Luckily, I found a way to do double duty: why not combine the bread and the sweet potatoes in one dish? That's a win win if I do say so myself.
Another plus? These biscuits were fabulous when smothered with the vanilla pecan butter we made for the Brussels sprouts (recipe coming soon!).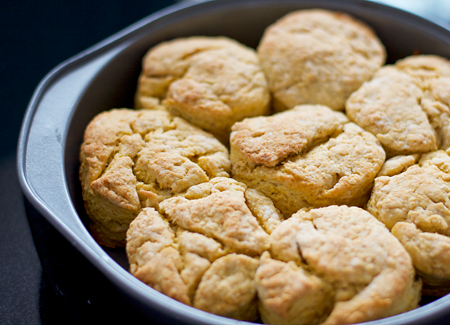 Did you know that buttermilk is easily frozen? You know, because buttermilk always comes in quart-size or larger containers and yet the recipes that use it call for much, much less. Rather than waste it, measure it out into zipper bags or freezer-safe containers, and store it away for the next time you need just a little bit. Nice.
Sweet Potato Buttermilk Biscuits
Ingredients:
1 3/4 cups all-purpose flour, plus more for kneading and shaping
2 tablespoons light-brown sugar
2 1/2 teaspoons baking powder
1 teaspoon salt
1/2 teaspoon baking soda
6 tablespoons chilled unsalted butter, cut into pieces, plus 1/2 tablespoon melted butter and more for pan
3/4 cup sweet-potato puree, chilled
1/3 cup buttermilk
Directions:
Make the dough: In a large bowl, whisk together flour, sugar, baking powder, salt, and baking soda. With a pastry blender or two knives, cut in butter until mixture resembles coarse meal, with some pea-sized lumps of butter remaining. In a small bowl, whisk together sweet potato purée and buttermilk; stir quickly into flour mixture until combined (do not overmix).
Shape the biscuits: Turn out dough onto a lightly floured surface, and knead very gently until dough comes together but is still slightly lumpy, five or six times. (If dough is too sticky, work in up to 1/4 cup additional flour.) Shape into a disk, and pat to an even 1-inch thickness. With a floured 2-inch biscuit cutter, cut out biscuits as close together as possible. Gather together scraps, and repeat to cut out more biscuits (do not reuse scraps more than once).
Bake the biscuits: Preheat oven to 425 degrees. with rack on lower shelf. Butter an 8-inch cake pan. Arrange biscuits snugly in pan (to help them stay upright). Brush with melted butter. Bake until golden, rotating once, 20 to 24 minutes.
Did you make this recipe?
Let us know what you think!
Leave a Comment below or share a photo and tag me on Instagram with the hashtag #loveandoliveoil.