No dry, bland scones here: these cream scones are tender and fluffy and ultra flavorful! This particular version has dark chocolate chunks and freeze-dried raspberries mixed in, but the base recipe is ultra flexible to accommodate whatever flavors you happen to be craving!
Compared to their butter-based counterparts, cream scones are a cinch to whip up with little more than flour, sugar, cream and a fork—no finicky cold butter, pastry blenders or stand mixers needed!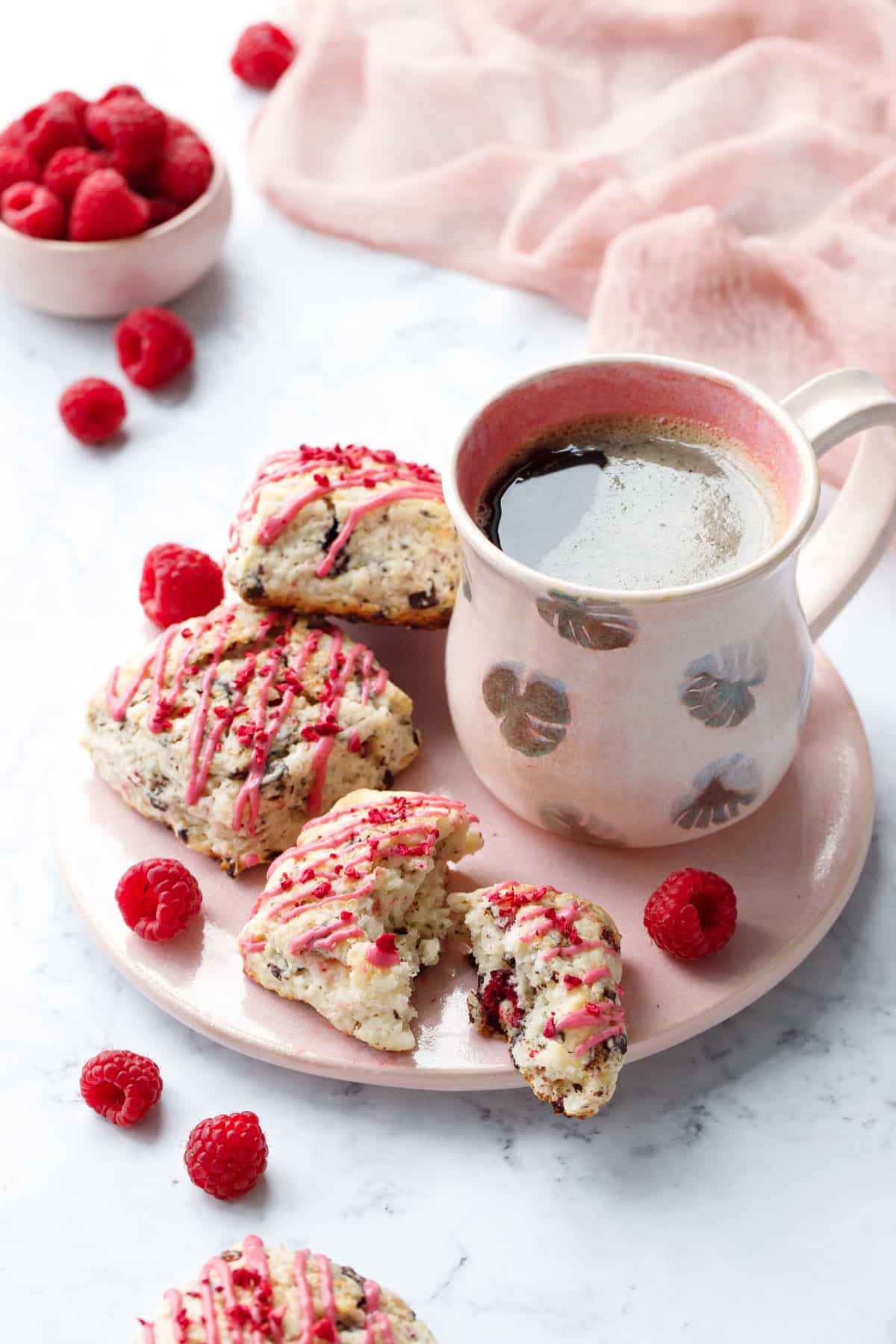 Trust me when I say these are not the dry, crumbly things you probably think of when you hear the word "scone". Instead, these cream scones are tender and fluffy and chock-full of punchy freeze-dried raspberries and rich, dark chocolate.
I'd argue that cream scones are an entirely different beast, made with heavy cream rather than butter and/or buttermilk.
The high-hydration dough results in a super light and fluffy scone that's worlds away from the dry, chalky pucks that often pass for scones (it's sad, really). Trust me, you'll be shocked at how not-dry these are. They're almost more muffin-like than anything.
The first time I made this recipe, I left them unglazed and they were still delicious. I opted to add a pleasingly pink raspberry glaze in the final recipe just to make them a bit more special and amp up the raspberry flavor, but you can certainly do without this extra step.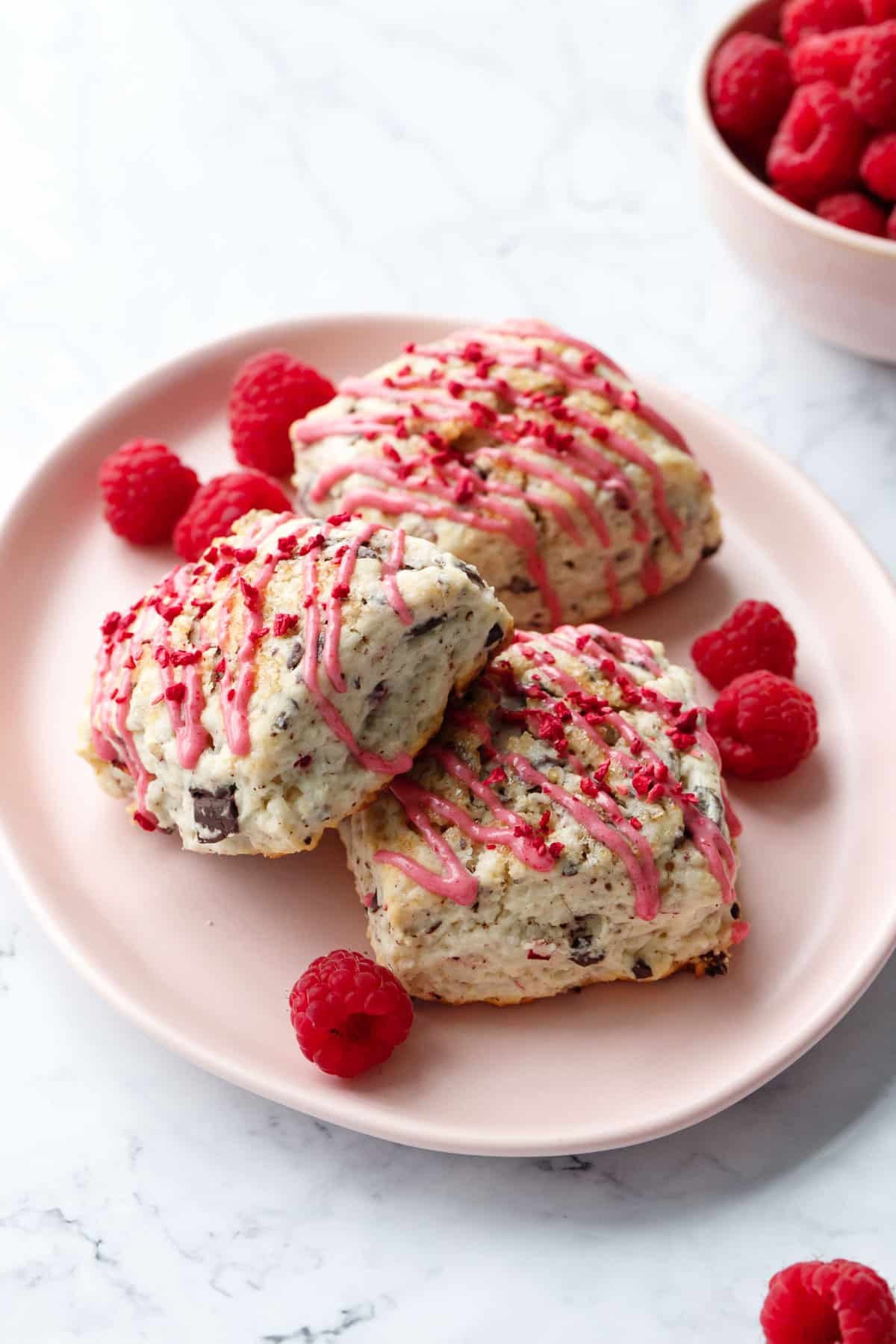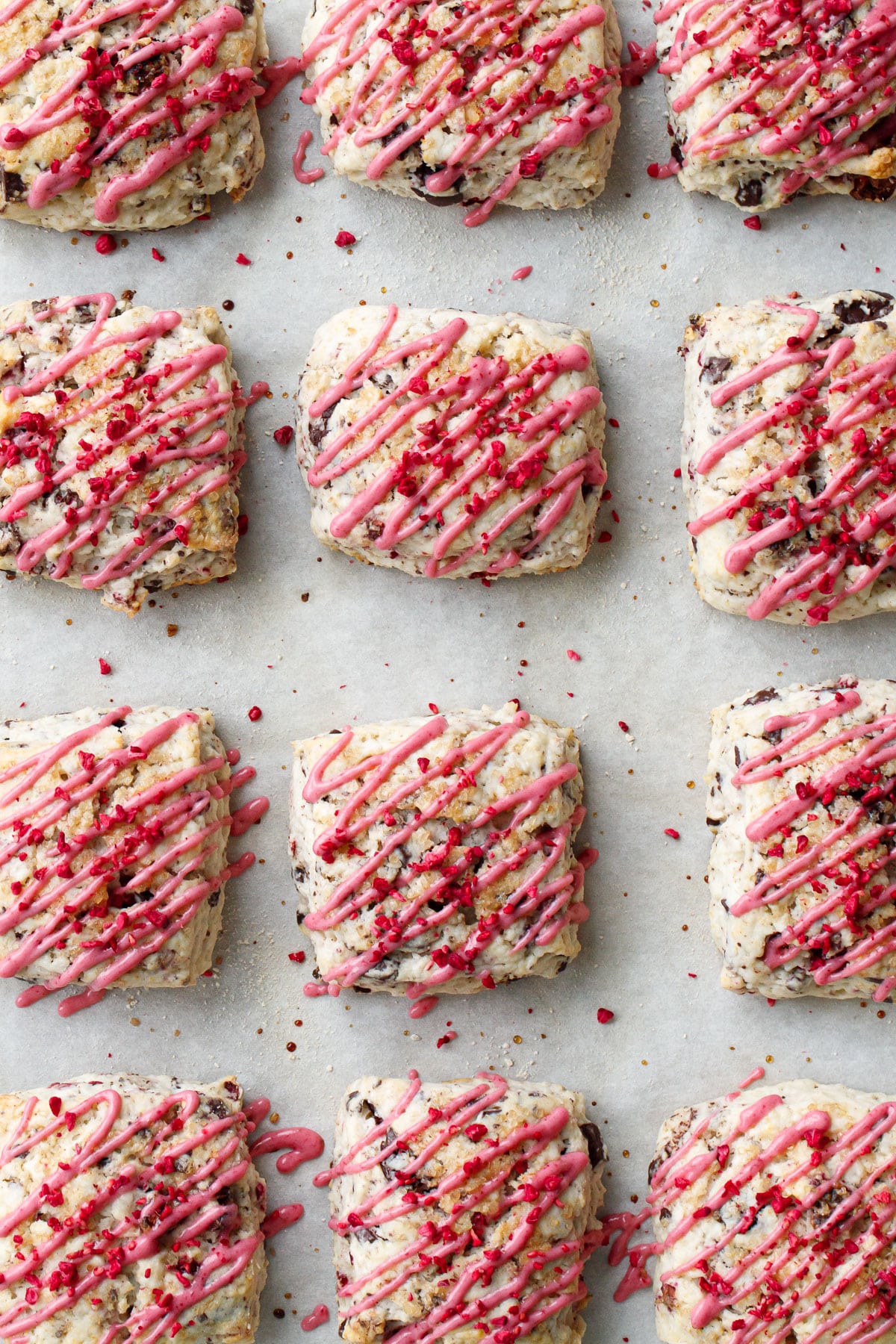 Personally, I love scones in the morning with coffee or a cup of steaming black tea, but they make great afternoon (or late night) snacks as well.
Enjoy these straight up, gently warmed, or like a true Brit with a dollop of clotted cream and homemade raspberry jam (this chocolate raspberry jam would be particularly perfect if you want to double down on the chocolate and raspberry. I mean, I'd be tempted to serve that combo with a scoop of vanilla ice cream and call it dessert.)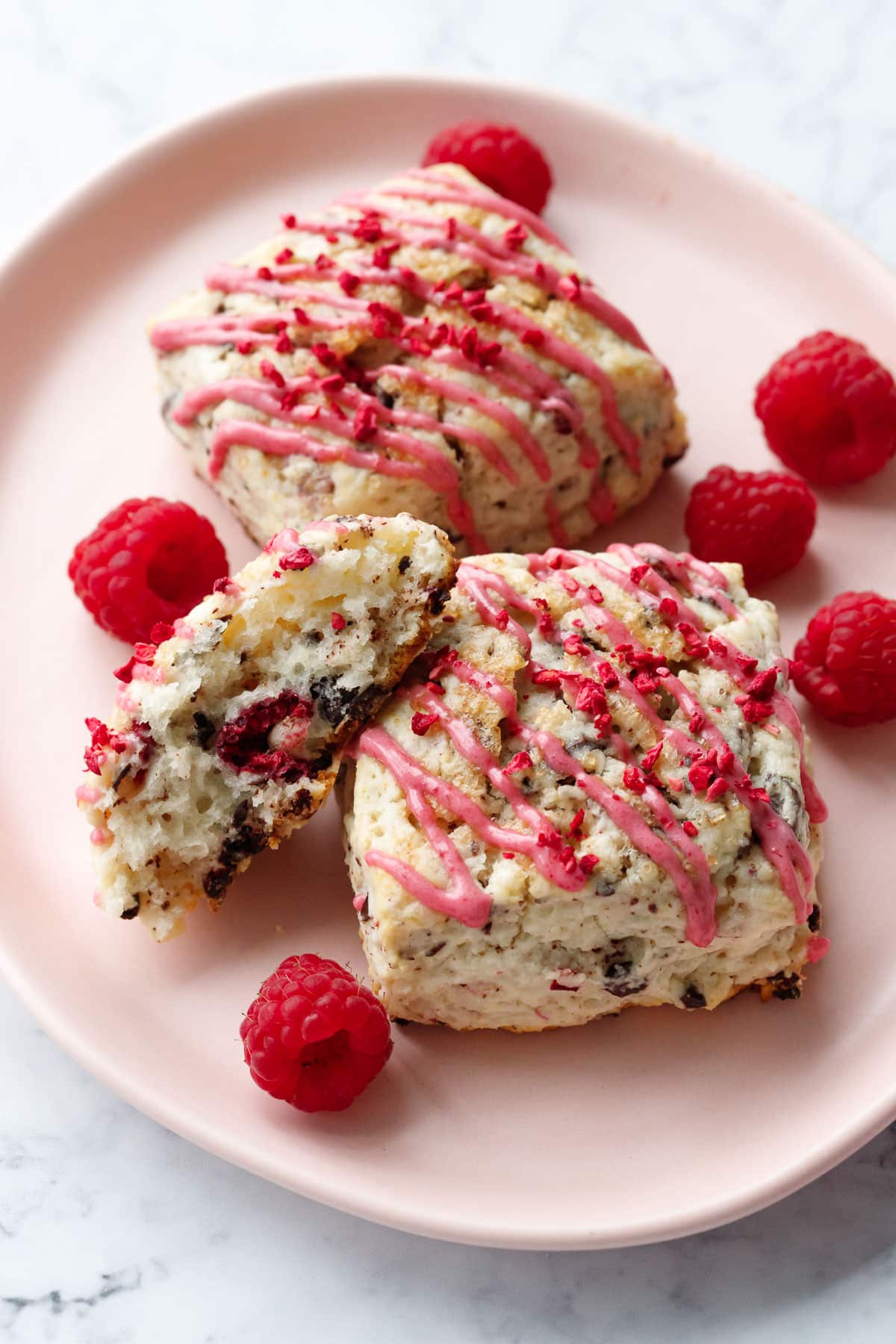 When you start making these scones, it's going to feel like you're adding a lot of liquid, but as the flour hydrates and the baking powder activates, it will come together and thicken into a sticky yet stiff dough.
Once the dough comes together and the mix-ins are evenly distributed (without overmixing, obviously), turn dough out onto a generously floured work surface; despite the stickiness of the dough it should be easy enough to pat it into a 1-inch thick square.
If you prefer wedge-shaped scones, shape your dough into one or two rounds about 1-inch tall, then cut into 6 or 8 wedges each.
You can also use this same dough to make drop scones (feel free to increase the cream to 2 1/2 cups for even fluffier scones). Instead of shaping the dough into a square or round, simply use a large cookie scoop to drop rough balls of scone dough from the bowl right onto your cookie sheet.
Before baking, the scones are brushed with more cream and sprinkled with sugar (I used both granulated and turbinado sugar, either works here). The brush of cream helps the tops brown and the sugar stick, and the sugar sprinkle gives the scone a beautiful crackly, crunchy top that'd be beautiful on its own or drizzled with a hot pink raspberry glaze (that color is entirely natural from the freeze-dried raspberries).
If you opt to skip the glaze, go ahead and use the entire bag of freeze-dried raspberries (these usually come in a 35g bag, the scone base just calls for about 1 cup of 28g or so). That's the thing about freeze dried fruit is it doesn't really last once the bag is opened (particularly in high-humidity environments it barely lasts a day before softening), so you may as well use up the entire bag.
Cut and Freeze-Dried
This recipe calls for freeze-dried raspberries, which give the scones a punchy raspberry flavor without excess moisture (which can result in soggy pockets within the scones). I've also used some crushed up freeze-dried raspberries to make a bright pink glaze for the top.
I typically get my freeze dried fruit from Trader Joe's or Target, but you can easily find it online too (just be sure you're buying freeze-dried fruit and not dried fruit, and whole fruit rather than powder.
You can use dried fruit, which will be chewy rather than crispy, but will still work since most of the moisture has been removed.
I don't recommend using fresh fruit for this recipe as it'll make the baked scones soggy.
Flour Power
While I bake almost exclusively with unbleached all-purpose flour, when it comes to tender baked goods like biscuits and scones, I recommend using a bleached all-purpose flour.
The bleaching process breaks down the starches in the flour, producing in a softer, lower protein flour that more readily absorbs liquids and fats. The final result is incredibly light and tender baked goods.
If you're in the south, White Lily All Purpose is my go-to flour which is made from soft winter wheat and is particularly good for biscuits (if you're wondering why biscuits always seem to taste just a little bit better in the South, it's probably the flour). You can also use self-rising flour, if so then omit the baking powder and salt.
Regular unbleached flour will work in this recipe, the scones will just be a little denser.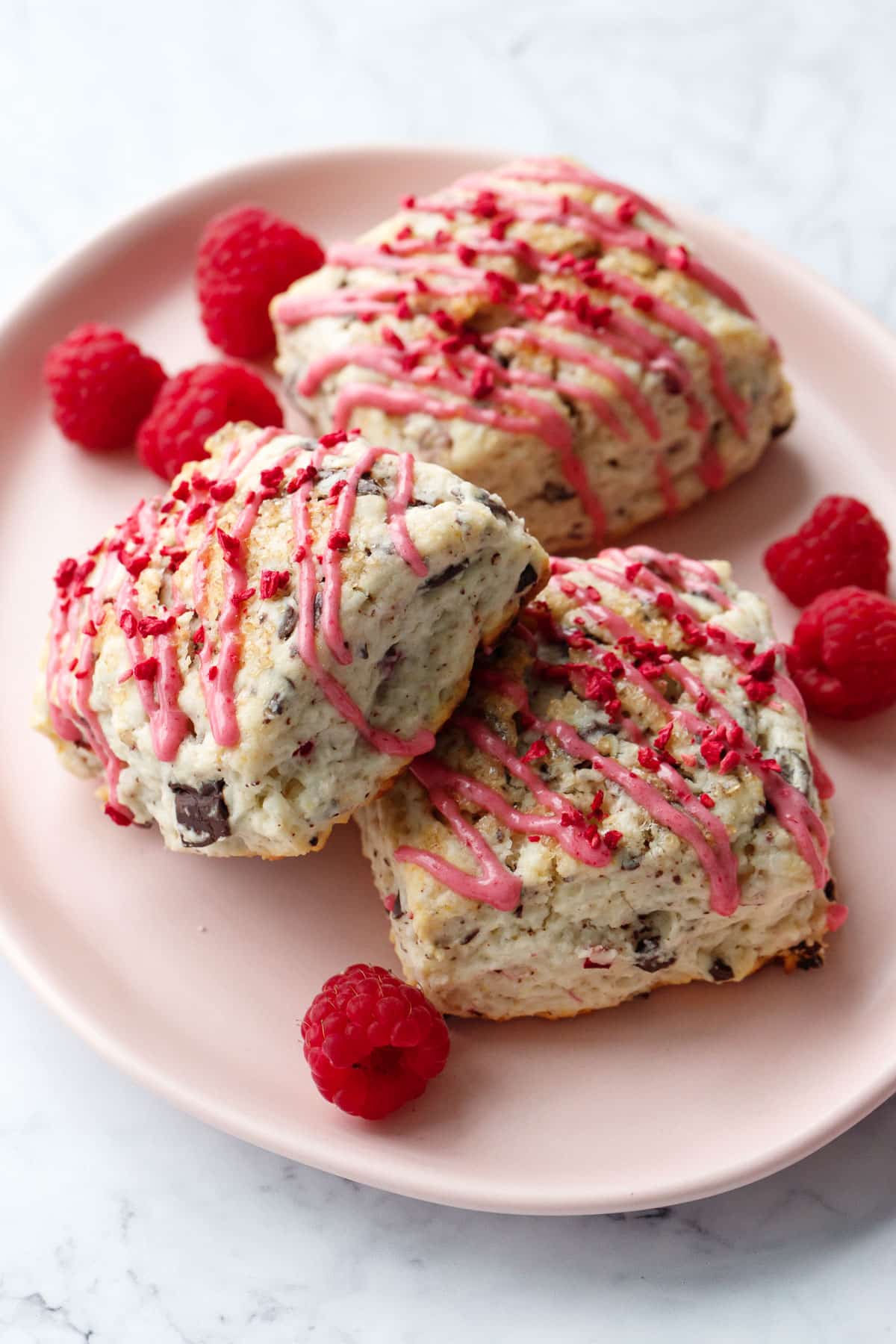 Flavor Variations
While I adore dark chocolate and raspberry in all forms, the base scone recipe can be adapted into many different flavors depending on what you choose to mix in.
Swap white chocolate or milk chocolate instead of dark chocolate to change up the flavor profile. White chocolate raspberry sounds particularly delicious.
You can also use other types of freeze-dried fruit, like strawberries, or regular dried fruit too. Dried tart cherries, for example, would be a lovely combo with the dark chocolate. I don't recommend using fresh fruit because it tends to create soggy pockets.
Use chopped nuts in addition to/in place of of the dried/freeze-dried fruit, for example I think some chopped pistachios would be lovely paired with the dark chocolate, and chopped hazelnuts mixed with milk chocolate would be fabulous.
Espresso chocolate chip is one of my favorite scone flavors; the base recipe here is almost identical, just with some instant espresso powder added to the dough instead of raspberries.
Apricot white chocolate thumbprint scones are my first experience with cream scones (and made me never want to make another kind of scone, ever). The dollop of apricot jam in the middle is simply brilliant. You could also add some chopped dried apricots to the dough instead of the jam thumbprint.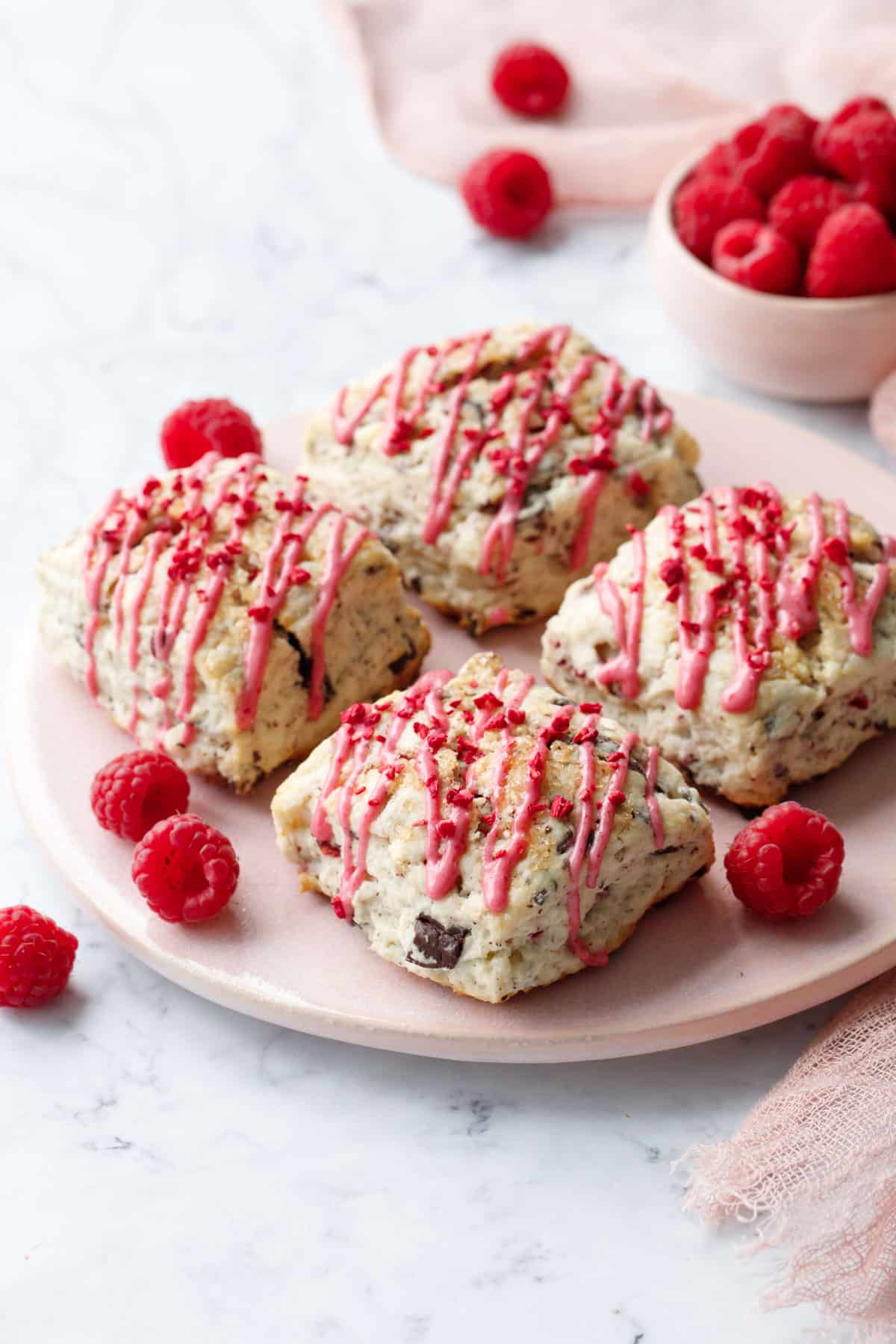 Frozen Scone Zone
These scones are best enjoyed within a day or two of baking. But the good news is that unbaked scone dough freezes beautifully.
Simply cut and shape your scones, then arrange on a parchment-lined baking sheet (no need to space them out like you're baking them, as long as they're not touching you can squeeze as many as needed on there). Place baking sheet in the freezer until frozen solid, then transfer the scones to a zip-top bag labeled with the recipe name, date and baking instructions.
You can bake frozen scones straight from the freezer; just arrange on a baking sheet. Brush with cream and sprinkle with sugar, then pop them in a 400 degree oven. They'll need a few more minutes in the oven compared to baking from fresh.
You can also freeze baked (unglazed) scones, then reheat in a warm 300 degree oven for 5 to 10 minutes.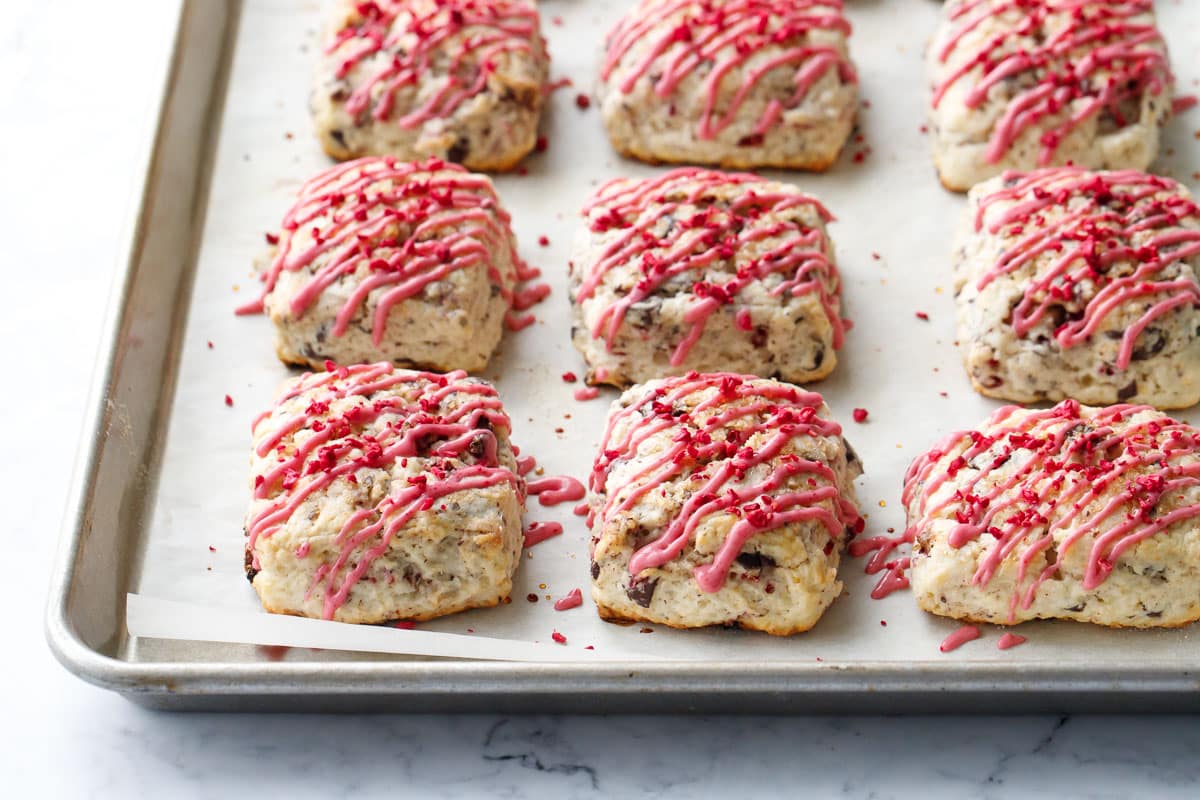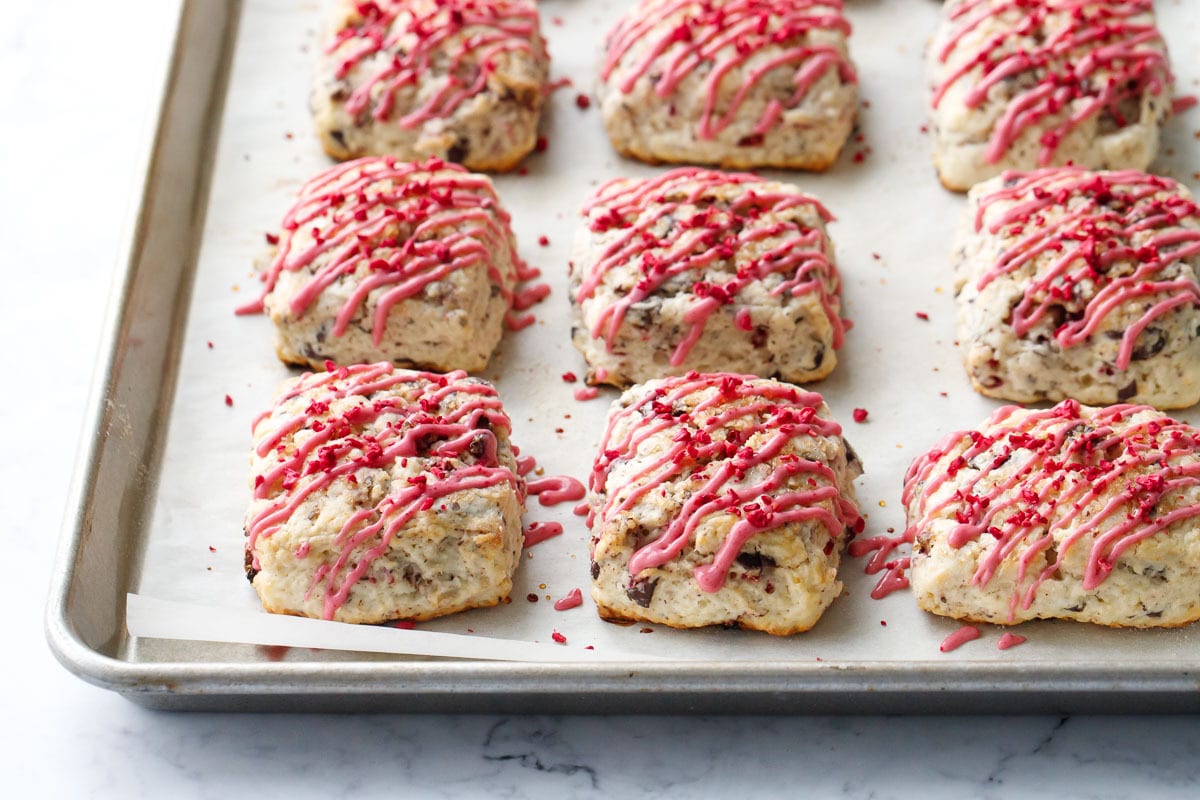 Dark Chocolate and Raspberry Cream Scones
These cream scones are tender and fluffy and ultra flavorful, with dark chocolate chunks and freeze-dried raspberries mixed in.
Ingredients
3 ½

cups

/

440

g

all-purpose flour

,

preferably bleached

½

cup

/

100

g

granulated sugar

,

plus more for sprinkling

1 ½

tablespoons

/

18

g

baking powder

1

teaspoon

salt

2

cups

/

480

g

heavy cream

,

plus more for brushing

1

cup

/

28

g

freeze dried raspberries

¾

cup

/

100

g

chopped dark chocolate
Optional Raspberry Glaze:
1

tablespoon

/

5

g

freeze dried raspberries

,

finely crushed

¼

cup

/

30

g

powdered sugar

2

tablespoons

heavy cream

,

more or less as needed
Instructions
Preheat oven to 400 degrees F. Line a baking sheet with parchment paper or silicone baking mat.

In a large bowl, sift together flour, baking powder, and salt. Whisk in sugar. Add heavy cream and stir a few times with a fork until partially incorporated, then add raspberries, and chocolate and stir until mix-ins are evenly distributed (use your hands if you need to, but try not to overmix). Dough will be thick and stiff but still quite sticky.

Turn out dough onto a generously floured surface; sprinkle the top with a bit more flour and then pat into a 1 inch tall square approximately 7-by-7-inches in size. Divide and cut into 16 squares. You can also shape the dough into a circle and cut into wedges, or use a large cookie scoop to make rustic 'drop' scones.

Arrange scones on prepared baking sheet, leaving an inch or two of space in between. Lightly brush the tops of scones with a bit more cream, then sprinkle with granulated or turbinado sugar.

Bake for 18 to 20 minutes or until bottoms are brown and tops are lightly golden. Let cool for at least 10 minutes before glazing.

To make glaze, sift powdered sugar into a small dish. Sift crushed raspberries in with powdered sugar (you want a very fine powder here; feel free to use a spice or coffee grinder if you find it easier). Add 2 tablespoons cream and whisk until smooth. Add more cream as needed, 1 teaspoon at a time, until glaze is a nice fluid consistency before drizzling over tops of scones. Finish with a sprinkle of freeze dried raspberry bits if you'd like.
All images and text ©
for Love & Olive Oil.
Did you make this recipe?
Let us know what you think! Leave a Review below or share a photo and tag me on Instagram with the hashtag #loveandoliveoil.