Another wonderful Thanksgiving, come and gone. Much like last year, we cooked for 11. And also like last year, the 3 of us stuffed ourselves to oblivion. Needless to say we'll be putting those leftovers to good use over the next few days, er, weeks even. But that's part of the fun of thanksgiving right? Making way too much food than you could ever possibly eat.
I realize that me posting Thanksgiving recipes now, after the fact, when you're clearly sick of turkey is probably ridiculous, so skip over these next few posts if need be. But next year, when you're planning your menus, they'll be here for your (and our) reference. I'll remind you about them too, because we had a pretty stellar menu this year if I do say so myself.
Our menu this year:
– Malt-Beer-Brined Turkey
– Giblet Stock Gravy
– Brown Butter Mashed Potatoes
– Brussels Sprouts with Pomegranate and Vanilla Pecan Butter
– Sweet Potato Buttermilk Biscuits
– Sweet Potato & Pepita Stuffing
– Cranberry Jam
– Pumpkin Pie with Bourbon Whipped Cream
Hello, beautiful. Taylor was very excited about this recipe when I first showed it to him. Giddy like a kid in a candy store, or an adult male in the beer aisle, you could say. Aside from the fact that he had to watch three of his precious beers go into the brining bag, that is. The secret ingredient here is the barley malt syrup, used in both the brine and in the sweet and malty glaze (a glaze that also makes for the most beautiful dark golden skin). We found a huge tub of the stuff at a local brewing supply shop. Apparently it can also be used in breadmaking… so I'll definitely be seeking out creative uses for the excess.
As for the final product, it didn't taste like beer. Which was ok with my sister and I, who aren't beer lovers, but I could tell Taylor was a wee bit disappointed.
We've done a brined turkey for the past 4 years. Always a different brine. Our bird is always perfectly moist and delicious. But does the actual brine make a difference? Not really. Maybe if you tasted them side by side you may be able to detect a slight difference in flavor, but I think the mere act of brining, no matter if it is beer, wine, orange juice, or just salt and sugar, really makes a difference. At least that's my take on it.
One negative to a brined bird – salty gravy. Last year's, while delicious, was overpoweringly salty. Lesson learned. This year, we started with a rich stock made from the giblets, and sparingly added the pan drippings to the base gravy. Just enough for a fabulous flavor, but not so much that it was cloyingly salty. Combined with some of Taylor's magic "butter dough", this year's gravy was thick and rich and our best yet.
Malt-Beer-Brined Turkey with Malt Glaze and Giblet Gravy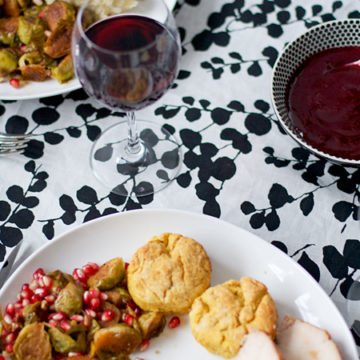 Ingredients:
Glaze
2/3 cup barley malt syrup (purchase online or at brewing supply/natural food stores)
1/4 cup malt vinegar or apple cider vinegar
6 fresh sage sprigs
4 fresh thyme sprigs
1/2 teaspoon ground black pepper
2 tablespoons (1/4 stick) unsalted butter
Brine, Turkey, and Aromatics
4 quarts water
2 cups Diamond Crystal coarse kosher salt or 1 1/2 cups Morton coarse kosher salt
3 12-ounce bottles stout beer (such as Guinness)
1 1/2 cups barley malt syrup
1 14- to 16-pound turkey
2 teaspoons ground black pepper
2 peeled onions, quartered
2 celery stalks, cut into chunks
1 bunch fresh sage
1 bunch fresh thyme
1 unpeeled head of garlic, cut crosswise in half
3 tablespoons extra-virgin olive oil
2 cups (or more) water
Special Equipment
2 turkey-size oven bags or large zippered storage bags
Turkey lacing pins
Turkey Stock/Gravy
Turkey giblets (neck and heart, liver discarded)
Olive Oil
1 onion, roughly chopped
1 carrot, roughly chopped
1 stalk celery, chopped
1/2 cup stout beer, Madeira, or white wine
8 cups water
1 bay leaf
1 teaspoon whole black peppercorns
1/4 teaspoon freshly ground black pepper
2-3 sprigs fresh parsley, whole
1/4 cup flour
1/4 cup butter, softened
Directions:
PREPARE STOCK: Heat olive oil in a large dutch oven or heavy stock pot. Add turkey neck and heart to hot oil and cook until nicely browned. Add onion, carrot, and celery and cook until slightly translucent. Add beer/wine and deglaze pan, scraping up any browned bits on the bottom. Add water, bay leaf, peppercorns, ground pepper, and parsley. Simmer, uncovered, for 3-4 hours. Strain stock. DO AHEAD Can be made a day ahead and stored, covered, in the refrigerator, or frozen and stored for up to 3 months.
PREPARE GLAZE: Bring malt syrup, vinegar, herbs, and pepper to boil in small saucepan, stirring occasionally. Reduce heat to low and simmer until glaze coats spoon, 4 to 5 minutes. Mix in butter. DO AHEAD Can be made 1 day ahead. Cover; chill. Rewarm before using.
BRINE TURKEY: Pour 4 quarts water into 16-quart nonreactive bowl or pot. Add salt; stir to dissolve. Mix in beer and malt syrup. Insert 1 oven bag into second bag; place in large bowl. Rinse turkey inside and out. Slide turkey, breast side down, into doubled bag. Pour brine into bag. Press out any air; seal bags. Chill turkey in brine (still in bowl) 16 to 18 hours.
Remove turkey from brine. Pat very dry, inside and out, with paper towels. Sprinkle main cavity with 2 teaspoons pepper; fill with onions, celery, sage, thyme, and garlic. Close cavity with turkey lacing pins. Tuck wing tips under; brush all over with olive oil.
Place turkey on rack in roasting pan; add 2 cups water. Roast turkey 2 hours. Brush with glaze; add water if pan is dry. Roast 30 minutes. Brush with glaze. Tent with foil if browning too quickly. Roast until thermometer inserted into thickest part of thigh registers 165°F, 30 to 45 minutes. Brush with more glaze. Transfer to platter; let rest 30 minutes (temperature will rise 5 to 10 degrees).
PREPARE GRAVY: Drain the turkey drippings from the roasting pan into a heat safe glass measuring cup or gravy separator. Let cool (refrigerate to expedite the process). Skim off fat and set aside.
Combine 1/4 cup softened butter with 1/4 cup flour in a small bowl. Knead together to make a soft dough. Heat turkey stock in a large skillet or saucepan and bring to a simmer. Simmer for about 10 minutes or until slightly reduced. Add 1/4 cup madiera (optional) and a few tablespoons of the pan drippings to taste (add as much of the drippings as you'd like, but do so little by little, tasting it constantly, as the drippings from the brined turkey can be very salty). Slowly whisk in butter dough and continue whisking until no lumps remain. Continue to cook until thickened, another 5-10 minutes.
Did you make this recipe?
Let us know what you think!
Leave a Comment below or share a photo and tag me on Instagram with the hashtag #loveandoliveoil.