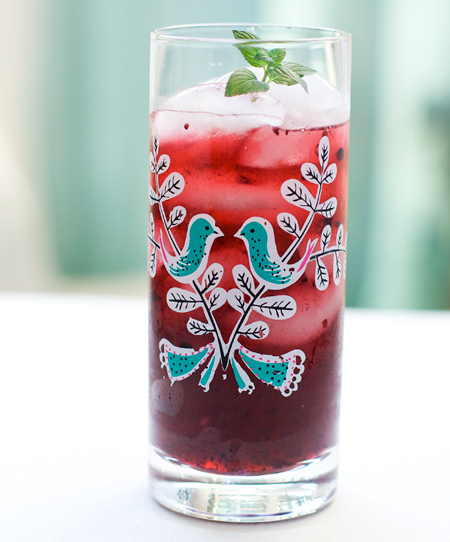 You may wonder what became of those 3 lbs of blackberries that we picked along with those tasty peaches (I did mention we picked blackberries, didn't I? The pick-your-own farm we went to had giant patches of them. Despite the berries being on their last legs, and once you got past the insanely huge and scary Junebugs, there was quite the mini-bounty of berries.) Most of them went into some jam. But I found myself with a few handfuls left. Not enough for anything significant, like more jam or a pie, but I couldn't bare to see these plump delicious berries go to waste.
Oh Twitter, how I love thee. You are the new Google. A quick tweet brought back a myriad of ideas. Berries and cream. Almond cake. Sorbet. Inhale whole. All great ideas. But one struck a cord, and I headed downstairs immediately to make some.
Blackberry lemonade. So simple. So perfect. So refreshing.
Taylor "enhanced" his with a splash of vodka. That works too.
Fresh Blackberry Lemonade
Ingredients:
3/4 cup raw or cane sugar
3 cups water
2 cups blackberries
3 lemons, juiced
ice
Directions:
In a microwave safe container, combine sugar and 1 cup water. Heat on high for 2 minutes. Remove from microwave and stir until sugar is dissolved. (Alternatively, you can bring the water and sugar to a boil in a saucepan over medium heat – but I didn't have that kind of patience). Set aside and allow to cool. Toss an ice cube or two into it if you need to.
Meanwhile, in a large bowl or pitcher, muddle the blackberries with the lemon juice. You want the berries good and smushed, to release as much juice as possible. Pour in sugar syrup, remaining water, a few ice cubes, and stir. Pour over a glass of ice (straining out the blackberry pulp if you prefer). Garnish with a sprig of mint or a slice of lemon and enjoy!
Did you make this recipe?
Let us know what you think!
Leave a Comment below or share a photo and tag me on Instagram with the hashtag #loveandoliveoil.