Peach week continues. Our, should I say, peach weekend. All this peachy goodness, the gazpacho, this pie, two batches of peach jam, and one batch of peach salsa – it all happened in two days. We managed to cram a summers' worth of peach season into one, (literally) jam packed weekend.
Because when you pick a basket of peaches as deliciously ripe and juicy as these were, you have to use them right away. All 13 pounds of them. Because while a ripe peach is divine, an overripe peach is just a big mess.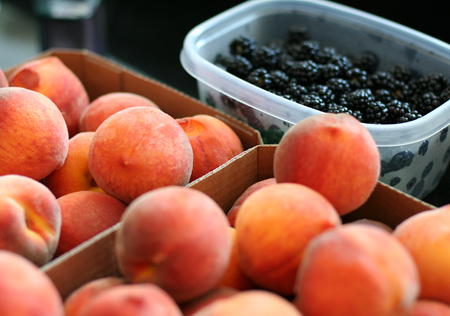 I know Georgia peaches get the most attention. And I'm sure our parents would argue on behalf of the Palisade peaches in Colorado. But I have to put in a good word for Tennessee peaches – these of the "Contender" variety – which might just be the most delicious peaches we've ever eaten. The fact that we devoured one mere minutes after picking it probably doesn't hurt, either.
All pie crusts are a pain to work with (I hear being a P.I.T.A. is one criteria of a really good pie crust), but this one is manageable. In my never-ending quest to conquer the pie crust, I'm getting closer. Considering this was my first double crusted pie, I'd call it a success. Still need to work on my crimping technique though, as mashing it together with a fork doesn't exactly make for pretty edges.
Ugly edges aside, this was a very tasty pie. And both of us, who typically prefer more robust, chocolate-filled desserts to a fruit pie, enjoyed it immensely. The vanilla permeates the natural sweetness of the peaches and makes for a very rich and indulgent dessert, just as deserving as any chocolate cake.
A word of warning – DON'T skip the step where it tells you to put a baking sheet underneath your pie. Because if you don't, you will regret it. Luckily, this was one step I didn't skip; ruining a cheap old pan is always preferable to having to chip away at a hardened mass of caramelized sugar on your oven's floor.
I can also say confidently that there were no sneaky pits in this pie. That in itself is an accomplishment.
Vanilla Bean Peach Pie
Ingredients:
Pie Crust:
3 cups all-purpose flour
1 tablespoon sugar
1 teaspoon salt
1/2 cup (1 stick) cold unsalted butter, cut into 1/4-inch pieces
1/2 cup cold vegetable shortening, cut into pieces
1/2 cup cold water
Filling:
1 plump vanilla bean
1 cup sugar
3 tablespoons cornstarch
5 cups peeled, pitted, and thickly sliced ripe peaches
2 teaspoons fresh lemon juice
2 tablespoons cold unsalted butter, cut into small pieces
Garnish:
1 cup cold heavy or whipping cream
Directions:
To prepare crust, whisk together the flour, sugar and salt in a large bowl. Scatter the butter and shortening over the dry ingredients, and cut in with a pastry cutter until the large clumps of the butter are broken up. Drizzle half of the water over the flour mixture and lightly mix with a fork, until the dough starts to form clumps. Squeeze some of the pastry between your fingers. If it seems a little dry, work in another teaspoon of water at a time until the appropriate texture is achieved. (Alternatively, this can be done in a food processor by pulsing a few times to combine.)
Using your hands, form the pastry into two balls – one slightly larger for the bottom crust. Knead each ball once or twice on a floured work surface, then flatten the balls into 3/4-inch-thick disks. Wrap the disks in plastic, and refrigerate for at least an hour or overnight before rolling.
On a sheet of lightly floured wax paper, roll the larger portion of the pastry into a 12-inch circle with a floured rolling pin. Invert the pastry over a 9-inch standard pie pan center, and peel off the paper. Gently tuck the pastry into the pan, without stretching it, and let the overhang drape over the edge. Place in the refrigerator for 15 minutes.
Preheat the oven to 400 degrees F.
Split the vanilla bean lengthwise. Scrape the seeds out of the bean, and place them in a food processor. Add the sugar, and process for about 1 minute until no large clumps of the vanilla bean remain. Transfer the sugar to a small bowl. Mix 1/2 cup of the sugar with the cornstarch in another bowl. Set aside.
In a separate, large bowl, combine the peaches, cornstarch mixture, and lemon juice. Set aside.
On another sheet of floured waxed paper, roll the other half of the pastry into a 10-inch circle with a floured rolling pin.
Dump the filling into the chilled pie shell, leveling the top with a spoon. Dot the top of the fruit with the butter. Lightly moisten the rim of the pie shell. Invert the top pastry over the filling, center, and peel off the paper. Press the top and bottom pastries together along the dampened edge. Using the back of a butter knife, trim the pastry flush with the edge of the pan. Cut several steam vents in the pie with a fork or paring knife.
Place the pie on the center oven rack, slide a large baking sheet onto the rack below to catch any spills, and bake for 30 minutes. Reduce the oven temperature to 375 degrees F, and rotate the pie to ensure even cooking. Continue to bake until the top is a deep golden brown and the juices visible at the side vents bubble thickly, about 30 minutes.
Transfer the pie to a wire rack, and immediately sprinkle half the remaining vanilla sugar (about 1/4 cup) over the top. Let it cool for at least 2 hours.
Shortly before serving, whip the cream with an electric mixer until it holds soft peaks. Add the remaining vanilla sugar, and beat until stiff but not grainy. Serve a large dollop of whipped cream with each slice of pie.
Did you make this recipe?
Let us know what you think!
Leave a Comment below or share a photo and tag me on Instagram with the hashtag #loveandoliveoil.