For what it's worth, we're not vegans. Not even vegetarians. But that doesn't mean we eat meat or animal products every meal. Nor does that mean we don't enjoy a good, flavorful vegan dish just as much as any steak. In fact, I'd argue that this dish, with it's rich ethnic flavors and hints of savory sweetness, would win even if pitted against the meatiest of meals.
Israeli couscous, or Pearl couscous, for those who may not be familiar with it, is like couscous on steroids. I'd say it more closely resembles a round-ish orzo than couscous in both flavor and texture; so if you can't find it, orzo would be a better substitution. We always choose Israeli couscous over regular couscous, as Taylor has never been a fan of the typically dry texture of your standard couscous. For even more flavor, toast it first in a splash of olive oil and a dash of cinnamon and cumin, then add the liquid and cook as directed.
Israeli Couscous with Roasted Eggplant and Cinnamon-Cumin Dressing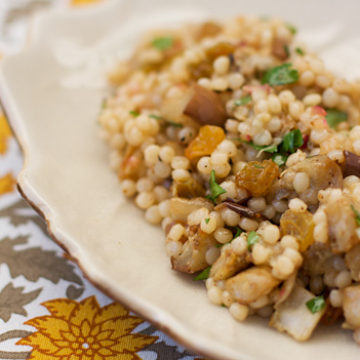 Ingredients:
Nonstick vegetable oil spray
2 3/4-pound unpeeled eggplants, cut into 1/2-inch cubes (8 to 9 cups)
5 tablespoons extra-virgin olive oil, divided
1 cup Israeli couscous
1 teaspoon cumin seeds
2 tablespoons white balsamic vinegar
3/4 teaspoon ground cinnamon
1/4 cup finely chopped red onion
1/3 cup golden raisins
1/3 cup coarsely chopped fresh cilantro
Directions:
Preheat oven to 450°F. Coat rimmed baking sheet with nonstick spray. Place eggplant cubes on sheet; drizzle with 3 tablespoons oil and sprinkle with salt and pepper; toss to coat. Roast until tender, turning occasionally, about 40 minutes.
Meanwhile, cook couscous in boiling salted water until just tender, about 8 minutes. Drain. Rinse under cold water until cool; drain again. Place in large bowl.
Toast cumin seeds in small skillet over medium-high heat until slightly darkened, about 4 minutes. Grind seeds in spice mill; place in small bowl. Add vinegar, cinnamon, and 2 tablespoons oil. Whisk to blend; season with salt and pepper. Mix in onion.
Add raisins, cilantro, eggplant cubes, and dressing to couscous. Toss to coat.
Did you make this recipe?
Let us know what you think!
Leave a Comment below or share a photo and tag me on Instagram with the hashtag #loveandoliveoil.