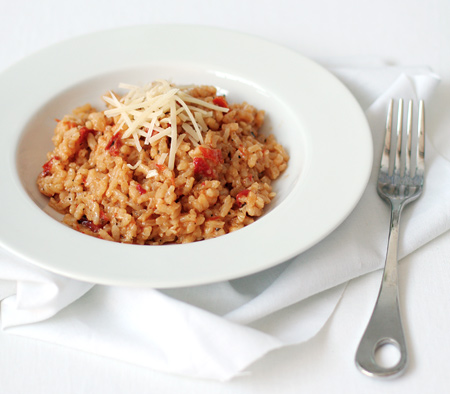 Risotto is like the wonder food. Seriously. You can throw just about anything in it, and as long as you use a good quality or homemade chicken broth, you'd be hard pressed to come out with a bad one. Some of our favorites have been butternut squash, leek, and herb. If you've never tried risotto, don't be scared. It's not at all hard, and just requires a little patience and time.
But did you know you can also use this same risotto process (adding broth slowly, stirring until absorbed, repeat) with pasta? Yes! We've done it once or twice and the result is the most flavorful pasta you'll ever taste. One of these days I'll post it.
This particular risotto uses a bit of butter instead of all oil, and though we omitted the cream from the final product, you wouldn't know that from the sheer creaminess of it. While we eat this as our main course, it would be just as delicious on the side.
Sundried Tomato Risotto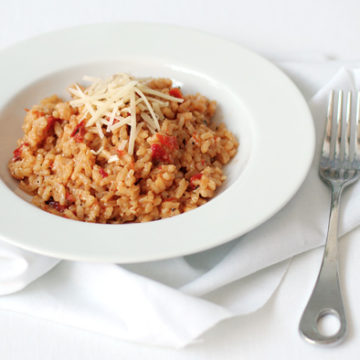 Ingredients:
2 tablespoons butter
1 tablespoons olive oil
½ onion, diced
3 cloves garlic, minced
1 cups arborio or medium-grain rice
4 whole sundried tomatoes, drained and minced (about 1/2 cup)
1/2 cup dry white wine
4 cups low sodium chicken broth (homemade if possible)
salt and pepper, to taste
1/2 cup grated Parmesan, plus more for garnish
fresh basil (optional)
Directions:
Bring broth to simmer in heavy small saucepan; reduce heat to low and keep hot.
Heat butter and olive oil in a large pot or dutch oven over medium heat. Add onions and garlic and cook for 3 to 4 minutes until translucent. Add rice and stir 3 minutes. Add wine; stir until almost absorbed, about 2 minutes. Add in minced sundried tomatoes and stir.
Reduce heat to medium. Add 1 cup hot broth and cook until almost all liquid is absorbed, stirring often. Continue adding hot broth 1 cup at a time and stirring frequently until rice is almost tender, about 15 minutes. The rice should have a slight bite to it, but not be crunchy at all.
Remove from heat, then stir in Parmesan. Season with salt and pepper as needed. Garnish with more Parmesan cheese and chopped basil.
Did you make this recipe?
Let us know what you think!
Leave a Comment below or share a photo and tag me on Instagram with the hashtag #loveandoliveoil.