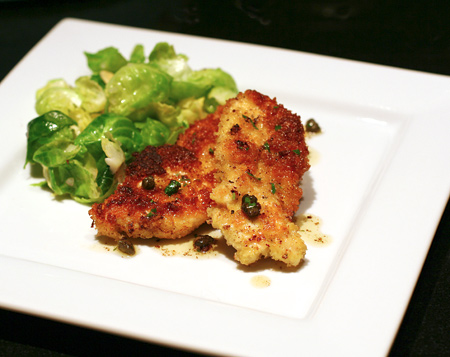 You say Schnitzel. I say Picatta. But whatever you call it, this dish is delicious. Fabulously crunchy. Just enough tang to balance out the buttery goodness of the sauce. And so simple too (the best things usually are).
We didn't pound the chicken quite as thin as the recipe calls for, ours was more like 1/2″ thick and not 1/4″. So it required a slightly longer cooking time, which we felt helped the panko to the beautiful golden brown crust that knocks this dish out of the park.
We served this with our favorite brussels sprouts, and Taylor insisted on making some basmati rice as well (he's a hungry boy – I would have been fine without the rice, but whatever makes him happy). It takes a very special recipe to get added to our 'favorites' category, and this one definitely made the cut.
Panko-Coated Chicken Schnitzel
Makes 4 servings. Recipe by Thomas Keller, via Food & Wine.
Ingredients:
1 cup flour
3 eggs, beaten
2 cups panko
4 skinless, boneless chicken breast halves (about 6 ounces each), butterflied and pounded 1/4-inch-thick
Salt and freshly ground pepper
1/2 cup canola oil
6 tablespoons butter
2 teaspoons capers
2 tablespoons lemon juice
1 tablespoon chopped parsley
Directions:
Set the flour, eggs and panko in three separate shallow bowls. Season the chicken cutlets with salt and pepper. Dredge the chicken in the flour, shaking off any excess, then dip in the eggs and coat thoroughly with the panko, pressing lightly to adhere.
In each of 2 large skillets, heat 1/4 cup of the canola oil. Add the chicken and cook over moderately high heat, turning once, until golden and crispy, about 3 minutes. Transfer the chicken to a paper towel-lined baking sheet and sprinkle with salt.
Meanwhile, in a small saucepan, melt the butter and cook over moderately high heat until browned and nutty, about 4 minutes. Stir in the capers, lemon juice and parsley; spoon over the chicken and serve.
Did you make this recipe?
Let us know what you think!
Leave a Comment below or share a photo and tag me on Instagram with the hashtag #loveandoliveoil.