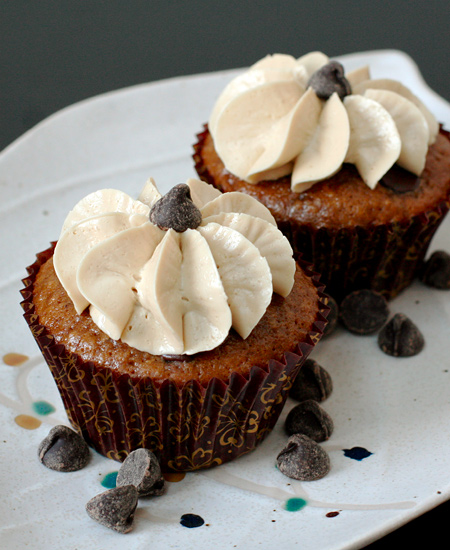 Whoops, another sugar craving. I needed to bake something. But what? Flipping through some of my old recipes usually helps. I came across a recipe for my mom's Oatmeal Chocolate Chip Cake, something that sounded scrumptious but honestly I could never remember actually eating, let alone baking. Since cake takes far too much effort, a quick conversion to cupcakes sounded like a good idea.
These were the first cupcakes I've baked with eggs & butter since the whole love of cupcakes began. And honestly, they were too dense for me. I like my cupcakes light and airy – the kind of cupcakes that you eat one and wonder where it went. These, you definitely know where it went. That doesn't mean they weren't delicious – the taste made me feel like I was eating a cookie and a cupcake and a cake all at the same time. If I made them again though, I might try modifying one of my vegan cupcake recipes to mimic the same flavors, but without the density. That and I'd use mini chocolate chips. The big ones might be fine for a full cake, but they tend to take over the cupcake.
I topped these with a brown sugar variation on Swiss Meringue buttercream, and it was delicious. The rich flavors of the brown sugar pair perfectly with the toasty notes of the oatmeal and cinnamon. It's more rustic with the brown sugar, and couldn't have been more perfect.
Oatmeal Chocolate Chip Cupcakes with Brown Sugar Buttercream
Ingredients:
7/8 cup boiling water
1/2 cup quick oatmeal
1/4 cup butter or margarine
1/2 cup brown sugar
1/2 cup granulated sugar
1 egg (slightly beaten)
1 cup flour
1/4 teaspoon salt
1/2 teaspoon baking soda
1/2 teaspoon cinnamon
1/2 tablespoon cocoa powder
1 cup chocolate chips (mini would work best)
Frosting:
2 large egg whites
1/2 cup packed light-brown sugar
1/4 teaspoon salt
3/4 cup (1 1/2 sticks) unsalted butter, room temperature, cut into tablespoons
Directions:
Preheat oven to 350?F. Line muffin tin with cupcake papers.
Pour boiling water over oatmeal. Let stand for 10 minutes until absorbed. Add margarine and stir until melted. Add brown sugar, white sugar, and eggs. Mix well.
Sift together flour, salt, baking soda, cinnamon, and cocoa powder. Add to sugar mixture and mix well. Stir in most of chocolate chips, saving approximately 1/4 cup.
Distribute 1/4 cup batter into each muffin cup. Sprinkle a few remaining chocolate chips on top. Bake for 22-25 minutes or until a toothpick inserted in the middle comes out clean. Cool 2 minutes, then remove from pan and allow to cool completely on rack.
For frosting, in a heatproof bowl set over (not in) a pan of simmering water, whisk together egg whites, sugar, and salt. Cook, whisking constantly, until the sugar has dissolved and the mixture is warm to the touch. Transfer to the clean bowl of an electric mixer. Beat on medium speed until fluffy and cooled, about 15 minutes. Raise speed to high; beat until stiff peaks form. Reduce speed to medium-low; add butter, 2 to 3 tablespoons at a time, until fully incorporated. Spread or pipe onto cooled cupcakes.
Did you make this recipe?
Let us know what you think!
Leave a Comment below or share a photo and tag me on Instagram with the hashtag #loveandoliveoil.