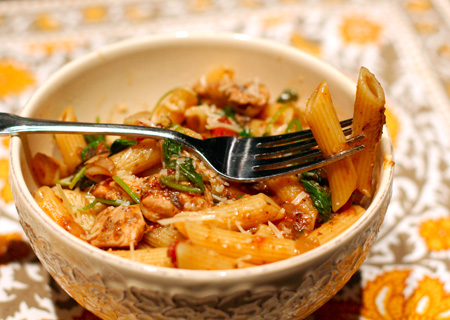 If you hadn't noticed, I haven't been posting quite as much as I did during the summer. The reason? Light. When it's completely dark by the time we're done cooking dinner, I have much less of a desire to photograph anything. I really just want to sit down and eat. Nothing beats natural light, and that lack of natural light cannot be replicated with the off-hued lights in our kitchen. Just felt like I needed to explain myself, just a little bit.
Surprisingly, though, I do have a few back-logged meals that I did manage to photograph. Unfortunately, back-logged means the memory of those meals is also back-logged in my brain. Take this meal. I managed to find the recipe, luckily, but gosh darnit I couldn't tell you what it tasted like. I think it was good, I know I'd remember it if it was either fabulous or horrible, so it must have been somewhere in between. And it was probably a night that we really didn't feel like spending much time cooking, because if we had been in that kind of mood, we would have broke out the pasta maker and made homemade Pappardelle (wide noodles) that I'm sure would have been outstanding in this dish. However, it appears (and again, I can't remember), that we wanted dinner done and our bellies full as quick as possible, so we threw in a box of penne instead. Hey, in a pinch, it works. Just fine.
So there. A post for you. And a promise from me – that I'm going to make the most of limited light and try to get more photos, and be better about actually posting them while I can still remember what they tasted like.
Pappardelle with Chicken and Mushroom Ragu
Makes 4 servings. Recipe from Gourmet.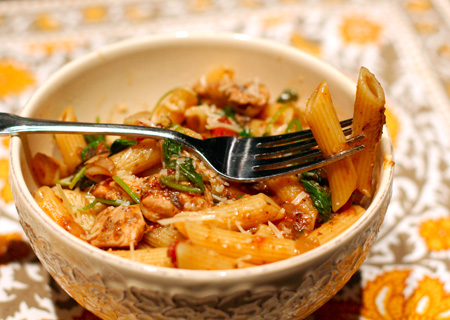 Ingredients:
6 ounces cremini mushrooms
3 garlic cloves
1/4 cup extra-virgin olive oil
1 1/4 pounds skinless boneless chicken thighs, cut into 1/2-inch pieces
1 small onion, chopped
3/4 teaspoon chopped rosemary
3 tablespoons balsamic vinegar
1 (28-ounce) can whole tomatoes in juice
1/2 pound dried pappardelle (or penne is just fine too)
5 ounces baby arugula (about 8 cups)
Accompaniment: Grated Parmigiano-Reggiano
Directions:
Pulse mushrooms and garlic in a food processor until finely chopped.
Heat oil in a 12-inch heavy skillet over medium-high heat until it shimmers. Season chicken with 1/2 teaspoon salt and 1/4 teaspoon pepper and cook, stirring occasionally, until just golden, about 3 minutes. Transfer with a slotted spoon to a bowl.
Reduce heat to medium and cook onion, stirring occasionally, until softened, about 3 minutes.
Add mushroom mixture, rosemary, 1/2 teaspoon salt, and 1/4 teaspoon pepper and cook, stirring constantly, until beginning to brown, about 4 minutes.
Add vinegar and cook until evaporated. Add chicken and tomatoes (with juice), then simmer, breaking up tomatoes with a spoon and stirring occasionally, until sauce is just thickened, about 15 minutes.
Meanwhile, cook pasta in a pot of boiling salted water (2 tablespoons salt for 6 quarts water) until al dente.
Add arugula to sauce and stir until wilted. Stir in drained pasta and cook 1 minute. Serve with Grated Parmigiano-Reggiano and enjoy.
Did you make this recipe?
Let us know what you think!
Leave a Comment below or share a photo and tag me on Instagram with the hashtag #loveandoliveoil.