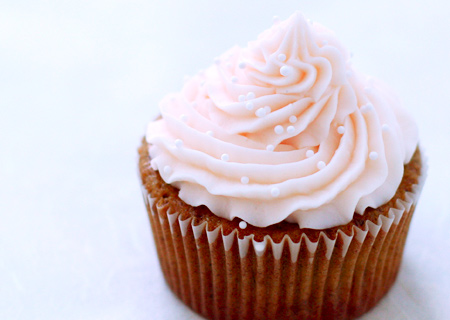 Pretty cupcakes aren't always delicious cupcakes, looks can be deceiving.
Case in point: Pistachio Rosewater Cupcakes. Made from the Vegan Cupcakes Take Over the World cookbook, which, up until this point, has been pretty failsafe. These? Not so much. The overly fragrant combination of cardamom and rosewater makes this cupcake taste like a bottle of perfume. In the future, I shall not waver from the tried and true formula for cupcakes: the addition of yogurt in this recipe just makes for a dense and slightly sour cake. Nothing light and fluffy about these pink poofs.
Pretty, yes. But we couldn't even bring ourselves to eat a half dozen of them.
I still love the idea of a pistachio cupcake. But it needs some different flavor compliments, ones that bring out its nuttiness and don't mask it behind perfumey yuckiness. Any ideas?
It's a learning process, I guess.