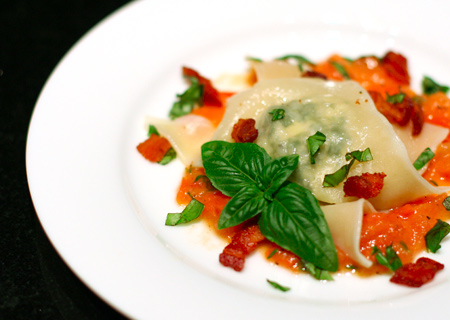 If you follow this blog, you'll know that despite my issues with dairy I have a strong affinity for goat cheese. I'll gladly risk any upset feeling I might have to enjoy its creamy goodness. And so, when I stumbled across this recipe (ok, so maybe I was actively searching for a goat cheese ravioli recipe, but I found this one nonetheless), it was a no brainier that it would be on the menu that week.
The raviolis were perfect. The goat cheese and arugula are a perfect combination, and need no modifications whatsoever. Next time we make this, however, and there WILL BE a next time, we might mix it up a bit with the sauce. It was far too buttery (if you believe there is such a thing). Keep the tomatoes, keep the bacon/pancetta, but use some olive oil and maybe some white wine in place of the butter. Yes, THAT would be just divine.
You know you've had a good meal when you begin to crave it at 9:00 on a Sunday morning…
Goat Cheese-Arugula Ravioli with Tomato-Pancetta Butter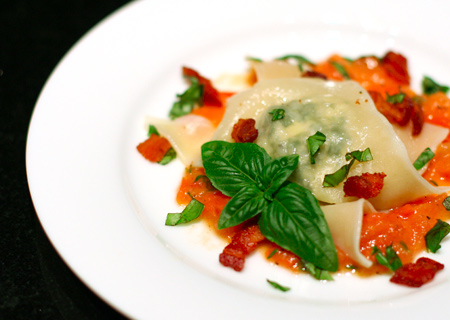 Ingredients:
Ravioli
2 tablespoons olive oil
3 large shallots, minced
8 ounces arugula, chopped (about 8 cups)
6 ounces soft fresh goat cheese (such as Montrachet), crumbled
1/2 cup (about 1 1/2 ounces) freshly grated Parmesan cheese
Nonstick vegetable oil spray
42 (about) wonton wrappers (from one 12-ounce package)
2 large egg whites, whisked just until foamy
Tomato-Pancetta butter
6 ounces thinly sliced pancetta or bacon, coarsely chopped
1/4 cup (1/2 stick) butter
6 large plum tomatoes, quartered, seeds and membranes discarded, tomatoes diced
1 teaspoon chopped fresh thyme
For serving
5 tablespoons melted butter (or olive oil)
12 fresh basil leaves
Fresh thyme sprigs
Directions:
Make ravioli:
Heat oil in heavy large skillet over medium heat. Add shallots; saute 10 minutes. Add arugula; toss until wilted but still bright green, about 3 minutes. Transfer arugula mixture to large bowl and cool. Mix in goat cheese and Parmesan cheese. Season filling with salt and pepper.
Line 2 baking sheets with heavy-duty foil; spray foil with nonstick spray. Place 4 wonton wrappers on work surface; cover remaining wrappers with plastic to prevent drying. Lightly brush entire surface of each wrapper with egg white. Spoon 1 generous teaspoon filling into center of each wrapper. Fold wrappers diagonally in half, forming triangles. Press edges firmly to seal. Arrange ravioli on prepared sheets. Repeat with remaining wrappers and filling. (Can be made ahead. Cover with plastic and chill up to 1 day; or cover with plastic, then heavy-duty foil, and freeze up to 1 week. If frozen, do not thaw before cooking.)
Make tomato-pancetta butter:
Cook chopped pancetta in large skillet over medium-high heat until crisp and brown. Using slotted spoon, transfer pancetta to paper towel; drain. Set aside. Pour off all but 1 tablespoon drippings from skillet. Add butter to drippings in skillet; melt over medium-high heat. Add tomatoes and thyme; saute until tomatoes are tender, about 5 minutes. Season with salt and pepper. (Can be made 2 hours ahead. Let stand at room temperature.)
Cook and serve ravioli:
Place melted butter in large bowl. Cook half of ravioli in large pot of boiling salted water until just tender, about 4 minutes for fresh or 5 minutes for frozen. Using large strainer, transfer ravioli to colander and drain; place in bowl with butter and toss to coat. Cover to keep warm. Cook remaining ravioli in same pot of boiling water. Drain and add to bowl of buttered ravioli. Toss gently to coat. Divide ravioli among bowls. Rewarm tomato butter over medium heat. Add reserved pancetta and basil; saute 1 minute. Spoon sauce over ravioli; garnish with thyme.
Did you make this recipe?
Let us know what you think!
Leave a Comment below or share a photo and tag me on Instagram with the hashtag #loveandoliveoil.