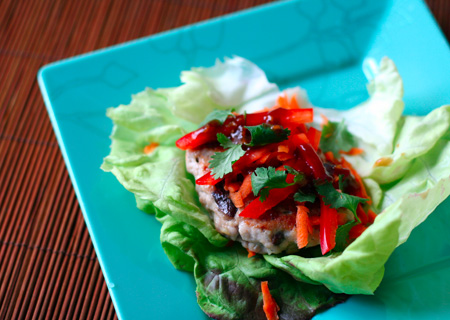 Yes, I realize posts have been rather sparse lately, and chances are they will remain so through the bulk of July. Why you ask? Well, something big and exciting, the likes of which I'll post about shortly. But it has been keeping us more than occupied, and while we have still been cooking, I just haven't had the time nor energy to write about it.
But I do have a few recipes backlogged, which tends to happen when things get busy. This one in particular, which came from the newest issue of Bon Appetit, was quite stunning. Asian Pork Burger Wraps – wrapped in butter lettuce rather than a bun, which made it a fun combination between a burger and a lettuce wrap (go figure).
I was drawn to this issue's feature on summer burger recipes because of the photographs. You can see an example of the aforementioned asian pork burgers. The 'deconstructed' burger photos were all too familiar (and Jeremy – you will know exactly what I am talking about here!), because of an assignment I had in a drawing class in college. The project was 'exploding food', where we drew a food item in the process of exploding into it's various parts and ingredients. An informational diagram of sorts, much like a blueprint tells you how to build a house, the drawings tell you how to build the food. While I chose to do an ice cream sundae, the example for the project was of a burger.
Maybe I could have skipped the long winded description and just shown more pictures?
From Bon Appetit:

Drawing from CDES333:


(I can't believe I still had this drawing saved on my computer!)
Anyways, I think Chris Ficken (the awesome professor of aforementioned drawing class) would approve of this recipe, or at least it's presentation!
Pork and Mushroom Burger Wraps
Makes 6 servings. Recipe from Bon Appetit.
Ingredients:
2 tablespoons canola oil or peanut oil
2 tablespoons minced lemongrass (from bottom 3 inches of about 4 stalks)
2 garlic cloves, minced
4 ounces fresh shiitake mushrooms, stemmed, caps chopped
1 teaspoon coarse kosher salt, divided
1 3/4 pounds ground pork shoulder (Boston butt)
2 tablespoons soy sauce, divided
3 teaspoons sesame oil, divided
3/4 teaspoon cracked black pepper
1/2 cup hoisin sauce
1 tablespoon minced peeled fresh ginger
1 tablespoon unseasoned rice vinegar
1 teaspoon hot chili sauce (such as sriracha)
Nonstick vegetable oil spray
2 heads of Bibb lettuce, cored, leaves separated
1 cup matchstick-size strips red bell pepper
1 cup matchstick-size strips peeled carrot
1/3 cup fresh cilantro leaves
Directions:
Heat oil in large skillet over medium-high heat. Add lemongrass and garlic; saute 2 minutes. Add mushrooms. Sprinkle with 1/2 teaspoon coarse salt; saute until mushrooms are tender, about 4 minutes. Remove from heat; cool in skillet.
Place pork in large bowl. Mix in 1 tablespoon soy sauce, 1 teaspoon sesame oil, cracked pepper, and 1/2 teaspoon coarse salt, then fold in mushroom mixture. Using 2 generous tablespoonfuls for each, shape into 18 patties, each about 2 1/4 inches in diameter; arrange on plastic-lined baking sheet.
Whisk hoisin sauce, ginger, vinegar, chili sauce, and remaining 1 tablespoon soy sauce and 2 teaspoons sesame oil in small bowl for sauce. DO AHEAD: Burgers and sauce can be made 6 hours ahead. Cover separately; chill.
Spray grill rack with nonstick spray. Prepare barbecue (medium-high heat ). Grill burgers until cooked through, about 3 minutes per side. Or heat a few tablespoons oil in a non-stick skillet over medium-high heat. Cook burgers until browned and cooked through, about 3-4 minutes per side.
Arrange burgers on platter; set out sauce. Place lettuce, bell pepper, carrot, and cilantro in separate bowls. Serve, allowing guests to wrap burgers in lettuce and add sauce and vegetables as desired.
Did you make this recipe?
Let us know what you think!
Leave a Comment below or share a photo and tag me on Instagram with the hashtag #loveandoliveoil.